Updated July 10 2017
HOLLY SPRINGS, N.C.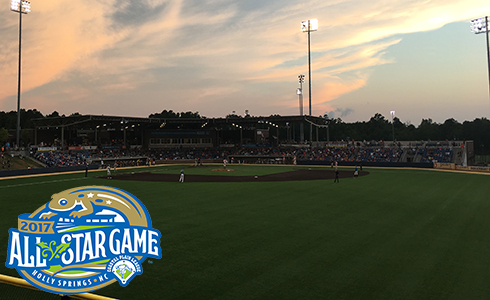 The East All-Stars took a close one 2-1 over the West All-Stars in the 2017 CPL All-Star Game in front of a sold-out crowd at Ting Stadium in Holly Springs, N.C, home of the Holly Springs Salamanders.
Nick Podkul (Notre Dame) wasted little time getting the East All-Stars on the board as he launched a two-run home run to left in the bottom of the first to get the 2-0 lead over the West.
With 2,038 fans in attendance, the pitchers put on a show as the East in particular had a no-hitter going into the seventh before the combination of Zach Michalski (NC Central) and Matthew Bearid (Coastal Carolina) broke it up to get the West on the board. Beaird finished the game 2-for-2 with two doubles and one RBI for the West.
After the game the CPL Commissioner presented the Hitter and Pitcher of the Game awards at home plate. Taking Pitcher of the Game honors was the starter for the East, Griffin McLarty of the Fayetteville SwampDogs who took the win after pitching a perfect first inning while striking out two.
Meanwhile on the offensive side of things, Podkul took the trophy after finishing 1-for-2 with two RBIs, one run scored and a home run for the East.
Podkul took home a custom Tucci Lumber Home Run Derby Champion Bat, while McLarty was presented a crystal trophy.
The game was broadcast live in over 25 million homes as well as streamed on MLB.com.
The Coastal Plain League is the nation's premier summer collegiate baseball league. Celebrating its 21st season in 2017, the CPL features 15 teams playing in Georgia, North Carolina, South Carolina and Virginia. The CPL has had over 1,400 alumni drafted and 104 of those – including 2011 AL MVP and Cy Young winner Justin Verlander – make their Major League debut; while another notable alum – Russell Wilson – won Super Bowl XLVIII. For more information on the Coastal Plain League, please visit the league website at www.coastalplain.com and follow us via Twitter @CPLBaseball.
Contact:
Shelby Hilliard
Phone:
919-852-1960