Updated July 09 2017
HOLLY SPRINGS, N.C.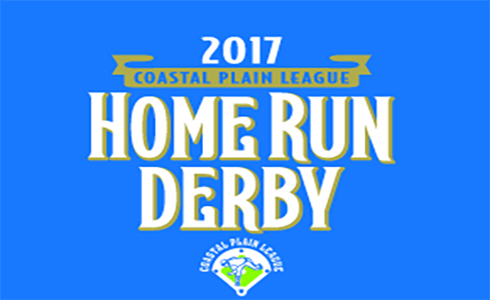 Zach Michalski of the Martinsville Mustangs, an West Division All-Star, took home the 2017 CPL All-Star Home Run Derby title on July 9 in Holly Springs, N.C., earning the win over Nick Podkul of the East Division All-Stars who also made it to the Championship round. Michalski finished with 25 total home runs across his three rounds of hitting.
The format consisted of a seeded bracket with four contenders on the East and four on the West, seeded based on their total home runs in the regular season.
Representing the East were the following four All-Stars:
#2 Zach Piazza (Holly Springs / Limestone)
#3 Nick Podkul (Morehead City / Notre Dame)
#1 Drew Delsignore (Peninsula / Mercyhurst)
#4 Shane Shepard (Wilson / NC State)
From the West it was:
#3 Zach Jacobs (Florence / Francis Marion)
#4 Carson Jones (Forest City / Lander)
#2 Zach Michalski (Martinsville / NC Central)
#1 Lee Sponseller (Martinsville / Ohio Dominican)
In total 89 home runs were hit with 27 being from the charity ball that raised money and awareness for 3 Irish Jewels. The mission of 3 Irish Jewels Farm is to create an environmentally sustainable agricultural community where adults on the autism spectrum can live dignified and meaningful lives with support in a healthy, safe and enriching environment and achieve independence through meaningful work, recreation and community involvement. In addition to adults living on the farm, school-age children with autism will be able to attend after-school programs, track-out programs and summer camps so that they can also experience the farm life.
The Home Run Derby was preceded by a rousing Mascot Kickball Derby and Fan Fest. Tomorrow the East and West All-Stars will face-off in the 19th annual CPL All-Star game set to begin at 7:05 p.m. The game will be broadcast live in over 25+ million homes and streamed live online at www.mlb.com as well as www.coastalplain.com.
For information on tickets please visit www.salamandersbaseball.com or call them at 919-249-7322 today while tickets last.
The Coastal Plain League is the nation's premier summer collegiate baseball league. Celebrating its 21st season in 2017, the CPL features 15 teams playing in Georgia, North Carolina, South Carolina and Virginia. The CPL has had over 1,400 alumni drafted and 104 of those – including 2011 AL MVP and Cy Young winner Justin Verlander – make their Major League debut; while another notable alum – Russell Wilson – won Super Bowl XLVIII. For more information on the Coastal Plain League, please visit the league website at www.coastalplain.com and follow us via Twitter @CPLBaseball.
Contact:
Shelby Hilliard
Phone:
919-576-4049