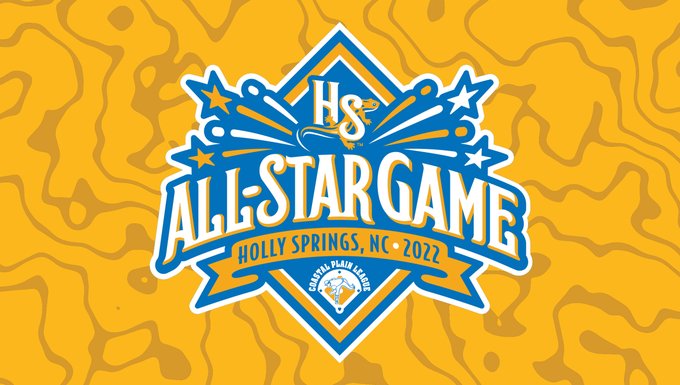 The 2022 Coastal Plain League All-Star Game will be hosted by the Holly Springs Salamanders at Dick Sears Field at Ting Stadium on July 10, 2022. First pitch is set for 5:40 p.m.
The CPL West All-Stars will be the visitors, while the CPL East All-Stars will be the home team. For information on tickets please visit  www.salamandersbaseball.com or call them at (919) 249-7322 today while tickets last. The game will also be streamed live on FloSports by visiting here.
Click here for the full boxscore and play-by-play
West CPL All-Stars Outlast East, 3-2
How Players Are Selected:
The 2022 Coastal Plain League All-Star Teams were voted upon by each of the 14 CPL head coaches, team broadcasters and one local media representative for each club. All players were eligible to be voted on within their respective division (West and East).
All-Star Coaches Named:
West CPL All-Stars – Head Coach: Tyler Gillum (Savannah), Assistant Coach: DJ Russ (High Point-Thomasville)
East CPL All-Stars – Head Coach: Sam Carel (Morehead City), Assistant Coaches: Harry Markotay (Wilson), Brian Rountree (Holly Springs)
CPL All-Star Schedule:
9:00a-10:30a…. All-Star players and coaches arrive to Ting Stadium
10:00a -12:30p.. Prospect Development Pipeline (PDP) event for All-Star players (USA Baseball/MLB)
12:30p-1:30p…… Lunch for All-Star players, coaches
Traditional Scout Day
1:45p-1:55p……. Stretch for 60 Timing Runs
2:00p-2:30p…… 60 Timing Runs
2:35p-3:10p…….. West All-Star Team BP
3:15p-3:50p…….. East All-Star Team BP
3:50p-4:10p…….. Break for All-Star Teams
4:15p-4:25p…….. All-Star Teams get loose for Extended In/Out
4:30p……………… Gates Open to Public
4:30p-4:50p……. West team Extended In/Out (Pos. Players) / East team signs autographs (concourse)
4:55p-5:15p…….. East team Extended In/Out (Pos. Players) / West team signs autographs (concourse)
5:20p-5:35p…….. Pregame activities (first pitches, team introductions, National Anthem)
5:40p……………… First Pitch of 2022 CPL All-Star Game
Releases:
West CPL All-Stars Outlast East, 3-2
2022 CPL All-Star Team Rosters Announced
Tobs' Sykes Joins East CPL All-Stars
ZooKeepers' Shuey, Chili Peppers' Havens Tabbed 2022 CPL All-Stars
2022 CPL All-Star Coaches Announced
Holly Springs Salamanders Selected to Host 2022 CPL All-Star Game