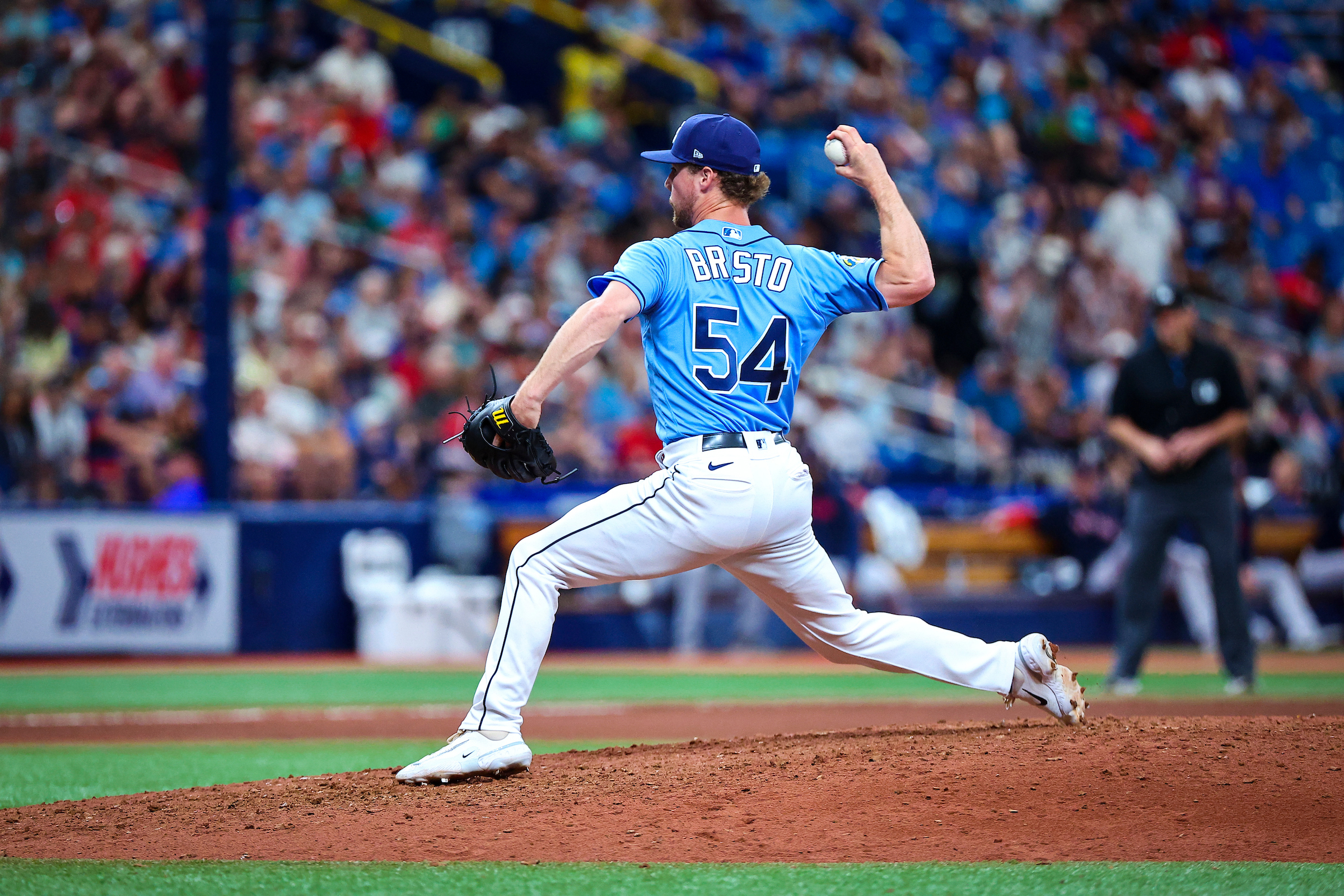 Baseball is unique when it comes to its multi-tiered farm system and the ability presented for players to develop and sharpen their skills within the Major League organizations in hopes to one day reach the top of the sport. And while the process itself can be quite humbling, for some that stick with it despite the lows, it can be just as rewarding.
For former Coastal Plain League pitcher Braden Bristo (photos courtesy of Davida Franklin and Warren Hypes, Tampa Bay Rays), his hard work to hone his game throughout his career, but especially in the Minors, paid off Thursday as he made his Major League debut with the Tampa Bay Rays. The 6-0, 180-pound righty pitched three hitless innings, recording four strikeouts to close the doors on Boston and pick up the save. It was Tampa Bay's 13th straight win to start the 2023 season, matching the 1982 Atlanta Braves and 1987 Milwaukee Brewers for the longest winning streak to start a season in MLB's Modern Era.
Braden Bristo's 4Ks. pic.twitter.com/9WOrCGShhl

— Rob Friedman (@PitchingNinja) April 13, 2023
But despite his effortless display that afternoon, Bristo's road hadn't always been as easy. He spent three years at Louisiana Tech where he combined for a 10-10 record and 4.91 ERA. Two summers in the CPL sandwiched in between didn't exactly yield better results either. Pitching for Wilson in 2014, he finished with a 1-7 record and 5.10 ERA with a save. A summer later, this time for High Point-Thomasville, he went 0-3 with a 6.00 ERA across five appearances – four of them starts. Together, he struck out 53 batters in 60 1/3 innings during those two summers. As a junior, his experience started to peak through as he increased his strikeout total by 77 percent from 35 as a sophomore (in 51 2/3 innings) to 62 as a junior (in 55 1/3 innings).
Bristo was taken by the New York Yankees in the 23rd round of the 2016 MLB Draft and spent his first three years hovering throughout the ranks of A-ball. He then started 2019 with Double-A Trenton, where he went 1-1 with a 3.75 ERA and struck out 27 in 24 innings of work. He was sent back down to High-A Tampa midway through the year, where he appeared to really start to come of age. In 24 games out of the pen, he struck out 57 and walked only 11 in 41 2/3 innings on his way to a 1.94 ERA and 3-1 record.
The 2021 season saw Bristo play for Triple-A Scranton/Wilkes-Barre, where he continued improving. He finished 5-3 with a 4.86 ERA and struck out 61 while walking 30 in 50 complete innings. Bristo extended his stint in Triple-A in 2022, making 41 appearances out of the bullpen and ending at 3-3 with a 4.56 ERA. He logged 53 1/3 innings, surrendering 34 runs – 27 earned – on 52 hits, walked 31 and punched out 64. Electing for free agency this past offseason, he signed a minor league deal with Tampa, a move that would later pay off with being called up to join the Big League club after starting the year 1-0 with a 5.40 ERA and a 7-to-1 K/BB ratio with Triple-A Durham. 
With his debut, the CPL has now had three alumni reach the Bigs in 2023; with Bristo officially being the 167th alum overall in league history. He is also the 17th former Tobs player and 19th former HiToms alum to reach the Majors.
About Coastal Plain League:
The Coastal Plain League is the nation's premier summer collegiate baseball league. The CPL is currently comprised of 14 franchises playing in Georgia, North Carolina, South Carolina and Virginia. To date, the CPL has had nearly 1,750 alumni drafted and 167 alums make their Major League debut. Most notable alumni include Justin Verlander, Ryan Zimmerman, Mark Reynolds, Kevin Youkilis, Chris Taylor, Alec Bohm, Jake Cave, Chas McCormick and NFL Super Bowl champion Russell Wilson. For more information on the Coastal Plain League, please visit the league website at www.coastalplain.com, and be sure to follow us on Facebook, Twitter, Instagram and TikTok @CPLBaseball.