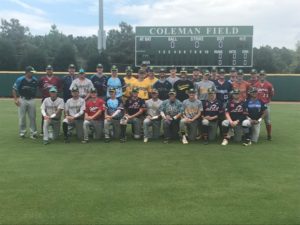 The Coastal Plain League Select took on the USA Collegiate National Team Wednesday, June 27 at the USA Baseball Training Complex in Cary, N.C. After a scheduled eight-inning contest the USA CNT walk-off with two in the bottom of the eigth to win a close one 3-2.
Tyler Follis (Savannah / So., Lousinana Tech), started the game for the CPL Select pitching a clean first inning that was then followed by five consecutive CPL Select pitchers to toss scoreless innings.
Meanwhile the USA CNT duo of Cody Bradford (So., Baylor) , and Tanner Burns (Fr., Auburn) pitched a perfect four innings to start the game. With Ryan Zeferjahn (So., Kansas) entering the game for USA CNT in the fifth, Tyler Adams (Peninsula), a sophomore at Lincoln Memorial, crushed a two-run home run to left-centerfield to give the CPL Select a 2-0 lead.
This was a lead the team would hold into the seventh when USA CNT scored one on a Will Wilson (Fr., NC State) single. The USA CNT would follow that up with a walk-off single by Stott in the bottom half of the eighth inning to win 3-2. As planned the teams played an agreed upon eight inning official game, and followed that with two innings played under the international tie-breaker rules.
C.J. Van Eyk got the win for the USA CNT while Redmond Walsh (Forest City / Fr., Tennessee) got the loss for the CPL Select.
You can view the full boxscore here. Highlights and more will be included in next week's Around the CPL with the episode airing on Monday.