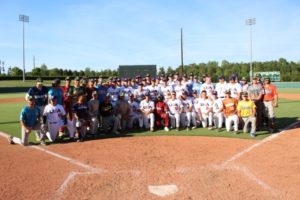 The Coastal Plain League Select took on the USA Collegiate National Team Monday, July 1 at the USA Baseball Training Complex in Cary, N.C. After a scheduled eight-inning contest the USA CNT won 4-0.
John Michael Faile (Holly Springs / North Greenville) got things started well for the CPL Select with a deep double to left-center in the top half of the first but the team was unable to bring him around. Chris Crabtree (Holly Springs / Duke) continued things in the second inning with a single and stole second but once again the CPL Select left a runner stranded at second to end the inning.
USA CNT scored a run in the bottom half of the second on a Colton Crowser (Sam Houston State) single. Faile then threw Crowser out trying to steal second and a ground out to second later ended the threat with USA CNT holding a 1-0 run. A lead USA CNT would later extend in the bottom of the 5th to 2-0 on a Alika Williams (Arizona State) sac-fly.
Nathan Chavalier (Gastonia / Nova Southeastern) started the top of the sixth for CPL Select with a single but the rally was short lived as Michael Green (Lexington County / Clemson) grounded into a double play to clear the bases. Alec Cargin (Macon / Wofford) knocked a single into right later in the inning but the ending would end on a ground out to third.
USA CNT went on to add home runs in the bottom of the six from Williams and in the bottom of the 7th from Casey Opitz (Arkansas) to push the score to 4-0. It was a score that held from there as Jose Rodriguez (Fayetteville / St. John's) pitched a clean bottom of the eighth to finish off the pre-determined eight inning game.
In the international tie-breaker inning, CPL Select got an RBI single from Sean McGeehan (Fayetteville / St. John's) who drove in Nathan Chevalier (Gastonia / Nova Southeastern) from second. Connor Ollio (Forest City / North Carolina) pitched a clean bottom of the ninth to close out the tiebreaker inning.
You can view the full eight-inning box score here. Highlights and more will be included in next week's Around the CPL with the episode airing on Monday.