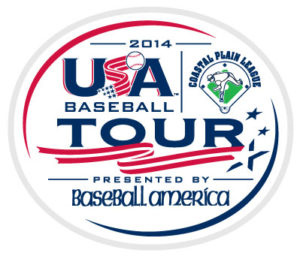 The Coastal Plain League has had a long-lasting relationship with USA Baseball, welcoming the USA Baseball Collegiate National Team (CNT) to its ballparks since 2006.
During the 2014 summer, seven Coastal Plain League teams – Peninsula, Morehead City, Fayetteville, Wilson, Wilmington, Florence, and High Point-Thomasville – will play host to the USA Baseball Collegiate National Team in exhibition contests. Furthermore, for the first time ever, a CPL Select Team will be put together to play the Collegiate National Team at the National Training Complex in Cary, N.C., on June 22. The 2014 USA Baseball Collegiate National Team CPL Tour is presented by Baseball America.
"We are thrilled to be working with USA Baseball again in 2014," said CPL commissioner Justin Sellers. "Each year we look to elevate our brand and this partnership is a great example of that commitment. These games will be memorable for our players and coaches; and exciting to watch for our fans across the CPL footprint."
This will mark the fifth straight year teams from the CPL will welcome the Collegiate National Team into their ballparks.
For the first time ever, a CPL Select team will be formed to face the Collegiate National Team at the USA Baseball National Training Complex in Cary, N.C., on June 22. A selection committee will be put together comprised of league coaches, league officials and Major League scouts to choose players from CPL teams to compete during this special exhibition contest.
The Collegiate National Team will then hit the road for a seven-day tour of CPL ballparks starting on June 23 with a match-up against the High Point-Thomasville HiToms. The next day (June 24), the team will travel to Fayetteville for a game with the SwampDogs. On June 25, the tour will take the Collegiate National Team to Wilson to face the Tobs, followed by a game on June 26 against the Columbia Blowfish. The Florence RedWolves will host the next stop on June 27, and then the tour shifts to Morehead City for a contest with the Marlins on June 28; and concludes on June 29 in Hampton, Va., versus the Peninsula Pilots.
"The seven-game tour through the CPL will allow the CNT to get ready with the wood bat and continue to name players to the final 24-man roster," said Eric Campbell, USA Baseball's General Manager of National Teams. "We had a great atmosphere in all the CPL stadiums last summer and expect even greater excitement as this tour continues to go to the next level. The addition of the CPL Select game in Cary on June 22 is going to highlight some our nation's best prospects in both dugouts."
In addition to hosting the USA Baseball Collegiate National Team, teams in the Coastal Plain League have also welcomed and played other international teams in the past, including the Japanese Collegiate All-Stars and the Russian National Team.
2014 USA Baseball CNT at CPL Schedule
Sunday, June 22: USA Baseball CNT 4, CPL Select Team 2 (in Cary, N.C.): Box Score & Play-by-Play  Recap
Monday, June 23: USA Baseball CNT 10, High Point-Thomasville HiToms 4 (in Thomasville, N.C.): Box Score & Play-by-Play  Recap
Tuesday, June 24: USA Baseball CNT 2, Fayetteville SwampDogs 0 (in Fayetteville, N.C.): Box Score & Play-by-Play  Recap
Wednesday, June 25: USA Baseball CNT 14, Wilson Tobs 2 (in Wilson, N.C.): Box Score & Play-by-Play  Recap
Thursday, June 26: USA Baseball CNT 9, Columbia Blowfish 1 (in Columbia, S.C.): Box Score & Play-by-Play
Friday, June 27: USA Baseball CNT at Florence RedWolves (in Florence, S.C.): Rained Out
Saturday, June 28: USA Baseball CNT at Morehead City Marlins (in Morehead City, N.C.): Rained Out
Sunday, June 29: Peninsula Pilots 7, USA Baseball 5 (in Hampton, Va.): Box Score & Play-by-Play  Recap