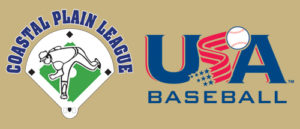 The Coastal Plain League has had a long-lasting relationship with USA Baseball, welcoming the USA Baseball Collegiate National Team (CNT) to its ballparks since 2006. During the 2012 summer, four Coastal Plain League teams – Fayetteville, Wilmington, Morehead City, and Forest City – will play host to the USA Baseball CNT once again.
The 2012 edition of the CNT, led by Tennessee head coach Dave Serrano, will start a three-day CPL trip on June 25 in Fayetteville, N.C. as it faces the Fayetteville SwampDogs. The 'Dogs are no stranger to playing the Red, White, and Blue, as the two teams have faced off on the diamond three times before. From Fayetteville, USA Baseball will journey to face two new CPL opponents in the Wilmington Sharks on June 26 and the Morehead City Marlins on June 27.
"I am very happy to announce that the USA Baseball Collegiate National Team will be returning to play teams in the Coastal Plain League this summer," said Campbell, general manager of USA Baseball National Teams. "With the support of the CPL, USA Baseball is able to create a strong schedule for our nation's best players. The Collegiate National Team will make a great swing through Fayetteville, Wilmington and Morehead City. It will be a wonderful way to start our summer – by playing against strong competition in scenic ballparks packed with great fans!"
Then, on July 1, USA Baseball will make the trip to Forest City to play the Owls in a first-ever meeting between the two teams. The Owls, however, have already proven to be exciting hosts, as they created a memorable playing experience in 2011 when Team Japan came to play in a sold-out McNair Stadium.
"Forest City provided a outstanding night for Team Japan and baseball fans in general last year," said Campbell. "We hope that experience will grow in 2012 with the appearance of the USA Baseball Collegiate National Team!"
The CPL will be the only summer league to host USA Baseball in its ballparks during the 2012 season. In addition to hosting the USA Baseball CNT, teams in the Coastal Plain League have also welcomed and played other international teams in the past, including Team Japan and the Russian National Team.
2012 USA Baseball CNT at CPL Schedule
Monday, June 25: USA Baseball CNT 11, Fayetteville SwampDogs 6: Box Score & Play-by-Play
Tuesday, June 26: USA Baseball CNT 7, Wilmington Sharks 4: Boxscore & Play-by-Play
Wednesday, June 27: USA Baseball CNT 6, Morehead City Marlins 1: Boxscore & Play-by-Play
Sunday, July 1: USA Baseball CNT 6, Forest City Owls 1: Game called in top of 5th inning due to severe weather; thus not a regulation game