A Salute to History:
The original Coastal Plain League competed from 1937 to 1941, and then, like most of baseball's other minor leagues, suspended operations due to World War II. It would later return in 1946 and continue to operate through 1952. During that time, the original CPL was a Class D league that featured teams in Ayden, Edenton, Fayetteville, Goldsboro, Greenville, Kinston, New Bern, Roanoke Rapids, Rocky Mount, Snow Hill, Tarboro, Williamston, and Wilson. Many big names have come through the ballparks that were and still are in the Coastal Plain League, including Babe Ruth, Ted Williams, and Cal Ripken, Sr.
Furthermore, one of the original clubs, the 1941 Wilson Tobs was voted number 82 of the top 100 teams in the history of minor league baseball. That year, the team had a sparkling 87-30 record (a .744 winning percentage), led the league in six different categories, had two 20+ game winning pitchers, and were managed by a 28 year old pitcher who had a 16-3 record with 19 complete games and three shutouts.
Of the markets that once featured an original CPL Class D club (pictured right), five – Edenton, Fayetteville, New Bern, Rocky Mount, and Wilson – have gone on to later be home to a franchise in today's Coastal Plain League.
Today's Coastal Plain League: 
The new and revived Coastal Plain League is a collegiate summer league, featuring top-notched college players from across the nation. The CPL returned in 1997 to fill a void in summer baseball. While there were many summer leagues in operation at the time, there wasn't really one located in the Southeastern United States.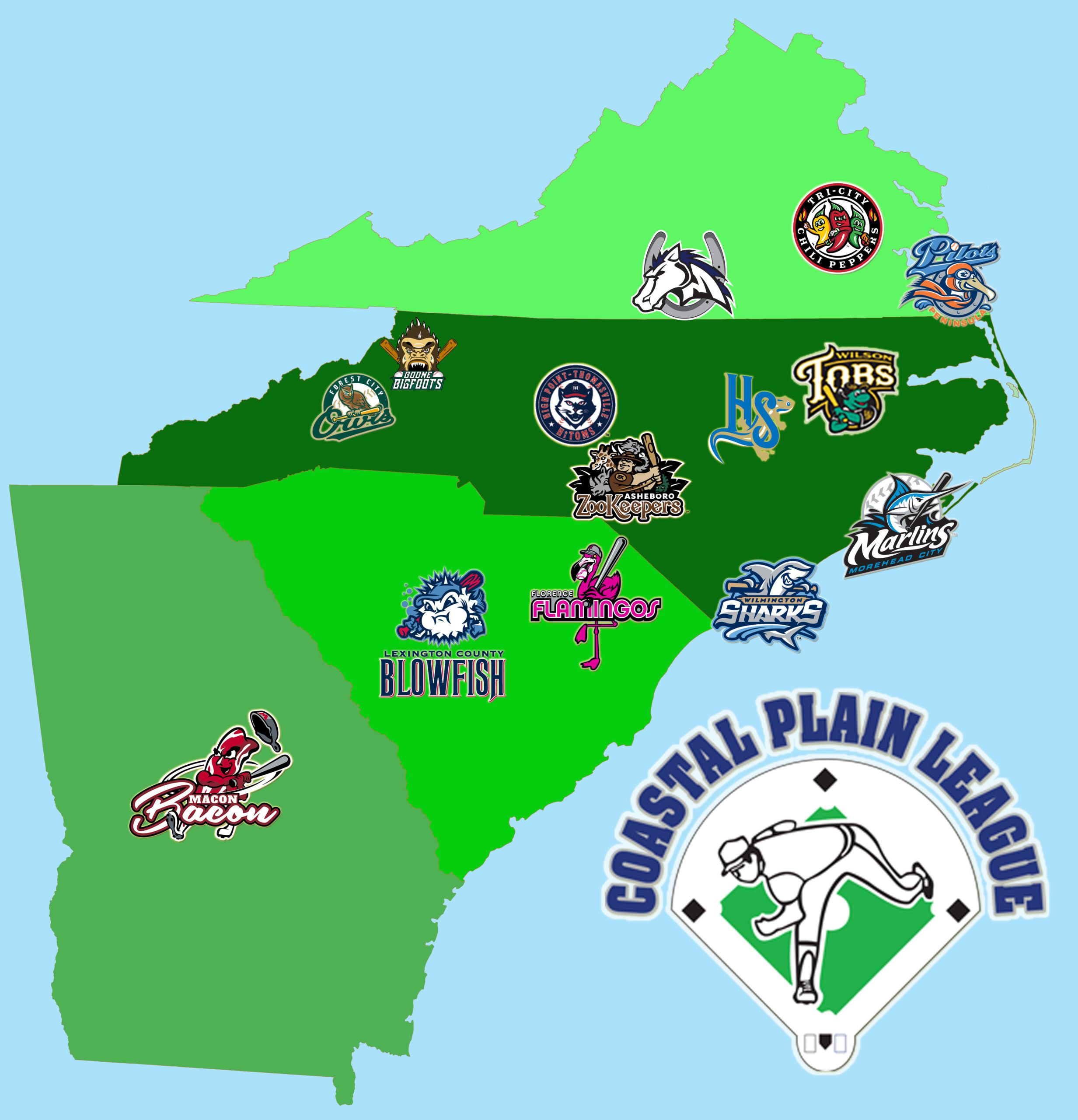 Former league president Pete Bock first got the idea for the CPL in the early 1990's when his son, Jeff, a pitcher for Barton College, was spending his summers playing in the Valley League. After making several long trips to see his son play, Bock, a long-time minor league sports executive, began wishing there was a summer league closer to home. A few years later, he partnered with league Chairman and CEO Jerry Petitt to form the new Coastal Plain League. Justin Sellers was named Commissioner in 2013 after spending the previous 11 seasons in the league office, including six as Assistant Commissioner under Bock.
On October 6, 2022, Capitol Broadcasting Company (CBC), closed on the purchase to own and operate the Coastal Plain League. In doing so, Chip Allen, formerly the Assistant General Manager, Sales for the Durham Bulls was named Commissioner. Sellers remained with the CPL as its Deputy Commissioner. Together, Allan and Sellers look to build off the progress already made and take the CPL to new heights.
The Coastal Plain League has rapidly grown to be among the premier summer collegiate baseball leagues in the country. The CPL prides itself on creating a professional, minor league-like atmosphere for all its players, coaches, umpires, and fans each and every summer!
Having just completed its 26th season in 2022, the CPL currently features 13 teams across Georgia, North Carolina, South Carolina and Virginia. Many of the CPL teams play in former minor league stadiums and cities, as well as in newly constructed stadiums that meet Class A standards. Teams in the CPL play in front of large crowds of passionate fans throughout the summer months – as league attendance has averaged above 500,000 fans over the last six seasons (with the exception of 2020 due to the COVID-19 pandemic). Players come from all over the country to take part in the best summer collegiate baseball experience each year. Our teams and league office work closely with each player and school to ensure a positive and long-lasting relationship, as well as helping to secure host families and summer employment for our players if desired.
With a 48-game league schedule (running from late-May to early-August), annual Pro Scout Day and All-Star Game, and championship playoffs system, the Coastal Plain League prides itself in returning players to their respective schools as better, well-rounded individuals who can instantly help their program succeed on and off the field; as well as be successful at the next level of baseball.
Highly ranked and thought of by players, coaches, and baseball publications and scouting notebooks such as Baseball America, Perfect Game Crosschecker, and Ballpark Digest, the Coastal Plain League also ranks high in the eyes of Major League Baseball and its scouts. In fact, heading into the 2022 summer season, the Coastal Plain League has seen nearly 1,750 alumni drafted by Major League teams; and even more impressive is that we have had 163 alums who have made it to the Majors. Some of our most notable alumni include former AL MVP, Cy Young winner and 2017 World Series champion Justin Verlander, Ryan Zimmerman (Mr. National), Mark Reynolds, Kevin Youkilis, Alec Bohm, Nicky Lopez, Jake Cave and NFL Super Bowl XLVIII champion quarterback Russell Wilson.