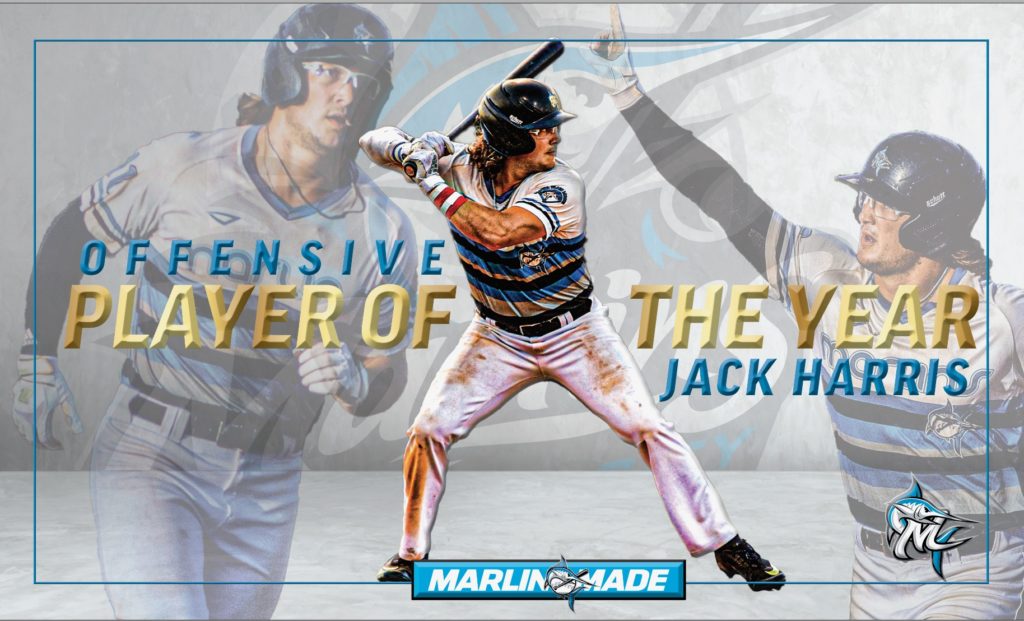 The Coastal Plain League has named Jack Harris of the Morehead City Marlins the 2021 CPL Hitter of the Year. This was Harris' second season with the Marlins and in the CPL.
"Jack Harris is one of the most talented baseball players I have ever seen," said Marlins head coach Jesse Lancaster. "What he has accomplished in his two summers in the CPL has been nothing short of remarkable. We appreciate all he has contributed to the Marlins organization.  Jack is a first class young man, who has plenty of baseball still left in front of him."
Harris, a 6-2, 225-pound Newberry product was a consistent force for the Marlins all season long, ultimately finishing the year as the league leader in home runs with 14 and second in RBIs with 39 for a .689 slugging percentage. While power has always been a key to his game, Harris worked to refine his swing in recent years to help improve on his ability to hit for average more consistently.
"When I transferred to Newberry they worked with me to cut out a leg kick I had always used previously," explained Harris. "The goal was for it to help with consistency and keeping my average up. It was tough learning a new stance especially with Covid and all the shutdowns, I got off to a slow start that season but my average started to go up and the home runs were still there. Returning [Harris played for the Marlins in 2019] to Morehead City this summer it all clicked for me."
His efforts helped him to a .335 average to go along with 56 hits, including nine doubles, four triples and the aforementioned 14 home runs. He didn't let up in the playoffs either, notching one double and three home runs to go along with a .375 average across five games played. The outfielder helped the Marlins reach their third consecutive CPL Petitt Cup Championship Series where they eventually fell to the Savannah Bananas in three games.
While the full teams will be announced next week, Harris also earned a First-Team All-CPL selection. All player awards are selected after gathering feedback from coaches as well as team and league officials.
"This was a great journey," said Harris. "Morehead City is an awesome area, I would recommend it to anyone. This is an honor and a great way to wrap up my collegiate career."
Harris signed a professional contract with the Gateway Grizzlies after the CPL season concluded. In his first game for the Grizzlies on August 19, Harris finished 3-for-4 with four RBIs and a home run.
About Coastal Plain League:
The Coastal Plain League, brought to you by FloSports, is the nation's premier summer collegiate baseball league. Celebrating its 25th season in 2021, the CPL features 15 franchises playing in Georgia, North Carolina, South Carolina and Virginia. To date, the CPL has had over 1,700 alumni drafted and 152 alums make their Major League debut – including 2017 ALCS MVP, 2017 World Series champion, 2011 AL MVP and Cy Young award winner Justin Verlander, as well as 2017 NLCS MVP Chris Taylor. For more information on the Coastal Plain League, please visit the league website at www.coastalplain.com, and be sure to follow us on Facebook, Twitter, Instagram and TikTok @CPLBaseball.