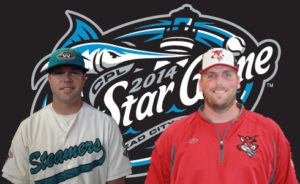 The Coastal Plain League announced today the 2014 CPL All-Star Game head coaches and assistant coaches.
Once again, the CPL All-Star Game will feature the head coaches from all 14 teams. The East Division CPL All-Stars will be the home team, while the West Division CPL All-Stars will be the visitors for the All-Star Game on July 14 held in Morehead City, N.C., home of the league's Morehead City Marlins.
The East Division CPL All-Stars will be led by Edenton's Bryan Hill (pictured left) for the second straight season after the Steamers won their seventh consecutive first-half East Division championship. Hill led the Steamers to a 21-7 record, which was tied with the Peninsula Pilots, but the Steamers earned the first half title after beating Peninsula on July 3. Despite losing multiple players to the June MLB Amatuer Draft, coach Hill has been able to keep the Steamers at the top of the standings. Helping this have been a couple of hot steaks from the team as the Steamers began the season 7-0 and later had a ten game winning steak mid-way through the first half. The East Division CPL All-Star squad assistants will be David Tufo (Fayetteville), Sam Carel (Morehead City), Hank Morgan (Peninsula), Daniel Wood (Petersburg), Parker Bangs (Wilmington) and Justin Hay (Wilson).
Florence's Blake Maxwell (pictured right) will serve as the head coach of the West Division All-Stars after winning the first half with a record of 19-9. With the first half title, the RedWolves have clinched a spot in the playoffs for the first time in four years. The team has had two four-game winning streaks this season and are currently on their longest streak of the season, having won each of their last seven games. The West Division CPL All-Stars assistant coaches will be Keith Ritsche (Asheboro), Jonathan Johnson (Columbia), Andrew Ciencin (Forest City), Jason Wood (Gastonia), Austin Love (High Point-Thomasville) and Joey Seal (Martinsville).
The 2014 Coastal Plain League All-Star Festivities will feature several attractions during the two days. During Fan Fest on Sunday, July 13, fans can look forward getting autographs from their favorite CPL All-Stars as well as watching the Home Run Derby. Then, on Monday, July 14, will be the main attraction – the 2014 CPL All-Star Game. Both will be held at the home of the Morehead City Marlins, Big Rock Stadium in Morehead City, N.C.  For ticket information, please call the Marlins at (252) 269-9767 or visit them on the web at www.mhcmarlins.com. To keep up with the latest 2014 CPL All-Star Game news, please go here: http://www.coastalplain.com/page/allstar_2014.