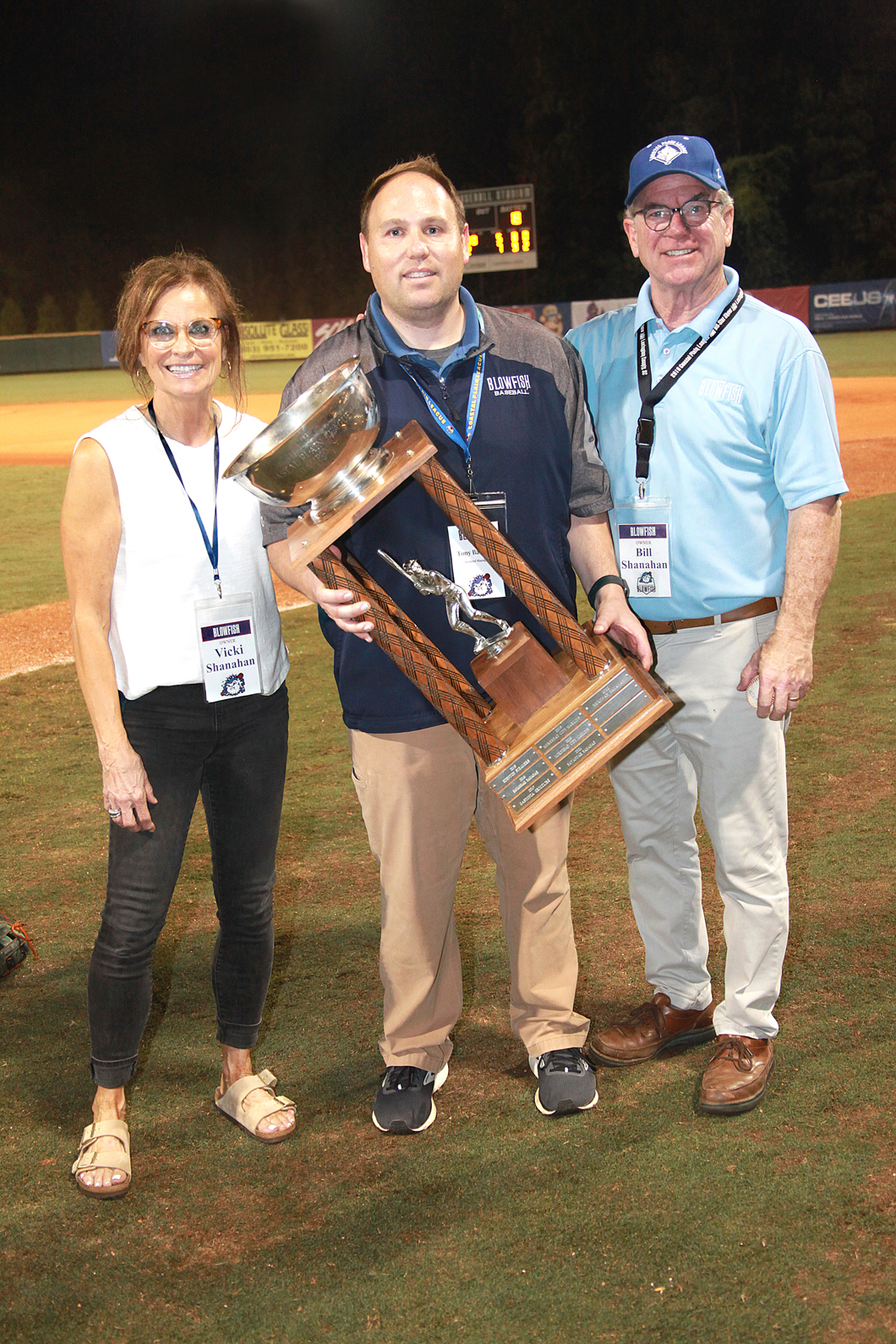 HOLLY SPRINGS – The Coastal Plain League announced this morning that Lexington County Blowfish General Manager Tony Baldwin (pictured center) has been named the 2023 CPL Executive of the Year. This is Baldwin's fourth year in the CPL and first with the Blowfish.
New to the Lexington, South Carolina area, Baldwin quickly began to establish himself as a leader and valuable member of the community. He applied and was selected as one of 35 class members of Leadership Lexington County, an organization that serves the community through leadership, fundraising and projects to benefit charitable organizations. He served as keynote speaker for the Lexington Chamber and Visitors Center on digital marketing for business owners; and was a featured guest speaker at the Lexington Rotary Club and multiple University of South Carolina classes. Baldwin also helped grow the club's internship program to feature 29 college interns from several universities across the country.
"I am honored to be selected for this award," said Baldwin. "I believe that leadership is a team sport, and our entire organization is reflected in this honor. I am in a position that is supported by great owners, Bill and Vicki Shanahan, and serves an amazing community. I am thankful to our team, staff, host families, partners and fans for everything. I look forward to coming to work every day and providing a family-friendly environment for everyone in the Lexington County community."
From an organizational standpoint, Baldwin made a big impact on the Blowfish's ticket operation, utilizing his digital marketing experience to orchestrate a sales plan throughout the year. Overall, he increased group ticket sales by 190 percent from a year ago. The Blowfish also increased their Stadium Club (VIP hospitality area) bookings by 50 percent. Baldwin's experience on digital marketing also shined through as 93.6 percent of the team's new plan holders purchased through Facebook ads or links in email marketing campaigns.
"Tony's extraordinary accomplishments as the 2023 Executive of the Year underscore his exceptional leadership, unwavering passion for the game and steadfast commitment to the progress of our league," stated CPL Commissioner Chip Allen. "His dedication and visionary approach have not only propelled the Lexington County Blowfish but have also raised the Coastal Plain League."
Additionally, under Baldwin's guidance, the Blowfish increased their jersey auctions from one per season to four after recognizing a need to help multiple local charitable organizations with donations. Overall, the organization raised over $35,000 for local charities. One such auction was a "Hooties" jersey, which saw the club partner with the Hootie and the Blowfish Foundation to raise more than $20,000 for the Lexington Medical Center. Two others featured a special farmer-themed jersey during "Homegrown Home Runs" weekend that raised $5,000 for the Lexington County Farm Bureau's Young Farmers Association, as well as another that raised $4,000 for Samaritan's Well, a transitional shelter for local homeless women and children.
"Tony is a proven leader and made an immediate impact on Blowfish Baseball," commented co-owner Bill Shanahan. "Having Tony and his wife, Martha, as part of Team Blowfish is a 'home run' for the organization and the entire Lexington County community."
Prior to joining Lexington County, Baldwin was the vice president of marketing for the Macon Bacon and Florence Flamingos; overseeing marketing, branding, digital advertising and game entertainment efforts.
About Coastal Plain League:
The Coastal Plain League is the nation's premier summer collegiate baseball league. The CPL is currently comprised of 14 franchises playing in Georgia, North Carolina, South Carolina and Virginia. To date, the CPL has had nearly 1,750 alumni drafted and 181 alums make their Major League debut. Most notable alumni include Justin Verlander, Ryan Zimmerman, Mark Reynolds, Kevin Youkilis, Chris Taylor, Alec Bohm, Jake Cave, Chas McCormick and NFL Super Bowl champion Russell Wilson. For more information on the Coastal Plain League, please visit the league website at www.coastalplain.com, and be sure to follow us on Facebook, Twitter, Instagram and TikTok @CPLBaseball.