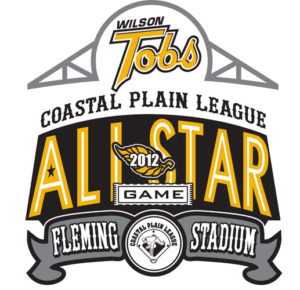 The Coastal Plain League announced today the 2012 All-Star Game head coaches and assistant coaches.
For the sixth straight year, the CPL All-Star Game will feature the head coaches from all 14 teams. The American CPL All-Stars will be the visitors, while the National CPL All-Stars will be the home team for the All-Star Game on July 23 in Wilson, N.C.
Forest City's Phil Disher will serve as the head coach of the American All-Stars. Disher led the Owls to a league-best 20-8 record in the first half and the west division first half crown, and currently has Forest City at 22-15 overall. Serving as Disher's associate head coach for the American squad will be David Tufo from Fayetteville. Tufo led the SwampDogs to an 18-10 record in the first half. The American team's assistant coaches will be Donnie Wilson (Asheboro), Darrell Handelsman (Fayetteville), Jared Barkdoll (Florence), Matt Duffy (Martinsville), Brian McRae (Morehead City) and Hank Morgan (Peninsula).
The National CPL All-Stars will be led by Edenton's Steve Moritz. Moritz led the Steamers to an 18-8 record in the first half and the east division first half title. Currently, Edenton is 24-10 on the season and leading the east once again in the second half. Serving as the associate head coach for the National team will be Columbia's Brian Buscher, who guided the Blowfish to a 17-11 first-half record. The National squad assistants will be Kyle Surprenant (Gastonia), Bob Smith (Petersburg), Sean Walsh (Thomasville), Ryan McCleney (Wilmington) and Bryan Hill (Wilson).
The 2012 Coastal Plain League All-Star Festivities will feature several attractions during the two days. During Fan Fest on Sunday, July 22, fans can look forward to the All-Star Home Run Derby, while on Monday, July 23, the main attraction will be the 2012 CPL All-Star Game. Both will be held at the home of the Wilson Tobs, Historic Fleming Stadium in Wilson, N.C. For ticket information, please call the Tobs at (252) 291-8627 or visit them on the web at www.wilsontobs.com.