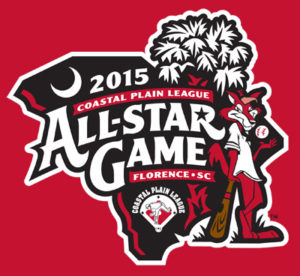 FLORENCE, S.C. – After a late-inning comeback by the West Division All-Stars, the 2015 Coastal Plain League All-Star Game ended in a 4-4 tie July 13 at Sparrow Stadium in Florence, S.C.
There was a bit of rain at the outset pushing the start back to 8:45 p.m., with league officials deciding to shorten the game to eight innings due to time contraints. Trevor Gay (High Point-Thomasville / Charlotte) started on the mound for the West and Zach Prendergast (Edenton / Seton Hall) for the East.
The game started quick for the East as Connor Myers (Peninsula / Old Dominion) led off with an in-field single before seatling second and promptly scoring on a Nick Lustrino (Peninsula / Old Dominion) single. Later in the inning Lustrino came around on a single by Alex Destino (Wilmington / South Carolina) to push the East to a 2-0 lead after the top of the first.
From there pitchers on both sides settled for the next few innings before Chaz Pal (Florence / USC Aiken) smashed a home run to left giving the West their first run of the game.
It wasn't until the top of the fifth inning that more runs were scored with Demetre Taylor (Edenton / Eastern Illinois) coming in to score on an in-field hit by Lustrino. Later in the inning, Will Shepherd (Peninsula / Liberty) came in to score on a double-steal attempt to push the East's lead to 4-1 headed to the bottom of the fifth inning.
The score held there until the bottom of the eighth and final inning when the West Division All-Stars rallied for three runs to tie the game at 4-4. Hank Morrison (Martinsville / Mercyhurst) drove in the tying run for the West and the game ended in a tie as all available pitchers had been used.
The Offensive Player of the Game award went to Nick Lustrino of the Peninsula Pilots, after finishing 2-for-2 with two runs batted in, one stolen base and one run scored for the winning East team. Taking home Defensive Player of the Game honors was David Bednar of the Edenton Steamers and Lafayette College pitching a one-two-three innings in his one inning of play while striking out two.
The full boxscore can be found here and the play-by-play can be found here.