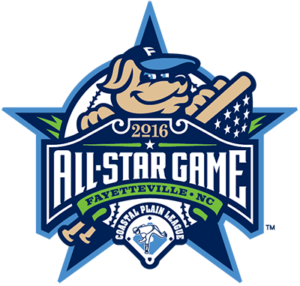 HOLLY SPRINGS, N.C. – The Coastal Plain League announced today the rosters for the 2016 All-Star Game to be held in Fayetteville, N.C. at J.P. Riddle Stadium. This marks the 18th year the CPL has played an all-star game, with last year's ending in a 4-4 tie between the East and the West.
Players are separated by division and will be competing in front over a large contingency of scouts as well as fans. Since the game is being played in the Fayetteville SwampDogs home ballpark, the East All-Stars will be the home team while the West All-Stars will serve as the visitors.
For the third straight year, the CPL will turn to its fans to select their favorite of five candidates for the East and West All-Star teams respectively. In the East, Chad Frazier (Wilson and Concord), Trey Vickers (Fayetteville and Wichita State), Devin Ruiz (Holly Springs and UNC Greensboro), Kyle McPherson (Peninsula and James Madison) and Chris Graham (Wilmington and UNC Greensboro) earned a spot on the final vote ballot. In the West, Jackson Mims (Gastonia and Charlotte), Ivan Acuna (Martinsville and Winston-Salem State), Jordan Wren (Lexington County and Georgia Southern), Ryan Colombo (Asheboro and Drury) and Daniel Sullivan (High Point-Thomasville and Gardner-Webb) were named finalists.
Almost 40,000 votes were cast over a 24-hour period from Tuesday, July 5, at 3 p.m. to Wednesday, July 6, at 3 p.m., with the winners being Kyle McPherson of the Peninsula Pilots for the East Division All-Stars and Ryan Colombo of the Asheboro Copperheads for the West.
The team is comprised of players voted in by head coaches, broadcasters and media representatives from all 16 CPL teams. Of those, three were CPL Players of the Week during the first half of the season: reserve West starting catcher Zac Almond (Week three), East starting outfielder Will Shepherd (East week four) and West starting outfielder Jameson Hannah (Week Five).
The West will be led by four of the top five hitters by batting average in the league with Brett Auckland of Lexington County leading the way with a .444 average through 20 games played. The junior out of Presbyterian has been a force for the Blowfish all year having notched four doubles and three home runs to go along with 16 RBI, 49 total bases and a .605 slugging percentage. He is joined in the top five of batting average by Carson Jackson (HP-Thomasville / High Point), Logan Moody (Savannah / Georgia) and Jameson Hannah (Savannah / Dallas Baptist.)
On the mound the West will be led by Brady Feigl of the Asheboro Copperheads as he will get the starting nod and pitch the first two innings on Monday. Feigl, a redshirt-freshman at Mississippi, currently holds a 2.08 ERA over four starts and five appearances with a 2-1 record and 21 strikeouts over 21 2/3 innings pitcher for a .228 opponent's batting average.
Meanwhile the East offense is dominated by power hitters, with two of the top three slugging percentages, and four of the top five in home run hitters all coming from the East. Both Alec Bohm (Wichita State) of Wilmington and Trey Hair (Evansville) of Edenton lead the league with eight home runs. Bohm also sits second in RBIs with 30, trailing his fellow East teammate Will Shepherd (Liberty) of the Peninsula Pilots who has 31.
Taking the mound as the starting pitcher in the East will be Mike Castellani of the Wilmington Sharks who currently leads the league in earned run average (1.97), innings pitched (45.2) and wins (6). In total the Bucknell junior has a 6-1 record over seven starts with 34 strikeouts and a .214 opponent's batting average. Castellani will pitch the first two innings of Monday's game while the remaining seven pitches on the East will pitch one inning each.
In addition to those players, the rosters are stocked full of talent elsewhere as well, including multiple other category leaders: Dillon Stewart, Holly Springs (.640 slugging pct), Brett Auckland, Lexington County (On-base pct.), T.J. Nichting, Asheboro (27 runs scored), T.J. Nichting, Asheboro (43 hits), T.J. Nichting, Asheboro (63 total bases), Mark Donadio, Wilmington (21 walks), David Marriggi, Fayetteville (.188 opponent's batting avg.), Connor Riley, Wilmington (59 batters struck out), Bryan Blanton, Asheboro (seven saves), David Marriggi, Fayetteville (16 hits allowed) and Steven Bower, High Point-Thomasville (six earned runs allowed).
In addition to the All-Star game, the Fayetteville SwampDogs and Coastal Plain League will host a fan fest with entertainment and home run derby on the night of Sunday July 10. Home Run Derby contestants will be announced later this week.
The game will be broadcast live on the Time Warner SportsChannel as well as streamed live online at www.coastalplain.com
The East versus West All-Star Game will take place the following night, Monday July 11, the full rosters can be found below. Starters are noted by asterisks (*) and players that were named all-stars but are unable to attend are marked with a pound sign (#).
Coastal Plain League 2016 East All-Star Roster

| Position | Name | Team | Ht. | Wt. | School | Yr. |
| --- | --- | --- | --- | --- | --- | --- |
| C | *Hunter Dolshun | Fayetteville | 6-1 | 245 | Maryland-Baltimore County | Jr. |
| C | Franco Guardascione | Peninsula | 6-0 | 210 | Jacksonville | Jr. |
| 1B | *Darien Carpenter | Peninsula | 6-1 | 220 | Virginia Commonwealth | Jr. |
| 1B | Matt Lahn | Fayetteville | 5-11 | 200 | Lock Haven | Jr. |
| 2B | *Trey Hair | Edenton | 5'9 | 175 | Evansville | Jr. |
| 2B | Ryan Cox | Petersburg | 6-1 | 180 | Kutztown | Jr. |
| 2B | Christian Campbell | Morehead City | 6-2 | 185 | Rutgers | Jr. |
| SS | *Cletis Avery | Wilmington | 5-10 | 185 | Presbyterian | Jr. |
| SS | Trey Vickers | Fayetteville | 6'1 | 190 | Wichita State | So. |
| SS | #Cole Austin | Peninsula | 6'1 | 220 | West Virginia | Jr. |
| 3B | *Alec Bohm | Wilmington | 6-5 | 230 | Wichita State | Fr. |
| 3B | Cameron Balego | Wilson | 6-0 | 200 | Mercyhurst | Jr. |
| DH/UTL | *Kurt Sinnen | Peninsula | 5-11 | 200 | Old Dominion | Jr. |
| DH/UTL | Bobby Schuman | Edenton | 6-3 | 210 | CSU-Northridge | RS-Jr. |
| DH/UTL | Kyle McPherson | Peninsula | 5-11 | 175 | James Madison | So. |
| OF | *Will Shepherd | Peninsula | 5-10 | 195 | Liberty | Jr. |
| OF | *Tyler Weyenburg | Morehead City | 5-9 | 175 | Presbyterian | Jr. |
| OF | *James Latona | Wilson | 6'1 | 195 | Mercyhurst | Jr. |
| OF | Mark Donadio | Wilmington | 6-0 | 195 | Fordham | Jr. |
| OF | Richard Cunningham | Edenton | 5-10 | 185 | Baylor | RS-Fr. |
| OF | Dillon Stewart | Holly Springs | 6-1 | 200 | UNC Greensboro | Jr. |
| OF | CJ Ballard | Wilson | 6-0 | 185 | Georgia Southern | Fr. |
| LHP | *Mike Castallani | Wilmington | 6-4 | 185 | Bucknell | Jr. |
| RHP | Luke Watts | Morehead City | 6-3 | 220 | Appalachian State | So. |
| RHP | Perry DellaValle | Edenton | 6-0 | 185 | Seton Hill | So. |
| LHP | Jake Lewis | Wilson | 6-2 | 205 | UNC Greensboro | Fr. |
| RHP | Ryan Kelly | Wilmington | 6-4 | 210 | Saint Joseph's | Jr. |
| LHP | Devin Hemmerick | Peninsula | 6-2 | 190 | Norfolk State | Jr. |
| LHP | David Marriggi | Fayetteville | 5-9 | 160 | Towson | So. |
| RHP | Connor Riley | Wilmington | 5-11 | 190 | USC Aiken | Jr. |
Coastal Plain League 2016 West All-Star Roster

| Position | Name | Team | Ht. | Wt. | School | Yr. |
| --- | --- | --- | --- | --- | --- | --- |
| C | *Zachary Almond | HP-Thomasville | 6-3 | 205 | Catawba | So. |
| C | Adan Ordonez | Forest City | 5-8 | 170 | North Carolina A&T | So. |
| 1B | *Logan Moody | Savannah | 6-3 | 205 | Georgia | Fr. |
| 1B | Collin Fleischer | Martinsville | 6-2 | 220 | Virginia Military Institute | So. |
| 2B | *Zachary Files | Florence | 6-3 | 210 | Florida International | Jr. |
| 2B | Joshua Smith | Martinsville | 5-11 | 180 | Grand Valley State | So. |
| SS | *Colin Rosenbaum | Asheboro | 6-0 | 180 | Belmont Abbey | So. |
| SS | Adam Renwick | Lexington County | 6-2 | 180 | Clemson | So. |
| 3B | *Connor Lind | Asheboro | 6-0 | 210 | Northwestern | So. |
| 3B | Matt Simmons | Gastonia | 6-1 | 215 | Gardner-Webb | Jr. |
| DH/UTL | *Carson Jackson | HP-Thomasville | 6-1 | 215 | High Point | So. |
| DH/UTL | Clay Dungan | Savannah | 6-0 | 180 | Indiana State | Fr. |
| DH/UTL | Ryan Colombo | Asheboro | 6-1 | 185 | Drury | Jr. |
| OF | *Brett Auckland | Lexington County | 5-8 | 185 | Presbyterian | Jr. |
| OF | *T.J. Nichting | Asheboro | 5-11 | 185 | Charlotte | Jr. |
| OF | *Jameson Hannah | Savannah | 5-10 | 185 | Dallas Baptist | Fr. |
| OF | Clint Hardy | Savannah | 6-1 | 215 | Augusta | Jr. |
| OF | Kyle Smith | Asheboro | 6-0 | 190 | Catawba | So. |
| OF | Brad Jarreau | High Point-Thomasville | 5-10 | 185 | Middle Tennessee State | Jr. |
| OF | Chris Singleton | Lexington County | 6-1 | 175 | Charleston Southern | So. |
| OF | Reece Hampton | Florence | 5-10 | 170 | Charlotte | Fr. |
| RHP | *Brady Feigl | Asheboro | 6-4 | 220 | Mississippi | RS-Fr. |
| LHP | Steven Bower | HP-Thomasville | 6-2 | 225 | North Georgia | Fr. |
| RHP | Beau Sulser | Savannah | 6-2 | 195 | Dartmouth | Jr. |
| RHP | Ryan Hedrick | Lexington County | 5-11 | 185 | Presbyterian | So. |
| RHP | Chaz Miller | Forest City | 6-0 | 185 | Bluefield College | Jr. |
| RHP | Barrett Loseke | Gastonia | 6-1 | 195 | Arkansas | Fr. |
| RHP | Taylor Sugg | HP-Thomasville | 6-2 | 170 | North Carolina | Fr. |
| RHP | Bryan Blanton | Asheboro | 5-11 | 190 | Catawba | So. |