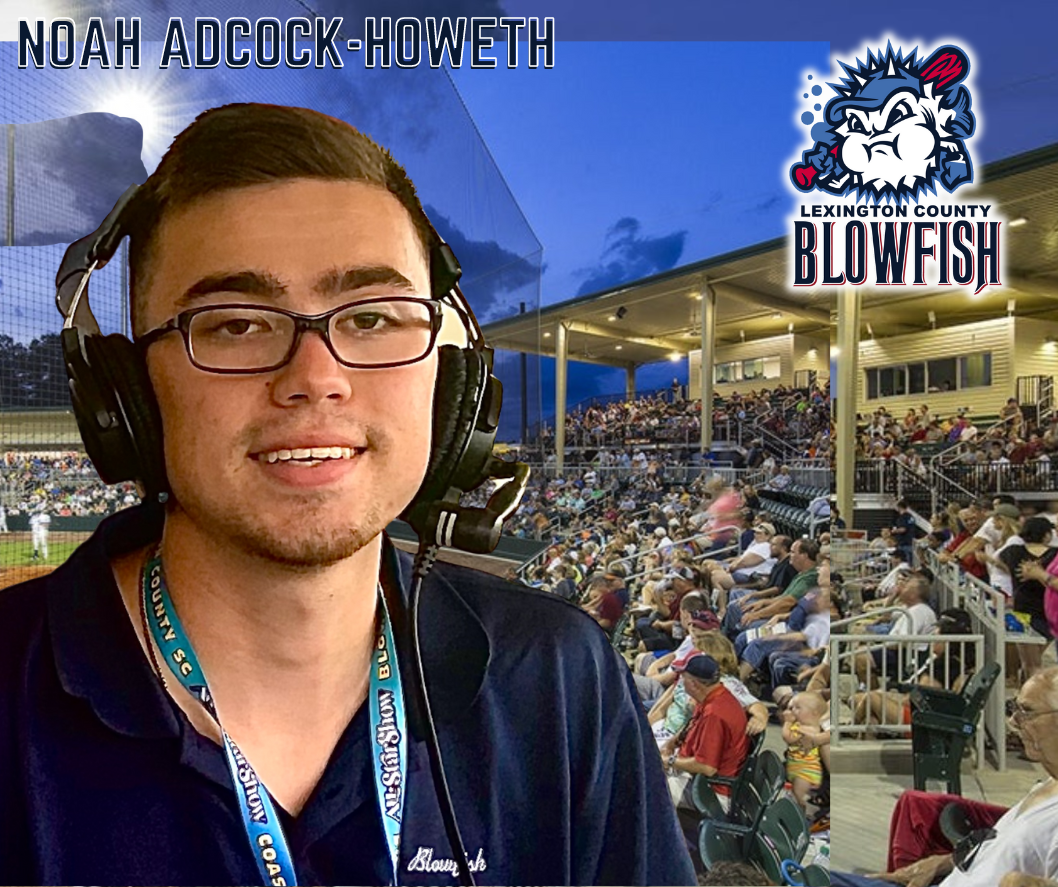 HOLLY SPRINGS – The Coastal Plain League announced that the voice of the Lexington County Blowfish, Noah Adcock-Howeth, and the Boone Bigfoots have been named the winners of the Broadcaster and Stream of the Year awards for the 2023 season respectively.
"I'm incredibly honored to be named the 2023 CPL Broadcaster of the Year," said Adcock-Howeth. "It's been a pleasure and a privilege calling games in Lexington the last two summers, and I've enjoyed every moment, culminating in a CPL Petitt Cup championship this season. I'm grateful to the Coastal Plain League, Bill and Vicki (Shanahan), Tony (Baldwin) and the Blowfish organization, as well as the Lexington County faithful and our listening audience for their support and encouragement, which has been more than I could have ever asked for."
Adcock-Howeth returned for his second season for the Blowfish this summer and his passion for both the game of baseball as well as his craft is easy to notice. In order to offer fans an educated and enjoyable experience, he has learned to do his homework before each game – often times resulting in 7-10 pages of notes on Lexington County and another 4-6 pages for their opponent that day. He's also utilized conversations with players, coaches and broadcasters from other teams to find additional tidbits of information that help enhance each broadcast. And regardless of your level of understanding of the game, Adcock-Howeth leaned on his personal experience of baseball to help keep each broadcast detailed for that knowledgable listener, as well as breaking things down to simplify coverage for others still learning.
"Like baseball players, game preparation is one of the major keys to their success," commented Blowfish co-owner Bill Shanahan. "Noah's preparatory work and knowledge of the game has provided fans watching & listening a well-rounded broadcast, becoming an exciting part of the fan's experience. As a former college pitcher, Noah delivers the ballgame in a consistent and professional manner."
And fans – both ones that follow the Blowfish regularly, but also ones that follow other CPL teams more frequently – agreed with his knowledge of the sport and ability to make it enjoyable. One fan commented that he has "a good delivery and knowledge of the game…keeps it exciting without being one-sided", while another stated "you can tell he is very prepared for each game and includes a personal touch by adding in stories of the players off the field."
Meanwhile, when it came to offering the most professional viewing experience each home game, the Bigfoots set the bar in the first season in the league. Utilizing a broadcast team of 3-4 camera operators, a production director (Judson Mabe), switchers, and play-by-play broadcaster (Jeffery Marcain), as well as involvement and oversight from general manager Julia Williams and owner Bob Wilson, Boone was able to offer a professional look with multiple angles that helped viewers feel as if they were at the stadium.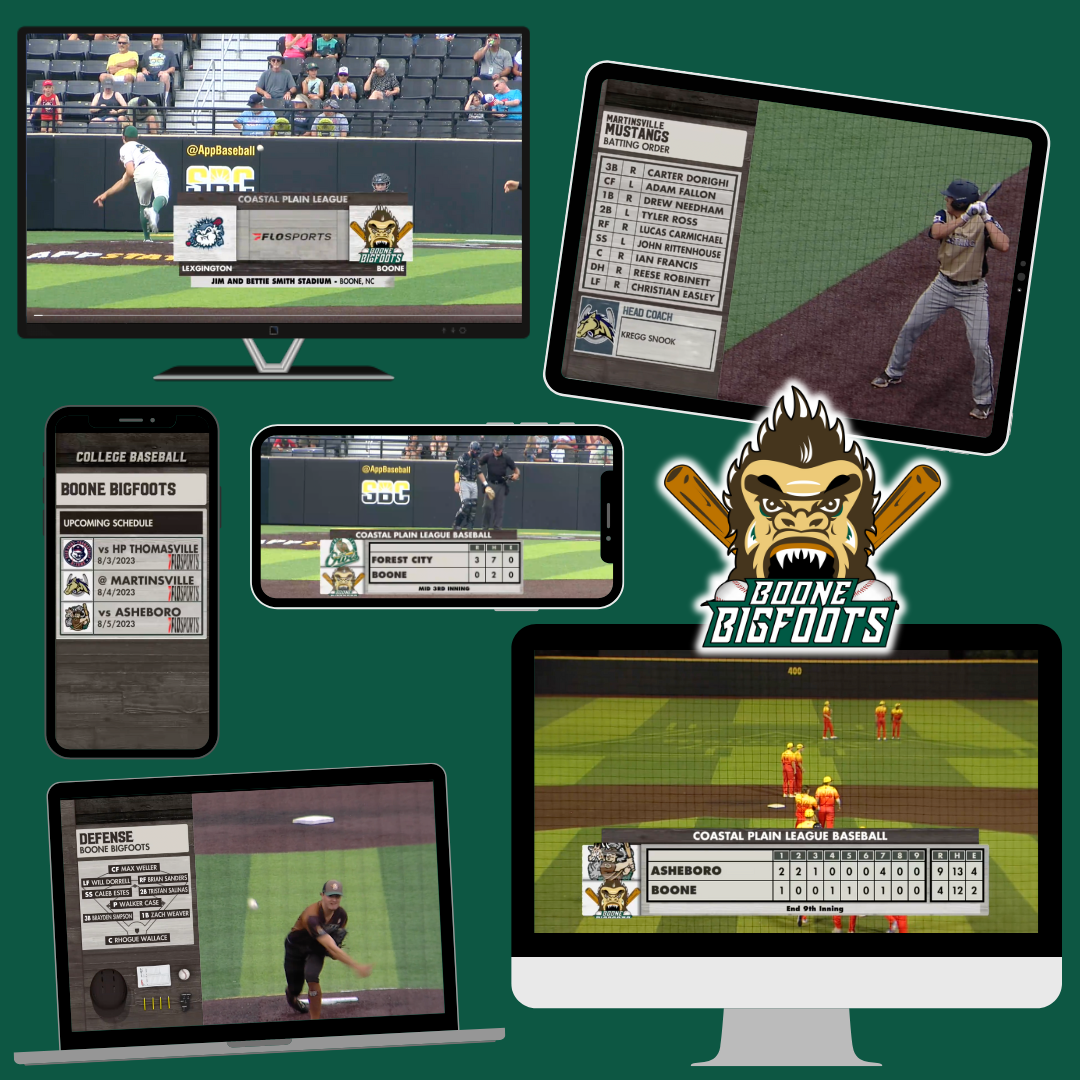 "We're very proud of the whole broadcast production team and what they were able to accomplish this season," said Boone General Manager Julia Williams. "Jeffery and Judson were both all-in, all season and were dedicated to putting together the best production possible and it definitely showed! We're excited for the future and look to build on the success that our stream team established this season!"
Another area that increased the professionalism of their broadcasts was that of custom graphic usage. They not only had title screen intros that featured the logos for the two teams playing that night as well as the broadcasters names, but they also had end-of-game graphics that showed the final line score. Fans also got treated to pitchers being highlighted with their season stats as they took to the bump, as well as cuts to show the future schedule for the teams. In summary, the overall stream was something fans commented was TV-ready.
"Their stream looked like the game was on ESPN," one fan commented, while another stated "the camerawork and graphics were second to none this season."
About Coastal Plain League:
The Coastal Plain League is the nation's premier summer collegiate baseball league. The CPL is currently comprised of 14 franchises playing in Georgia, North Carolina, South Carolina and Virginia. To date, the CPL has had nearly 1,750 alumni drafted and 181 alums make their Major League debut. Most notable alumni include Justin Verlander, Ryan Zimmerman, Mark Reynolds, Kevin Youkilis, Chris Taylor, Alec Bohm, Jake Cave, Chas McCormick and NFL Super Bowl champion Russell Wilson. For more information on the Coastal Plain League, please visit the league website at www.coastalplain.com, and be sure to follow us on Facebook, Twitter, Instagram and TikTok @CPLBaseball.