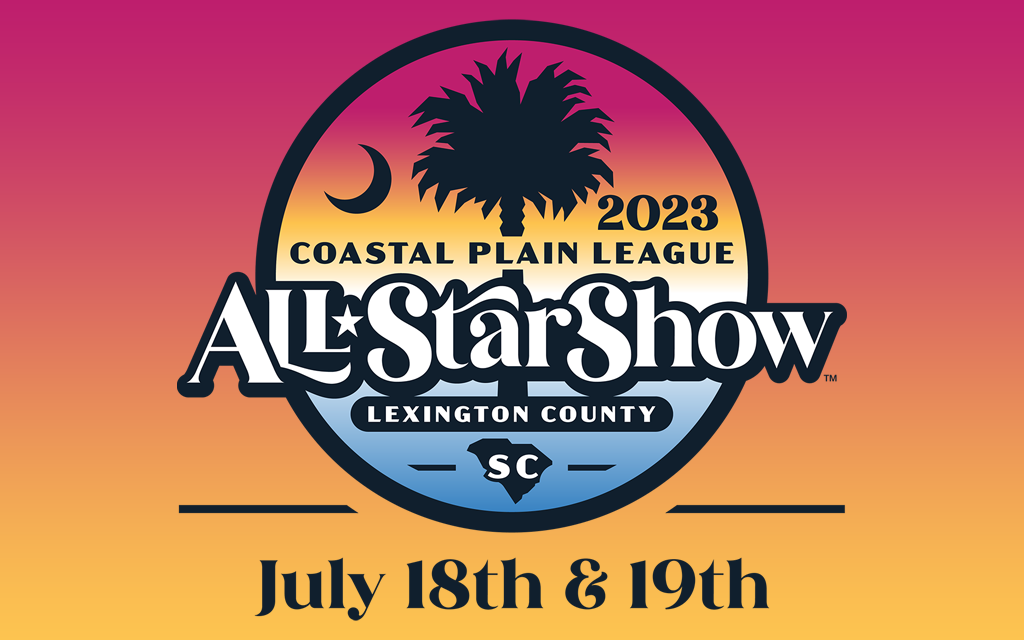 The Lexington County Blowfish on Wednesday unveiled the 2023 Coastal Plain League (CPL) All-Star Show logo during a community luncheon at Lexington County Baseball Stadium.
The CPL and the Blowfish partnered with Skye Design Studios for the eighth consecutive year to develop its 2023 All-Star Show identity.
The illustration incorporates the depiction of a relaxed vibe of a South Carolina summer with the palmetto tree and crescent moon anchoring the mark.
"Skye Dillon nailed it with this logo," Blowfish General Manager Tony Baldwin said. "We were looking for something that accurately depicted a summer around Lake Murray and this is it. He used colors that make you feel like you are hanging out on a warm summer night in our community."
In addition to the primary mark, Blowie the Blowfish is featured on a secondary logo running down a fly ball in front of the sunset.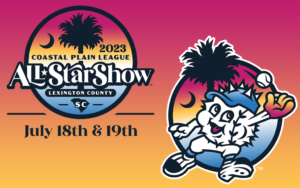 Skye Design Studios is a national leader in sports branding with clients that include Major League Baseball, National Basketball Association and a variety of college and universities among others.
The 2023 CPL All-Star Show will take place July 18-19 at Lexington County Baseball Stadium. The two-day event will feature a Fan Fest and Pro Scout Day on Tuesday, July 18, while the All-Star Game will take place a day later.
"We are really looking forward to a fun-filled two days in Lexington County," said CPL Commissioner Chip Allen. "The Blowfish are combining the Coastal Palin League's marque player showcase, with creative, fan-engaging events that you will not want to miss."
Currently, tickets for the CPL All-Star Show can be purchased in conjunction with a Blowfish 10- or 15-Game All-You-Can-Eat Plan. It also is included with season tickets. Single-game tickets will be released in May, but fans may sign up for the priority list, which will allow them to be notified first when tickets are available.
For more information on Blowfish tickets, click here or call their Front Office at (803) 254-3474.
About Coastal Plain League:
The Coastal Plain League is the nation's premier summer collegiate baseball league. The CPL is currently comprised of 14 franchises playing in Georgia, North Carolina, South Carolina and Virginia. To date, the CPL has had nearly 1,750 alumni drafted and 163 alums make their Major League debut. Most notable alumni include Justin Verlander, Ryan Zimmerman, Mark Reynolds, Kevin Youkilis, Chris Taylor, Alec Bohm, Jake Cave, Chas McCormick and NFL Super Bowl champion Russell Wilson.. For more information on the Coastal Plain League, please visit the league website at www.coastalplain.com, and be sure to follow us on Facebook, Twitter, Instagram and TikTok @CPLBaseball.