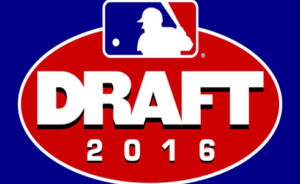 The Coastal Plain League announced that 89 players, both former and current, were selected during the 2016 Major League Baseball First-Year Player Draft.
Cal Quantrill, a former 2014 Morehead City Marlin, was the first CPL alum to have his name called, going eighth overall in the first round to the San Diego Padres. Quantrill was followed by former Fayetteville SwampDog Joey Lucchesi who went in the fourth round to the Padres as well and five others former CPL players who were selected in the fifth round: Jeremy Walker (Edenton '14, '15), Connor Justus (Asheboro '14), Dom Thompson-Williams (Peninsula '15), Nick Lopez (HP-Thomasville '15), Bailey Clark (Gastonia '14).
Following his freshman season at Stanford, Quantrill chose to showcase these talents in the Coastal Plain League against some of the top collegiate talent in the nation. Playing for the Marlins, he finished the season with a 3-0 record over four starts to go along with a 1.59 ERA and 33 strikeouts over 22 2/3 innings pitched. This stellar play earned him the starting nod for not only the 2014 CPL All-Star Game, but the CPL Select Game versus the USA Collegiate National Team as well.
Quantrill marks the eleventh former CPL player all-time to be selected in the first round, and is tied for the third highest pick ever with Wade Townsend, following Justin Verlander (Detroit / #2 overall and Ryan Zimmerman (Washington / #4 overall).
The complete list of CPL players – both former and players signed for the 2016 season – taken in this year's draft is below:
Coastal Plain League Alumni Drafted In 2016 Major League Draft 

| Round | Overall | Player | College/University | MLB Team Drafted By | CPL Team(s) |
| --- | --- | --- | --- | --- | --- |
| 1 | 8 | Cal Quantrill | Stanford | San Diego | '14 Morehead City |
| 4 | 114 | Joey Lucchesi | Southeast Missouri State | San Diego | '15 Fayetteville |
| 5 | 139 | Jeremy Walker | Gardner Webb | Atlanta | '14 Edenton |
| 5 | 156 | Connor Justus | Georgia Tech | Los Angeles (AL) | '14 Asheboro |
| 5 | 158 | Dom Thompson-Williams | South Carolina | New York (AL) | '15 Peninsula |
| 5 | 163 | Nick Lopez | Creighton | Kansas City | '15 HP-Thomasville |
| 5 | 164 | Bailey Clark | Duke | Chicago (NL) | '14 Gastonia |
| 6 | 190 | Chris Viall | Stanford | New York (NL) | '14 Morehead City |
| 7 | 207 | Matthew Festa | East Stroudsburg | Seattle | '15 Edenton |
| 8 | 229 | Taylor Hyssong | UNC Wilmington | Atlanta | '15 Forest City |
| 8 | 232 | Will Gilbert | NC State | Oakland | '14 Wilmington |
| 9 | 261 | Trey York | East Tennessee State | Milwaukee | '15 Wilson |
| 9 | 273 | Mitchell Kranson | UC Berkley | Minnesota | '15 Fayetteville |
| 9 | 282 | Nick Hartman | Old Dominion | Toronto | '14, '15 Peninsula |
| 10 | 289 | Marcus Mooney | South Carolina | Atlanta | '15 Wilson |
| 10 | 310 | Gene Cone | South Carolina | New York (NL) | '14 Florence / Lexington County '15 |
| 10 | 315 | Matthew Anderson | Morehead State | Pittsburgh | '15 HP-Thomasville |
| 12 | 349 | Brandon White | Lander | Atlanta | '15 Lexington County |
| 12 | 356 | Mitchell Roman | Wright State | Chicago (AL) | '15 Fayetteville |
| 12 | 358 | Matthew Gorst | Georgia Tech | Boston | '14 Asheboro |
| 12 | 359 | Gavin Stupienski | UNC Wilmington | Arizona | '14 Martinsville / '15 Wilmington |
| 12 | 363 | Zach Featherstone | Tallahassee CC | Minnesota | '16 Gastonia |
| 12 | 367 | Carmen Benedetti | Michigan | Houston | '15 Morehead City |
| 12 | 368 | Taylor Widener | South Carolina | New York (AL) | '15 Lexington County |
| 12 | 369 | Alex Kowalczyk | Pittsburgh | Texas | '15 Morehead City |
| 13 | 385 | Braden Policelli | Towsonl | Detroit | '15 Forest City |
| 15 | 449 | Tyler Keele | Morehead State | Arizona | '15 Florence |
| 15 | 451 | Nick Jobst | USC Aiken | Baltimore | '14 Columbia / '15 Lexington County |
| 15 | 463 | Mike Messier | Bellarmine | Kansas City | '16 Edenton |
| 16 | 479 | Nick Blackburn | Illinois | Arizona | '13 Fayetteville |
| 16 | 491 | Darius Tubbs | Memphis | Los Angeles (NL) | '14 Asheboro |
| 16 | 496 | Tyler Lancaster | Spartanburg Methodist | St. Louis | '14 Columbia / Lexington County '15 |
| 17 | 499 | Devan Watts | Tusculum | Atlanta | '15, '16 Edenton |
| 17 | 501 | Weston Wilson | Clemson | Milwaukee | '14 HP-Thomasville |
| 17 | 506 | Brad Haymes | Gardner Webb | Chicago (AL) | '14, '15 Asheboro |
| 17 | 514 | Tyler Beckwith | Richmond | Washington | '13, '14 Gastonia |
| 17 | 518 | Reid Anderson | Millersville | Texas | '15 Forest City |
| 18 | 532 | Skyler Weber | Georgia | Oakland | '15 Peninsula |
| 18 | 536 | Lane Hobbs | Concordia | Chicago (AL) | '15 Martinsville |
| 18 | 545 | Jacob Heyward | Miami | San Francisco | '14 Gastonia |
| 18 | 552 | Bradley Jones | Charleston | Toronto | '14 Forest City |
| 18 | 555 | Kevin Mahala | George Washington | Pittsburgh | '14 Martinsville |
| 19 | 571 | Cole Billingsley | South Alabama | Baltimore | '14 Morehead City |
| 20 | 603 | Shamoy Christopher | Roane State | Minnesota/td> | '15 Pittsburgh |
| 21 | 622 | Kyle Nowlin | Eastern Illinois | Oakland | '14 Martinsville, '15 Wilmington |
| 21 | 631 | Chris Clare | High Point | Baltimore | '15 Wilson / '16 Holly Springs |
| 21 | 632 | Will Crowe | South Carolina | Cleveland | '16 Lexington County |
| 21 | 635 | Will Albertson | Catawba | San Francisco | '14, '15 Asheboro |
| 21 | 644 | Sam Tidabeck | North Georgia | Chicago (NL) | '14 Peninsula |
| 22 | 650 | Steven Linkous | UNC Wilmington | Colorado | '14, '15 Wilmington |
| 22 | 653 | Alex Mateo | Nova Southeastern | Miami | '14 Fayetteville |
| 22 | 663 | Hank Morrison | Mercyhurst | Minnesota | '15 Martinsville |
| 22 | 669 | Clayton Middleton | Bethune-Cookman | Texas | '16 Martinsville |
| 22 | 676 | Mick Fennell | California-Penn | St. Louis | '15 Edenton |
| 23 | 697 | Tyler Britton | High Point | Houston | '13 HP-Thomasville |
| 23 | 698 | Braden Bristo | Louisiana Tech | New York (AL) | '14 Wilson / '15 HP-Thomasville |
| 23 | 706 | JD Crowe | Francis Marion | St. Louis | '12 Florence / '14 Columbia |
| 24 | 718 | Hunter Smith | UNC Greensboro | Boston | '13, '14 Wilmington |
| 24 | 726 | Brennan Morgan | Kennesaw State | Los Angeles (AL) | '15 Gastonia |
| 25 | 750 | Matthew Vogel | South Carolina | Tampa Bay | '15 Wilmington |
| 25 | 754 | Branden Boggetto | Southeast Missouri State | Washington | '15 Fayetteville |
| 26 | 726 | Patrick Riehl | Mars Hill | Cincinnati | '16 Holly Springs |
| 26 | 772 | Charlie Gould | William & Mary | Oakland | '14 Martinsville |
| 26 | 791 | Branden Montgomery | San Jacinto College | '15 Morehead City | '14 Martinsville/ '15 Wilmington |
| 27 | 797 | Davis Agle | Spartanburg Methodist | Philadelphia | '16 Lexington County |
| 27 | 802 | Cole Gruber | Nebraska | Oakland | '15 Edenton |
| 27 | 805 | Chad Sedio | Miami U | Detroit | '15 Edenton |
| 27 | 806 | Mike Morrison | Coastal Carolina | Chicago (AL) | '14 Florence |
| 27 | 824 | Connor Myers | Old Dominion | Chicago (NL) | '13, '14, '15 Peninsula |
| 29 | 862 | Matt Milburn | Wofford | Oakland | '14 HP-Thomasville |
| 29 | 883 | Gavin Grant | Central Missouri | Kansas City | '15 Morehead City |
| 31 | 924 | GK Young | Coastal Carolina | San Diego | '15 Petersburg / '16 Florence |
| 31 | 925 | Dalton Britt | Liberty | Detroit | '14 Morehead City |
| 31 | 930 | Joey Roach | Georgia State | Tampa Bay | '13 Wilson / '15 Holly Springs |
| 31 | 931 | Jake Ring | Missouri | Baltimore | '15 Martinsville |
| 31 | 940 | Jeremy Wolf | Trinity | New York (NL) | '15 Petersburg |
| 33 | 998 | Bryson Bowman | Western Carolina | New York (AL) | '14 Gastonia |
| 34 | 1011 | Matt Smith | Georgetown | Milwaukee | '14 Forest City |
| 34 | 1019 | Connor Owings | Coastal Carolina | Arizona | '13, '14 Asheboro / '15 Lexington County |
| 35 | 1044 | David Bednar | Lafayette | San Diego | '15, Edenton |
| 36 | 1067 | Mac Sceroler | Southeastern Louisiana | Philadelphia | '15 HP-Thomasville |
| 36 | 1078 | Jordan Wren | Georgia Southern | Boston | '16 Lexington County |
| 37 | 1103 | Zach Daly | Lander | Miami | '13, '14 Gastonia |
| 37 | 1109 | Welby Malczewski | Heartland CC | Arizona | '16 Peninsula |
| 38 | 1141 | Collin Woody | UNC Greensboro | Baltimore | '15 Holly Springs |
| 38 | 1147 | Chaz Pal | USC Aiken | Houston | '15 Florence |
| 38 | 1155 | Aaron Maher | East Tennessee State | Pittsburgh | '16 Forest City |
| 39 | 1173 | Casey Scoggins | Tampa | Minnesota | '15 Gastonia |