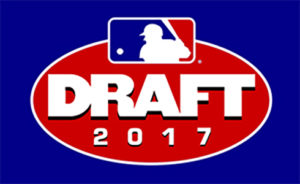 The Coastal Plain League announced that 101 players, both former and current, were selected during the 2017 Major League Baseball First-Year Player Draft. This marks the most former CPL players selected since the draft moved to only 40 rounds from the previous of 50 that ended in 2011.
Clarke Schmidt, a former 2015 Florence RedWolf, was the first CPL alum to have his name called, going in the first round 16th overall to the New York Yankees. Schmidt was followed by former 2015 Holly Springs player Brian Miller who went 36th overall in the Competitive Balance Round that followed round one. A total of 22 CPL players were taken in the first 10 rounds of this year's draft, added to the rest of the selections it pushes the CPL over 1,400 alums taken in the draft since its inception in 1997.
All of the CPL's current 15 clubs saw a player selected in the 2017 draft. The Lexington County Blowfish led the way with 13 former and current players selected each, with Morehead City coming in as a close second with 12. Asheboro, Fayetteville, Forest City, High-Point Thomasville, Wilmington and Wilson followed with eight each, followed by Holly Springs with seven. Edenton, Martinsville and Peninsula were next with five, while Savannah had four. Rounding out the field were Florence and former CPL franchise Petersburg with three a piece, followed by Gastonia with two former players taken in the draft.
The complete list of CPL players – both former and players signed for the 2017 season – taken in this year's draft is below:
Coastal Plain League Alumni Drafted In 2017 Major League Draft 

| Round | Overall | Player | College/University | MLB Team Drafted By | CPL Team(s) |
| --- | --- | --- | --- | --- | --- |
| 1 | 16 | Clarke Schmidt | South Carolina | New York (AL) | '15 Florence |
| CBA | 36 | Brian Miller | North Carolina | Miami | '15 Holly Springs |
| 2 | 44 | Drew Ellis | Louisville | Arizona | '15 HP-Thomasville |
| 2 | 65 | Wil Crowe | South Carolina | Washington | '16 Lexington |
| 3 | 101 | Brett Netzer | Charlotte | Boston | '17 Savannah |
| 3 | 103 | Matt Whatley | Oral Roberts | Texas | '15 Wilmington |
| 4 | 106 | Charlie Barnes | Clemson | Minnesota | '15 Lexington |
| 5 | 140 | Bruce Zimmerman | Mount Olive | Arizona | '15 Forest City |
| 5 | 154 | Mac Sceroler | Southeastern Louisiana | Cincinnati | '15 HP-Thomasville |
| 5 | 157 | Matt Winaker | Stanford | New York (AL) | '15 Morehead City |
| 5 | 162 | Austen Wade | Texas Christian | Cleveland | '15 Petersburg |
| 6 | 180 | Tyler Zuber | Arkansas State | Kansas City | '14 Forest City |
| 7 | 203 | Nick Maton | Lincoln Land CC | Philadelphia | '16 Fayetteville |
| 8 | 230 | John Luke Curtis | Lenoir-Rhyne | Atlanta | '16 Morehead City |
| 8 | 235 | Connor Riley | USC-Aiken | Los Angeles (AL) | '16 Wilmington |
| 8 | 250 | Rylan Bannon | Xavier | Los Angeles (NL) | '16 Savannah |
| 9 | 268 | Bligh Madris | Colorado Mesa | Pittsburgh | '15 Fayetteville |
| 9 | 272 | Austin Gardner | UT-Arlington | New York (AL) | '15, '16 HP-Thomasville |
| 9 | 278 | T.J. Nichting | Charlotte | Baltimore | '16 Asheboro |
| 10 | 295 | Daniel Procopio | Niagara | Los Angeles (AL) | '16 Lexington County |
| 10 | 298 | Beau Sulser | Dartmouth | Pittsburgh | '16 Savannah |
| 10 | 311 | Jordan Wren | Georgia Southern | Boston | '16 Lexington |
| 11 | 333 | JP Sears | Citadel | Seattle | '16 Lexington |
| 13 | 390 | Cason Sherrod | Texas A&M | Kansas City | '15 Wilson |
| 13 | 405 | Austin Upshaw | Kennesaw State | Chicago (NL) | '15 Fayetteville |
| 14 | 410 | Keith Weisenberg | Stanford | Atlanta | '16 Morehead City |
| 14 | 417 | Alex Destino | South Carolina | Chicago (AL) | '15 Wilmington |
| 14 | 423 | Trevor Casanova | El Camino College | Seattle | '17 Fayetteville |
| 14 | 430 | Josh McClain | NC State | Los Angeles (NL) | '15 Holly Springs |
| 14 | 434 | Alex Eubanks | Clemson | Texas | '15 Wilson |
| 15 | 441 | Josh Reagan | South Carolina | Oakland | '14 Columbia / '15 Florence |
| 15 | 446 | Colton Hathcock | Memphis | Colorado | '15 Morehead City |
| 15 | 455 | Teddy Hoffman | Texas State | Detroit | '15, '16 HP-Thomasville |
| 16 | 477 | Logan Taylor | Louisville | Chicago (AL) | '14 HP-Thomasville |
| 16 | 483 | Orlando Razo | UC Davis | Seattle | '14 Forest City |
| 16 | 486 | John Russell | Connecticut | San Francisco | '16 Edenton |
| 18 | 527 | John Ghyzel | Rochester | Cincinnati | '16, '17 Forest City |
| 18 | 541 | Tim Hardy | Tuscolum College | Houston | '17 Holly Springs |
| 18 | 553 | Nick Choruby | Texas A&M | Washington | '15 Martinsville / '16 Savannah |
| 19 | 556 | Jordan Gore | Coastal Carolina | Minnesota | '14, '15, '17 Florence |
| 19 | 583 | Jonathan Pryor | Wake Forest | Washington | '15 Martinsville |
| 19 | 585 | Chris Singleton | Charleston Southern | Chicago (NL) | '16 Lexington County |
| 20 | 590 | Justin Smith | St. Johns River State | Atlanta | '17 Lexington County |
| 20 | 609 | Tanner Kirwer | Niagara | Toronto | '16 Morehead City |
| 20 | 614 | Jake Cousins | Pennsylvania | Washington | '15 Edenton |
| 21 | 620 | Jeffrey Johnstone | Wake Forest | Atlanta | '15 Wilmington |
| 21 | 627 | John Parke | South Carolina | Chicago (AL) | '14, '15 Wilmington |
| 21 | 631 | Chas McCormick | Millersville | Houston | '16 Lexington |
| 21 | 632 | Bryan Blanton | Catawba | New York (AL) | '14, '17 Asheboro |
| 21 | 633 | Connor Hoover | North Georgia | Seattle | '17 Morehead City |
| 21 | 636 | Logan Baldwin | Georgia Southern | San Francisco | '16 Wilson |
| 22 | 647 | Justin Bellinger | Duke | Cincinnati | '14 Wilmington / '15 Ashbeoro / '16 Wilson |
| 22 | 651 | Bryce Conley | Georgia State | Oakland | '14 Wilmington |
| 22 | 672 | Clark Scolamiero | North Greenville | Cincinnati | '15 Wilson/ '16 Wilmington / '17 Lexington County |
| 23 | 679 | Zack Mozingo | Mount Olive | Tampa Bay | '16 Wilson |
| 23 | 686 | Danny Edgewoth | Mercer | Colorado | '15, '16 Lexington County |
| 23 | 693 | Sam Delaplane | Eastern Michigan | Seattle | '14 Morehead City |
| 24 | 725 | Jordan Knutson | Missouri State | Detroit | '14 Morehead City |
| 24 | 724 | St. Clair Thomas | Lenoir-Rhyne | St. Louis | '15 Peninsula |
| 24 | 731 | Charlie Madden | Mercer | Boston | '16 Lexington County |
| 25 | 761 | Kory Behenna | Wingate | Boston | '16 Holly Springs |
| 26 | 773 | Quincy Nieporte | Florida State | Philadelphia | '14 Morehead City |
| 26 | 784 | Paul Balestrieri | Cornell | St. Louis | '15 Asheboro |
| 26 | 786 | Kyle McPherson | James Madison | San Francisco | '15 Petersburg/ '16 Peninsula |
| 26 | 790 | Devin Hemmerich | Norfolk/td> | Los Angeles (NL) | '14, '15, '16 Peninsula |
| 26 | 792 | Tommy DeJuneas | NC State | Cleveland | '15 Holly Springs |
| 27 | 801 | Ben Spitznagel | UNC Greensboro | Oakland | '15 HP-Thomasville |
| 27 | 804 | Cody Martin | Tampa | Milwaukee | '15 Petersburg |
| 27 | 805 | Brandon Sandoval | Vanguard | Los Angeles (AL) | '15 Edenton |
| 27 | 812 | Alex Mauricio | Norfolk | New York (AL) | '16 Peninsula |
| 27 | 814 | Kodi Whitley | Mount Olive | St. Louis | '14, '15 Fayetteville |
| 28 | 853 | Nic Perkins | Drury | Washington | '16 Asheboro / '17 Fayetteville |
| 29 | 857 | AJ Bumpass | Cincinnati | Cincinnati | '16 Forest City |
| 29 | 859 | Ryan Askew | Mercer | Tampa Bay | '15 Edenton |
| 30 | 888 | Chandler Seagle | Appalachian State | San Diego | '16 Martinsville |
| 30 | 908 | Will Robertson | Davidson | Baltimore | '14 Forest City |
| 30 | 915 | Cam Balego | Mercyhurst | Chicago (NL) | '16 Wilson |
| 31 | 938 | Robbie Thorburn | UNC Wilmington | Baltimore | '15 Holly Springs |
| 31 | 945 | Ramsey Romano | Long Beach | Chicago (NL) | '14 Morehead City |
| 32 | 946 | Nick Brown | William & Mary | Minnesota | '15 Asheboro |
| 32 | 948 | Matthew Batten | Quinnipiac | San Diego | '16 Morehead City |
| 32 | 951 | Caleb Evans | Liberty | Oakland | '16 Peninsula |
| 32 | 967 | Kaylor Chafin | Texas A&M | New York (NL) | '16 HP-Thomasville |
| 32 | 969 | Jacob Condra-Bogan | Georgia Southern | Toronto | '14 Florence |
| 33 | 979 | Ivan Pelaez | Faulkner | Tampa Bay | '16 Asheboro |
| 33 | 996 | Peyton Maddox | Virginia Military | San Francisco | '17 Fayetteville |
| 34 | 1009 | Trey Hair | Evansville | Tampa Bay | '15, '16 Edenton |
| 34 | 1010 | Ricky Negron | Tampa | Atlanta | '14 Morehead City |
| 34 | 1018 | Mason Ward | Kennesaw State | Pittsburgh | '16 Gastonia |
| 34 | 1028 | Timothy Naughton | NC State | Baltimore | '15 Forest City |
| 35 | 1042 | Zachary Almond | Catawba | Arizona | '16 HP-Thomasville |
| 35 | 1045 | Brady Feigl | Ole Miss | Los Angeles (AL) | '16 Asheboro |
| 35 | 1050 | Reed Rohlman | Clemson | Kansas City | '15, '16 Lexington County |
| 36 | 1079 | Josh Alberius | Arkansas | Miami | '13 Martinsville |
| 36 | 1088 | Tyler Coolbaugh | Angelo State | Baltimore | '14 Fayetteville |
| 37 | 1121 | Carson Teel | Oklahoma State | Boston | '15 Wilson |
| 38 | 1130 | Adam Groesbeck | Air Force | Atlanta | '16 Forest City |
| 38 | 1139 | Cody Roberts | North Carolina | Miami | '16 Holly Springs |
| 38 | 1149 | Marcus Reyes | San Diego State | Toronto | '16 Martinsville |
| 39 | 1174 | Christopher Hunt | Henderson State | St. Louis | '16 Gastonia |
| 39 | 1181 | Ridge Chapman | Spartanburg Methodist | Boston | '17 Lexington County |