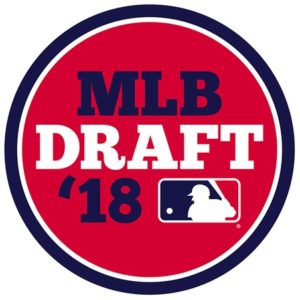 The Coastal Plain League announced that 100 players, both former and current, were selected during the 2018 Major League Baseball First-Year Player Draft. Former Wilmington Shark Alec Bohm was the first off the board, selected number three overall by the Philadelphia Phillies.
The story goes that when Bohm, of Wichita State, first arrived in Wilmington and caught a ride straight to the stadium, without yet having a chance to speak to anyone, he stepped on the field and mashed nine home runs to make a strong impression on all of his new teammates and coaches who looked on. From there he continued to make an impression on the entire league finishing the season as a Hitter of the Year candidate.
In total he had a .330 batting average helping him to a league-leading 51 RBIs to go along with 11 home runs and 12 doubles for a .522 slugging percentage on the year. He was named to the 2016 CPL All-Star Game where he also competed and won the All-Star Home Run Derby. Bohm was also a member of the 2016 All-CPL First Team.
Also selected on day one of the MLB Draft was former Savannah All-Star Jameson Hannah who helped lead the Bananas to a 2016 CPL Championship in their inaugural season. Hannah was picked by the Oakland Athletics in the second round of the draft, number 50 overall. He finished the 2016 season with the second-best batting average in the league at .371 while also notching 12 doubles, one triple and four home runs. The Dallas Baptist outfielder was a catalyst for the team all season as scored 34 runs while also driving in 34.
In total, fifteen of the current 16 CPL clubs saw a player selected in the 2018 draft, with the only team not having a player selecting being the Macon Bacon who are currently in the midst of their inagural season. The Wilmington Sharks led the way with 11 former and current players selected, with Holly Springs coming in as a close second with 10. Next was Peninsula with nine, followed by Edenton and Savannah who each had eight players selected. Fayetteville saw seven players come off the board with seven other teams following with six players selected: Forest City, Florence, Gastonia, HP-Thomasville, Lexington County and Wilson. Morehead City came in next with five, followed by Martinsville with four and former CPL franchise Petersburg with three.
The complete list of CPL players – both former and players signed for the 2018 season – taken in this year's draft is below:
Coastal Plain League Alumni Drafted In 2018 Major League Draft 

| Round | Overall | Player | College/University | MLB Team Drafted By | CPL Team(s) |
| --- | --- | --- | --- | --- | --- |
| 1 | 3 | Alec Bohm | Wichita State | Philadelphia | '16 Wilmington |
| 2 | 50 | Jameson Hannah | Dallas Baptist | Oakland | '16 Savannah |
| 2 | 59 | Ryan Jeffers | UNC Wilmington | Minnesota | '16 Savannah |
| 4 | 133 | Adam Scott | Wofford | Cleveland | '16 Savannah |
| 5 | 143 | Brady Feigl | Ole Miss | Oakland | '16 Asheboro |
| 5 | 144 | Grant Koch | Arkansas | Pittsburgh | '16 Wilmington |
| 5 | 152 | Austin Cox | Mercer | Kansas City | '17 Edenton |
| 7 | 206 | Nick Podkul | Notre Dame | Toronto | '17 Morehead City |
| 7 | 207 | Cason Sherrod | Texas A&M | Miami | '15 Wilson |
| 7 | 211 | Andrew Wantz | UNC Greensboro | Los Angeles (AL) | '15 Holly Springs |
| 7 | 214 | Josh Winder | Virginia Military | Minnesota | '16 Peninsula |
| 7 | 215 | David Fry | Northwestern State | Milwaukee | '16 Peninsula |
| 7 | 223 | Cody Morris | South Carolina | Cleveland | '17 Lexington |
| 8 | 227 | Seth Lancaster | Coastal Carolina | Philadelphia | '17 Lexington |
| 9 | 259 | Andrew McDonald | Virginia Tech | Cincinatti | '17 Edenton |
| 9 | 269 | Chandler Sanburn | Wichita State | Texas | '15, '16 Holly Springs |
| 9 | 284 | Josh McLain | NC State | Los Angeles (NL) | '15 Holly Springs |
| 10 | 287 | Madison Stokes | South Carolina | Philadelphia | '15 Lexington / '16 Wilmington |
| 10 | 303 | Kevin Woodall | Coastal Carolina | St. Louis | '17 Florence |
| 10 | 307 | Josh Maciejewski | Charlotte | New York (AL) | '16, '17 Gastonia |
| 11 | 325 | Cody Roberts | North Carolina | Baltimore | '16 Holly Springs |
| 11 | 329 | Billy Layne Jr. | Seton Hall | Texas | '17 Gastonia |
| 12 | 345 | Reese Hampton | Charlotte | Detroit | '16, '17 Florence |
| 12 | 367 | Matthew Pita | Virginia Military | New York (AL) | '17, '18 Savannah |
| 12 | 371 | Graham Lawson | South Carolina | Washington | '17 Wilmington |
| 14 | 420 | Chris Gau | Jacksonville | Tampa Bay | '16 Peninsula |
| 14 | 423 | Brandon Riley | North Carolina | St. Louis | '16 Holly Springs |
| 14 | 436 | Matt Frisbee | UNC Greensboro | San Francisco | '16 Holly Springs |
| 15 | 457 | Nick Ernst | Miami Ohio | New York (AL) | '17 Fayetteville |
| 16 | 465 | Dayton Dugas | Wichita State | Detroit | '17 Wilmington |
| 16 | 470 | L.A. Woodard | Middle Tennessee State | New York (NL) | '17 Florence |
| 16 | 476 | Josh Hiatt | North Carolina | Toronto | '16 Gastonia |
| 16 | 482 | Kyle Hinton | Delaware | Kansas City | '17 Peninsula |
| 16 | 491 | Carson Teel | Oklahoma State | Washington | '15 Wilson |
| 17 | 508 | Cesar Trejo | UNC Greensboro | Seattle | '16 HP-Thomasville |
| 17 | 502 | Justin Dean | Lenoir-Rhyne | Atlanta | '17 Wilmington |
| 17 | 505 | Trevor Putzig | Tennessee Tech | Baltimore | '17 Morehead City |
| 17 | 517 | Barrett Loseke | Arkansas | New York | '16 Gastonia |
| 17 | 521 | Ridge Chapman | South Carolina | Washington | '17 HP-Thomasville |
| 17 | 522 | Brett Daniels | North Carolina | Houston | '15 Holly Springs |
| 18 | 525 | Ethan DeCaster | Duke | Detroit | '16 Asheboro |
| 18 | 530 | Chase Chambers | Tennessee Tech | New York (NL) | '16 Morehead City |
| 18 | 549 | Kyler Stout | Oral Roberts | Arizona | '16 Wilmington |
| 19 | 556 | Randy Norris | Winston-Salem State | San Francisco | '17 HP-Thomasville / '18 Asheboro |
| 20 | 606 | Luke Morgan | College of Charleston | Colorado | '17 Wilmington |
| 20 | 609 | Erin Baldwin | Samford | Arizona | '17 HP-Thomasville |
| 20 | 612 | Austin Dennis | Middle Tennessee State | Houston | '16 Forest City |
| 21 | 621 | Mason Fox | Gardner-Webb | San Diego | '16 Forest City / '17 Asheboro |
| 21 | 623 | Daniel Martinez | Riverside CC | Oakland | '18 Fayetteville |
| 21 | 627 | Connor Grant | North Greenville | Miami | '16, '17 Forest City |
| 21 | 632 | Nathan Eaton | Virginia Military | Kansas City | '16, '17 Peninsula |
| 21 | 644 | Tre Todd | Liberty | Los Angeles (NL) | '16 Forest City |
| 22 | 668 | Jamie Galazin | St. Johns | Chicago (NL) | '17 Edenton |
| 22 | 646 | Clay Helvey | Tampa | San Francisco | '18 Gastonia |
| 23 | 698 | Hunter Taylor | South Carolina | Chicago (NL) | '16 Peninsula |
| 24 | 713 | Cam Alldred | Cincinatti | Pittsburgh | '16 Martinsville |
| 24 | 726 | Tren Fennell | Barton College | Colorado | '16 Wilson |
| 25 | 744 | Luke Mangieri | Bradley | Pittsburgh | '16 Martinsville |
| 25 | 748 | Connor Kopach | SIU-Carbondale | Seattle | '17 Edenton |
| 25 | 749 | Josh Smith | Grand Valley State | Texas | '16, '17 Martinsville |
| 25 | 759 | Landon Whitson | Lenoir-Rhyne | Arizona | '17 Forest City |
| 25 | 761 | Chris Vann | Mercer | Washington | '16, '17 Savannah |
| 25 | 762 | Logan Mattix | Georgia College | Houston | '17 Savannah |
| 26 | 777 | Tyler Jones | Wichita State | Miami | '15 Wilmington |
| 27 | 797 | Jack Conley | NC State | Philadelphia | '16 Fayetteville, '17 Holly Springs |
| 27 | 813 | Perry DellaValle | Seton Hill | St. Louis | '16 Edenton, '18 Morehead City |
| 28 | 841 | Mitch Spires | Winthrop | Los Angeles (AL) | '15 Petersburg / '16 Lexington |
| 28 | 829 | Brandt Stallings | Georgia College | Cincinatti | '16 Lexington |
| 28 | 849 | Marshawn Taylor | Grambling State | Arizona | '16, '17 Lexington |
| 28 | 852 | Joseph Gonzalez | Stetson | Houston | '17 Fayetteville |
| 28 | 853 | Billy Wilson | Loyola Maymount | Cleveland | '17 Edenton |
| 29 | 858 | Taylor Varnell | Oral Roberts | Chicago (NL) | '17 Peninsula |
| 29 | 881 | Colton Pogue | Pittsburgh | Washington | '17 Morehead City |
| 30 | 889 | Jacob Wyrick | Middle Tennessee State | Cincinatti | '17 HP-Thomasville |
| 30 | 906 | Colt Harlow | James Madison | Colorado | '16, '17 Peninsula |
| 30 | 908 | Drew Wharton | Clemson | Chicago (NL) | '15 Florence |
| 30 | 911 | Trey Vickers | Wichita State | Washington |  '16 Fayetteville |
| 31 | 923 | Alex Pantuso | Slippery Rock | Oakland | '16 Holly Springs |
| 31 | 932 | Will Hancock | Central Arkansas | Kansas City | '16 Peterburg |
| 31 | 934 | Zach Neff | Mississippi State | Minnesota | '17 Fayetteville |
| 32 | 945 | Clark Brinkman | Creighton | Detroit | '17 Asheboro |
| 32 | 951 | Cody Tyler | Wichita State | San Diego | '15, '16 Wilmington |
| 32 | 961 | Jared Janczak | Texas Christian | Los Angeles (AL) | '15 Wilson |
| 32 | 963 | Brandon Purcell | Georgia College & State | St. Louis | '16 Petersburg / '17 Savannah |
| 33 | 976 | Austin Edgette | Bloomsburg | San Francisco | '17 Fayetteville |
| 33 | 977 | Jake Kinney | Tallahassee CC | Philadelphia | '17 Savannah |
| 33 | 982 | Mason Berne | UNC Wilmington | Atlanta | '17 Wilmington |
| 33 | 989 | Reynaldo Pichardo | Dawson CC | Texas |  '18 Edenton |
| 33 | 992 | Ted Cillis | Hofstra | Kansas City | '17 Asheboro |
| 33 | 997 | Charlie Ruegger | Stevens Institure of Tech | New York (AL) | '17 Forest City |
| 34 | 1018 | Nick Wegmann | Binghamton | Seattle | '17 Edenton |
| 34 | 1027 | Matt McGarry | Belmont Abbey | New York | '17 Gastonia |
| 34 | 1032 | Ben Gross | Princeton | Houston | '17 Holly Springs |
| 35 | 1042 | Logan Brown | Southern Indiana | Atlanta | '17, '18 Peninsula |
| 35 | 1059 | Alex King | St. Louis | Arizona | '17 Wilson |
| 36 | 1075 | Matt Beaird | Coastal Carolina | Baltimore | '17 Florence |
| 37 | 1105 | Andrew Ciolli | Mercyhurst | Baltimore | '17 Martinsville |
| 39 | 1165 | Ted Stuka | UC San Diego | Baltimore | '17 Wilson |
| 40 | 1187 | Waylon Richardson | Kankakee CC | Philadephia | '17 HP-Thomasville |
| 40 | 1204 | Tyler Webb | Memphis | Minnesota | '17 Florence |