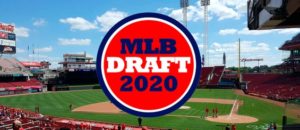 The Coastal Plain League announced that seven players were selected during the abbreviated five-round 2020 Major League Baseball First-Year Player Draft. Former Holly Springs Salamander Patrick Bailey was the first off the board, selected 13th overall by the San Francisco Giants.
Bailey, an NC State catcher, joined the Salamanders in 2019 prior to moving over to play for the USA Collegiate National Team for the remainder of the summer. During his time in Holly Springs he hit .300 over 20 at-bats, notching one double, one home run and seven RBI to finish with a .484 on-base percentage and .500 slugging.
Due to to Covid-19 pandemic Major League Baseball made the decision to cut down the draft from the usual 40 rounds to only five this year, substantially trimming down the normal number of selections. Even so, this marked the fifth straight year that the CPL has had a first round pick, further illustrating the league's rise as a destination for the top collegiate talent in the nation each summer.
The complete list of CPL players taken in this year's draft is below:
Coastal Plain League Alumni Drafted In 2020 Major League Draft 

| Round | Overall | Player | College/University | MLB Team Drafted By | CPL Team(s) |
| --- | --- | --- | --- | --- | --- |
|  1 | 13 | Patrick Bailey | NC State | San Francisco | '19 Holly Springs |
| 2 | 51 | Burl Carraway | Dallas Baptist | Chicago (NL) | '18 HP-Thomasville |
| 2C | 67 | Nick Swiney | NC State | San Francisco | '18 Holly Springs / '18 Gastonia |
| 3 | 75 | Zach McCambley | Coastal Carolina | Miami | '18 Macon |
| 4 | 121 | Joey Wiemer | Cincinnati | Milwaukee | '18 Fayetteville |
| 4 | 129 | Beck Way | Northwest Florida State JC | New York (AL) | '18 Gastonia |
| 5 | 148 | Shane Drohan | Florida State | Boston | '18 Lexington County |