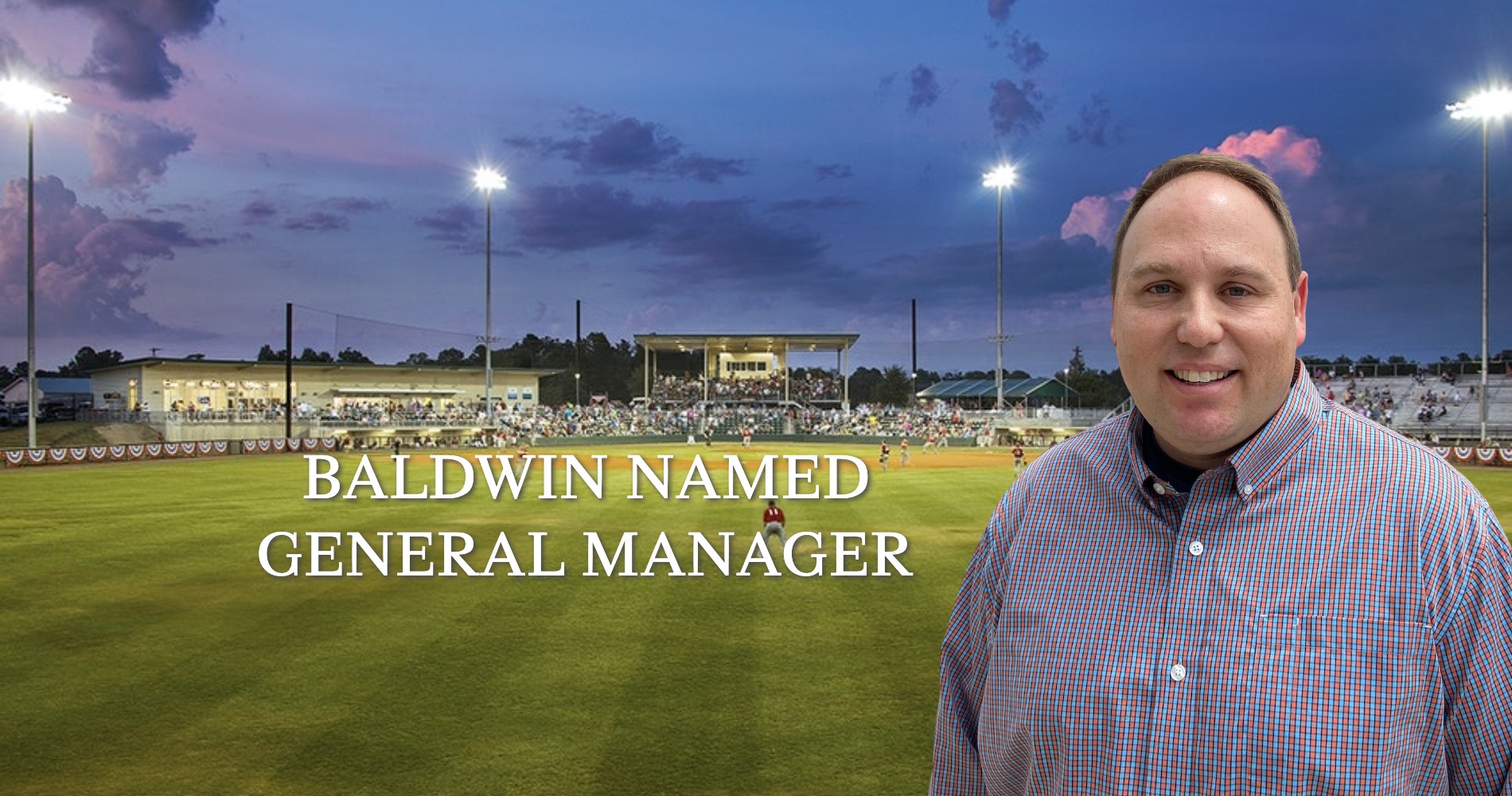 The Lexington County Blowfish Baseball Club are excited to announce Tony Baldwin as the new General Manager of the team. Baldwin brings nearly two decades of experience in collegiate athletics in the areas of sales, marketing and communications.
"Vicki and I believe Tony's sales and marketing experience, enthusiasm, determination and love for the game will fit in beautifully with our team and community," said Co-Owner Bill Shanahan. "We couldn't be more excited to have him lead the Blowfish. Paired with seven-year veteran and Assistant General Manager Matt Jinnette, our management team is now complete and the future looks brighter than ever at Lexington County Baseball Stadium!"
Baldwin recently held the position of Vice President of Marketing for both the Macon Bacon and Florence Flamingos in the Coastal Plain League. Among his many tasks, he oversaw the marketing strategy for both clubs, including social media management, paid social campaigns, email marketing, merchandise and website population.
Before moving to Macon, Ga., Baldwin was the Assistant Athletics Director for Digital Strategy and Corporate Sponsorships at St. Edward's University in Austin, Texas, and also spent six years working at
UTSA in San Antonio, Texas. A former collegiate baseball player at Concordia University-Ann Arbor, where he also received his bachelor's degree in Communication, Baldwin went on to earn a master's degree in College Student Personnel from Arkansas Tech University in 2011.
Tony and his wife, Martha, are new residents of Lexington County, having recently moved from Macon. Martha is the new office manager for Lexington Women's Care in Chapin, part of Lexington Medical Center's Network of Care Partners.
"It's a great honor to accept the position of general manager of the Lexington County Blowfish," said Baldwin. "I want to thank Bill and Vicki Shanahan for this tremendous opportunity. I'm excited to create a great experience for our fans and continue providing affordable family entertainment in Lexington County."
The Blowfish are excited to ramp up preparations for its ninth season in Lexington County and 18th season overall in the Coastal Plain League in 2023.
About the Blowfish:
Entering their 18th season the Lexington County Blowfish are a two time CPL Organization of the Year and a proud member of the Coastal Plain League. The summer collegiate team began play in 2006 and won the 2012 CPL Championship. The Blowfish have had nine players make it to the Major Leagues with more to come. Lexington County Baseball Stadium is their home with a link to four of the great MLB stadiums with field dimensions of 302 ft Right Field (Fenway Park/Boston Red Sox), 394 ft Center field (Wrigley Field/Chicago Cubs), 318 ft Left Field (Yankee Stadium/New York Yankees), and 55 feet from home plate to the backstop (Dodgers Stadium/Los Angeles Dodgers). The Blowfish are operated by Shanahan Sports & Entertainment and owned by Bill & Vicki Shanahan.
About Coastal Plain League:
The Coastal Plain League, brought to you by FloSports, is the nation's premier summer collegiate baseball league. The CPL is currently comprised of 13 franchises playing in Georgia, North Carolina, South Carolina, and Virginia. To date, the CPL has had nearly 1,750 alumni drafted and 157 alums make their Major League debut. Most notable alumni include Justin Verlander, Ryan Zimmerman, Kevin Youkilis, Chris Taylor, Mark Reynolds, Alec Bohm and NFL Super Bowl winner Russell Wilson. For more information on the Coastal Plain League, please visit the league website at www.coastalplain.com, and be sure to follow on Facebook, Twitter, Instagram and TikTok @CPLBaseball.