The Coastal Plain League has announced Biko Skalla of the Savannah Bananas as the 2021 Coastal Plain League Broadcaster of the Year. This was Skalla's second season with the Bananas and the CPL.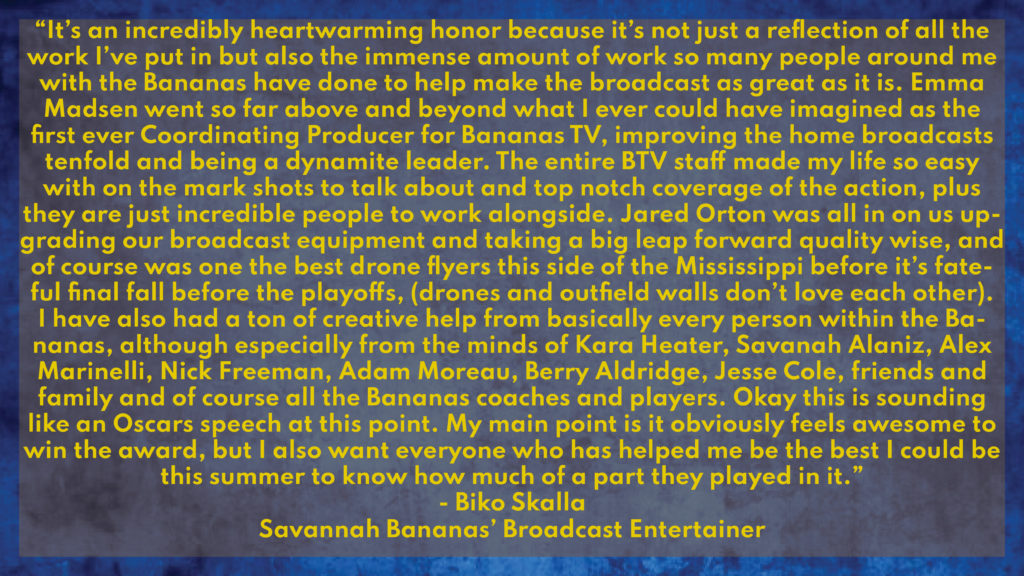 Skalla earned this honor by displaying expert knowledge of the game and articulating it on-air with a creative flair throughout the season. His work included broadcasting all Savannah home games via flobaseball.tv and Banana Insider's Facebook page, as well as doing his trademark whiteboard broadcast on the road. An idea he credits Bananas' President Jared Orton for its origin and to the fans that have sent him magnets and markers along the way (shoutout Dani Lynn Dispaltro and Lori Bode) for growing it to where it is today.
"I went to Jared [Orton] and said there's gotta be something I can do that's more creative than a radio broadcast because that just didn't feel Bananas to me," remembered Skalla. "And he came up with the idea of him traveling with me and drawing the action on the field on the whiteboard behind me while I broadcasted it. I loved that idea!"
As it goes in baseball however, that first planned game had rain in the forecast so much so many thought the game would end up being postponed.
"It was supposed to rain for like 24 hours straight and Jared wasn't too keen on driving 2.5 hours into middle Georgia to be rained out, so he said I could take this one in my own. So I did, it of course never rained, and the people liked the broadcast so it stuck."
Anddddd Bryson Bloomer's 2nd home run of the night, and 4th in 2 games. It ended up being a heartbreaking loss for the Nanners (story coming shortly), but another really impressive evening from the pride of @RacersBaseball pic.twitter.com/5ZxvzGMK0h

— Biko Skalla (@BikoRicoSuave) July 24, 2021
Outside of calling the games, Skalla also wrote post-game recaps for all games and conducted some of the most unique post-game interviews with players the game has ever seen, of which he dubbed the "Ripe Rundown."
"Adventurous is a terrific word for them I think," said Skalla. "The ideas come from a plethora of places, I mean I've got  ideas coming from family, friends, Bananas game day staff members, everyone in the office and on the team, but most of all from the minds of the marketing folk (Kara, Savanah, Alex, Nick, Jesse, Jared)."
His personal favorite idea of all-time was from Adam Moreau, a Bananas assistant coach, who suggested putting Biko in the player meal line (as in with the food…on the table.)
A number of items go into selecting a Broadcaster of the Year with the fan vote accounting for 50 percent of that consideration. With over 500 votes cast, Skalla received praise from fans referencing his in-depth research for both the home and visiting teams and his dedication to fan engagement. Viewers were also treated to live in-game interviews with players that captured some pretty amazing moments, including this one that ended up making the rounds on SportsCenter, MLB Network and more.
Skalla grew up in Saugerties, New York before graduating with a Broadcast and Digital Journalism degree from Syracuse University. Upon graduation he took a job with MLB Network, working his way into an Associate Producer role – a role he held in when MLB Network was awarded an Emmy for Outstanding Studio Show in 2020.
"What brought me to broadcast journalism was realizing when I was 15 years old that I just don't have the skill to play Major League Baseball and simultaneously realizing the next best thing would be to broadcast it," explained Skalla. "And 15 year old me was right, because the only thing I would rather be doing in life than broadcasting baseball is playing it, but I definitely made the right choice there."
While he loved his time with MLB Network he wanted to continue growing in the field so when a job posting for the Bananas came across his screen he jumped at it. Needless to say the interview process went well and Skalla joined the Bananas prior to the start of the 2020 CPL season.
It's hard to top what Skalla and the Bananas experienced in 2021 with their success on the field and off during their championship run, but don't worry Bananas' fans he will be back to do it again in 2022.
"Yes I will be back for another year in Savannah, and I'm gosh darn psyched for it."
About Coastal Plain League:
The Coastal Plain League, brought to you by FloSports, is the nation's premier summer collegiate baseball league. Celebrating its 25th season in 2021, the CPL features 15 franchises playing in Georgia, North Carolina, South Carolina and Virginia. To date, the CPL has had over 1,700 alumni drafted and 152 alums make their Major League debut – including 2017 ALCS MVP, 2017 World Series champion, 2011 AL MVP and Cy Young award winner Justin Verlander, as well as 2017 NLCS MVP Chris Taylor. For more information on the Coastal Plain League, please visit the league website at www.coastalplain.com, and be sure to follow us on Facebook, Twitter, Instagram and TikTok @CPLBaseball.