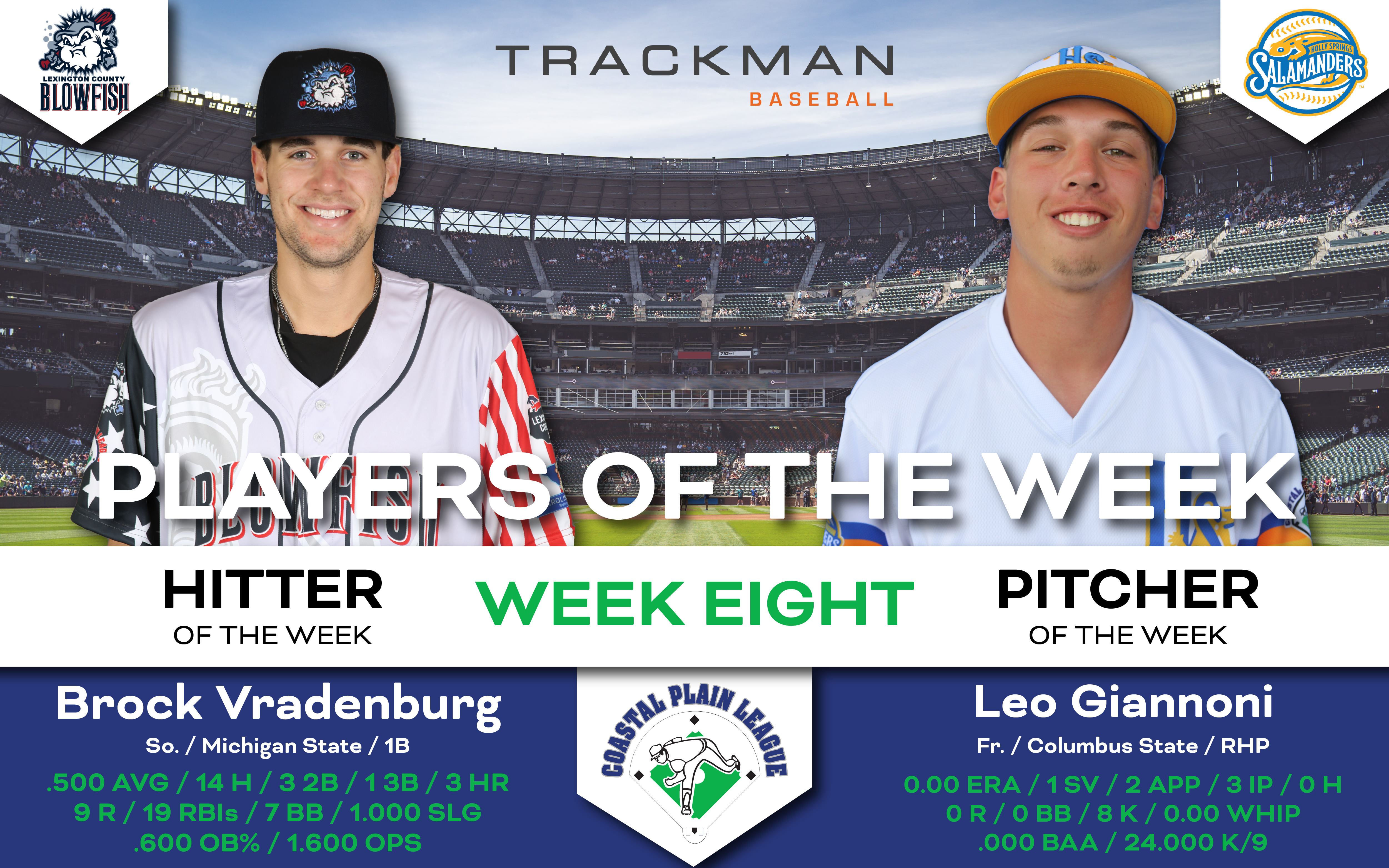 The Coastal Plain League announced today that Lexington County's Brock Vradenburg and Holly Springs' Leo Giannoni earned the Hitter and Pitcher of the Week respectively for week eight of the CPL regular season (July 18-24). CPL Players of the Week are brought to you by Trackman Baseball, providing players and coaches next-generation analytical data all season long.
Vradenburg, a first baseman at Michigan State, played in all seven games for the Blowfish on the week, finishing with a .500 average. He led the league in hits (14), home runs (3), runs (9) and RBIs (19); and added three doubles and a triple for good measure. He was walked seven times too. Further, Vradenburg sported a 1.000 slugging percentage, .600 on-base percentage and an impressive 1.600 OPS.
Meanwhile, Giannoni made two appearances on the week for Holly Springs and was untouchable. In three innings of hitless, scoreless baseball, the 6-2, 200-pound righthander from Columbus State, walked none and struck out eight of the 10 batters he faced. He finished with a 0.00 ERA and earned a save to give him two on the season. In addition to holding opposing batters to a .000 average against him, he sported a 0.00 WHIP and a K/9 of 24.000.
About Coastal Plain League:
The Coastal Plain League, brought to you by FloSports, is the nation's premier summer collegiate baseball league. Now in its 26th season in 2022, the CPL features 14 franchises playing in Georgia, North Carolina, South Carolina and Virginia. To date, the CPL has had nearly 1,750 alumni drafted and 157 alums make their Major League debut – including 2017 ALCS MVP, 2017 World Series champion, 2011 AL MVP and Cy Young award winner Justin Verlander, as well as 2017 NLCS MVP Chris Taylor. For more information on the Coastal Plain League, please visit the league website at www.coastalplain.com, and be sure to follow us on Facebook, Twitter, Instagram and TikTok @CPLBaseball.