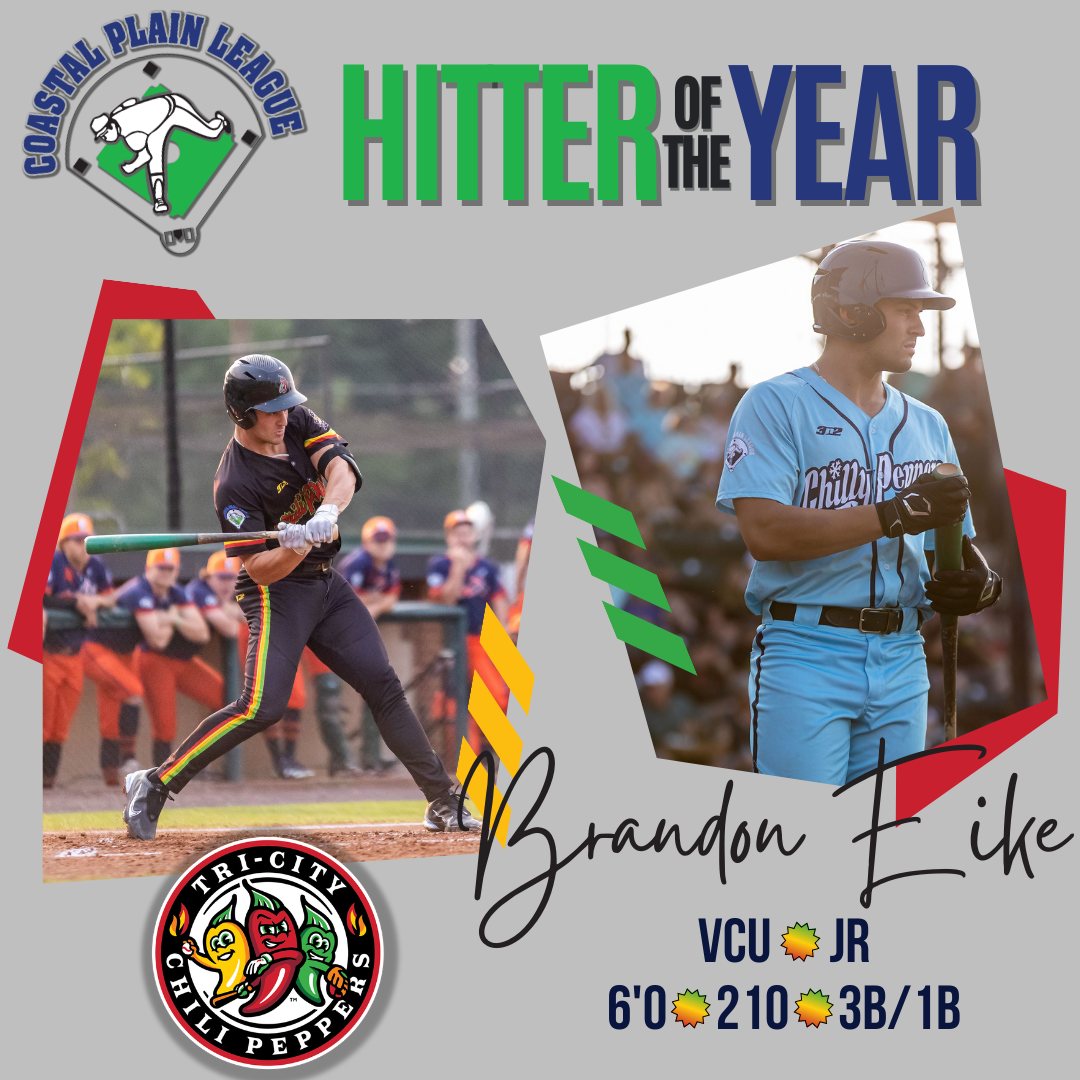 HOLLY SPRINGS – The Coastal Plain League announced this morning that Brandon Eike of the Tri-City Chili Peppers has been honored as the 2023 CPL Hitter of the Year.
"I feel honored to receive this award, but more importantly, it is just a bi-product of all the hard work I have put in during my career," said Eike. "Playing in the CPL has been great and I will always cherish the experiences and memories I have made with my teammates."
A junior at Virginia Commonwealth, Eike started playing for the Chili Peppers during the summer of 2021 and has since proven to grow his all-around play ever since. He led Tri-City and was among the league's Top 5 in several offensive categories a year ago, including walks (31), home runs (12) and RBIs (36) while finishing with a .258 average.
Not satisfied, he dedicated himself to continue to build off his previous success and proved that convincingly this season. He led the CPL with both a .398 average and .708 slugging percentage in 2023 and finished among the Top 5 in three other offensive categories: homers (9), RBIs (36) and OPS (1.158). His stat line also included 45 hits, eight doubles, 12 walks, 27 runs scored and an on-base percentage of .450.
"I'm so happy for Brandon to receive this award," commented Tri-City head coach James Bierlein. "He works hard day in and day out and carries himself in the most professional way. Every time he steps in the box, everyone watches because they know there is a chance something incredible can happen!"
Eike's performance this season earned him a selection as the starting third baseman for the East All-Star team, his second CPL All-Star selection in as many years. Further, he was also named to the First Team All-CPL squad after the 2022 season, and while the 2023 All-CPL teams won't be unveiled until next week, it's safe to say he will once again find himself atop the best the league had to offer.
All player awards are selected after gathering feedback from head coaches and league officials, as well as seasonal statistical analysis.
About Coastal Plain League:
The Coastal Plain League is the nation's premier summer collegiate baseball league. The CPL is currently comprised of 14 franchises playing in Georgia, North Carolina, South Carolina and Virginia. To date, the CPL has had nearly 1,750 alumni drafted and 181 alums make their Major League debut. Most notable alumni include Justin Verlander, Ryan Zimmerman, Mark Reynolds, Kevin Youkilis, Chris Taylor, Alec Bohm, Jake Cave, Chas McCormick and NFL Super Bowl champion Russell Wilson. For more information on the Coastal Plain League, please visit the league website at www.coastalplain.com, and be sure to follow us on Facebook, Twitter, Instagram and TikTok @CPLBaseball.