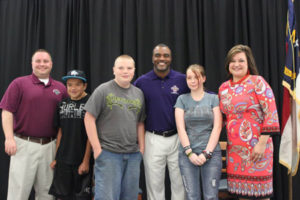 The Coastal Plain League and Morehead City Marlins proudly hosted 14 children on behalf of the Make-A-Wish foundation (photo courtesy of Jerry Peters, Make-A-Wish) for an All-Star experience July 13-14 in Morehead City, N.C. at the 2014 CPL All-Star Game.
"We were thrilled to be able to partner with Kristen Johnson, Jerry Peters, and the Eastern North Carolina chapter of Make-A-Wish for our 2014 CPL All-Star Game," said CPL Commissioner Justin Sellers. "It warms our hearts to be able to help our communities and especially young people like the ones we had at the All-Star Game. Make-A-Wish is a fantastic organization and we look forward to partnering up with them across our league in the future.
The CPL also announced that it would be expanding its partnership from the All-Star Game into all of its cities and ballparks starting with the 2015 season. All of the details for the new partnership will be announced later this fall, but will include CPL clubs helping to raise awareness and funding for the Make-A-Wish chapters that cover the CPL's geographic footprint.
"We were honored to be a part of this showcase event for the Coastal Plain League as well as expanding our partnership during the 2015 season," said Kristen Johnson, President and CEO for Make-A-Wish Eastern North Carolina. "The support of the Coastal Plain League and its teams is critical in helping us grant wishes in these communities."
All 14 children were assigned to a CPL team for the day as an honorary member and attended each event along side the teams, coaches, and players. First up was the CPL All-Star Luncheon on Monday where the children were able to listen to World Series Champion and Major League All-Star, Tony Womack talk about his experiences in baseball and life as the luncheon's celebrity guest speaker. Following the luncheon the children engaged in a meet and greet with Womack, taking a few pictures and autographs.
From there, they were outfitted in special 2014 CPL All-Star jerseys and team hats before being escorted onto the field at Big Rock Stadium to mingle with the players and coaches. Many of them even were able to play catch with their favorite All-Stars. They were announced along with the two All-Star teams and stood alongside the players during the National Anthem. Afterwards, the Make-A-Wish kids and their families were able to watch the 2014 CPL All-Star Game from the stands.
"We are honored to be a part of this showcase event for the Coastal Plain League," said Johnson. "Buddy Bengel and Commissioner Sellers have not only done a tremendous job hosting this weekend and expanding the league, but have also been key supporters in our efforts to grant wishes in eastern North Carolina."
Players and children alike enjoyed the experience in Morehead City this year and the CPL is excited to grow this relationship in the years to come.