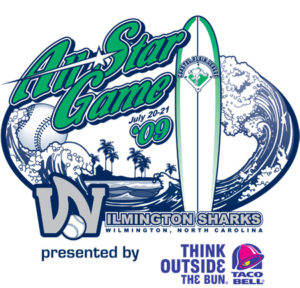 The Coastal Plain League 2009 All-Star Fan Fest and All-Star Game were hosted by the Wilmington Sharks on July 20th and 21st at Buck Hardee Field in Wilmington, N.C.
The two-day event featured a Fan Fest on the night before the All-Star Game, highlighted by a All-Star Home Run Derby. The league's annual All-Star luncheon and All-Star Game will took place the following day. The game ended in a 2-2 after 10 innings of play.
Boxscore & Play-by-Play
2009 Home Run Derby Rules:
– Three Rounds, Eight (8) outs per round (round 1&2) / Ten (10) outs (round 3)
– Eight (8) Hitters per All-Star Team
– Either a Home Run or it's an Out
– Can use aluminum bats for two (2) outs per round
– Home runs with wood = 3 points
– Home runs with aluminum = 1 point
– Points from every round rollover to the next round.
Round 1: Eight (8) hitters from the National and Eight (8) from the American
– Top three (3) hitters from both clubs advance to next round
Round 2: Three (3) hitters from the National and Three (3) from the American
– Top two (2) hitters, regardless of All-Star team, advance to final round
Round 3 (Championship Round): Top two hitters in derby thus far
– Hitter with the most total points after round three (points from rounds 1-3 combined) is crowned Champion
National All-Star Participants:
1) Randolph Oduber (Gastonia Grizzlies and Western Oklahoma State)
2) Stewart Ijames (Thomasville HiToms and Louisville)
3) Greyson Schram (Gastonia Grizzlies and Concord University)
4) Phil Cerreto (Martinsville Mustangs and Longwood)
5) Gerard Hall (Edenton Steamers and Old Dominion)
6) Ronnie Shaban (Petersburg Generals and Virginia Tech)
7) Sam DiMatteo (Florence RedWolves and California of Pennsylvania)
8) Josh Whitaker (Outer Banks Daredevils and Kennesaw State)
American All-Star Participants:
1) Jake Magner (Edenton Steamers and North Dakota)
2) Adam Eggemeyer (Wilmington Sharks and SIU Edwardsville)
3) Barrett Kleinknecht (Florence RedWolves and Francis Marion)
4) Craige Lyerly (Asheboro Copperheads and Catawba)
5) Konstantine Diamaduros (Forest City Owls and Wofford)
6) Matt Skirving (Fayetteville SwampDogs and Eastern Michigan)
7) Jake McAloose (Peninsula Pilots and Old Dominion)
8) Brendan Rowland (Fayetteville SwampDogs and Albany)
2009 Home Run Derby Champion: Phil Cerreto (Martinsville Mustangs and Longwood)