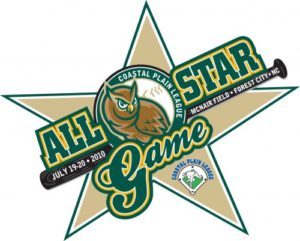 The Coastal Plain League 2010 All-Star Fan Fest and All-Star Game was hosted by the Forest City Owls on July 19th and 20th at McNair Field in Forest City, N.C.
The two-day event featured a Fan Fest on the night before the All-Star Game, highlighted by a All-Star Home Run Derby. The league's annual All-Star luncheon and All-Star Game took place the following day.
2010 Home Run Derby Rules:
– Three Rounds, Eight (8) outs per round (round 1&2) / Ten (10) outs (round 3)
– Eight (8) Hitters per All-Star Team
– Either a Home Run or it's an Out
– Can use aluminum bats for two (2) outs per round
– Home runs with wood = 3 points
– Home runs with aluminum = 1 point
– Points from every round rollover to the next round.
Round 1: Eight (8) hitters from the National and Eight (8) from the American
– Top three (3) hitters from both clubs advance to next round
Round 2: Three (3) hitters from the National and Three (3) from the American
– Top two (2) hitters, regardless of All-Star team, advance to final round
Round 3 (Championship Round): Top two hitters in derby thus far
– Hitter with the most total points after round three (points from rounds 1-3 combined) is crowned Champion
American All-Star Participants:
1) Jake Magner (Edenton Steamers and North Dakota)
2) Trey Hernandez (Florence RedWolves and Texas A&M – Corpus Christi)
3) Kevin Deese (Asheboro Copperheads and West Alabama)
4) Ryan Daughtry (Wilson Tobs and Barton College)
5) Cass Hargis (Thomasville HiToms and Southeastern Louisiana)
6) Matthew Black (Martinsville Mustangs and Mercer)
7) Brian Billigen (Edenton Steamers and Cornell)
8) Justyn Carter (Morehead City Marlins and Saint Peters)
National All-Star Participants:
1) David Chester (Gastonia Grizzlies and Pittsburgh)
2) Chas Crane (Peninsula Pilots and Winthrop)
3) Will Skinner (Forest City Owls and Middle Tennessee State)
4) Mac Doyle (Florence RedWolves and Wofford)
5) Nick Orvin (Columbia Blowfish and The Citadel)
6) Jacob Wilson (Asheboro Copperheads and Memphis)
7) Danny Canela (Forest City Owls and N.C. State)
8) Ronnie Freeman (Florence RedWolves and Kennesaw State)
2010 Home Run Derby Champion: David Chester (Gastonia Grizzlies and Pittsburgh)