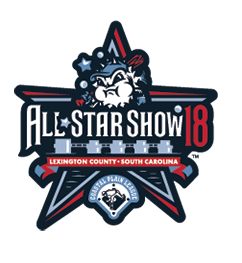 The Coastal Plain League 2018 All-Star Fan Fest and All-Star Show was hosted by the Lexington County Blowfish at the Lexington County Baseball Stadium in Lexington, S.C. July 8-9 2018.
The National All-Stars won the game 9-4 over the American All-Stars with Zach Brockman of Savannah earnign Pitcher of the Game honors while Conner Tate of Lexington was named Hitter of the Game.
The full boxscore and play-by-play can be found here.
How Players Are Selected:
The 2018 Coastal Plain League All-Star Teams were voted upon by each of the 16 head coaches and two media representatives for each club. All players will be eligible to be voted on and All-Star candidates will be listed by position on their respective conference (National and American) ballot, of which the coaches, broadcasters, and media will vote from. Head coaches were not allowed to vote for their own players, while broadcasters and media representatives will.
CPL National All-Star Roster:
CPL American All-Star Roster:
How Coaches Are Selected:
The 2018 CPL All-Star head coaches werethe two coaches with the best winning percentage across their respective conferences, the National (West and South) and American (East and North). The coach with the second best winning percentage in each conference were the assistant coaches for their respective All-Stars.
Tyler Gillum of Savannah coached the National All-Stars with Brian Rountree of High Point-Thomasville working as his Assistant Coach, meanwhile the American All-Stars were led by Jesse Lancaster of Morehead City while Hank Morgan of Peninsula joined as the Assistant Coach.
Releases:
2018 CPL All-Star Show Logo Announced
National All-Stars Win 9-4 Over American All-Stars in 2018 CPL All-Star Game