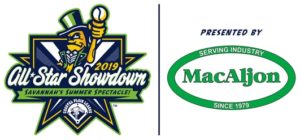 The Coastal Plain League 2019 All-Star Showdown was hosted by the Savannah Bananas at Historic Grayson Stadium in Savannah, Ga.,  July 7-8 2019.
The two-day event featured an All-Star Fan Fest, All-Star luncheon, Major League scout day, and the 21st annual CPL All-Star Game, dubbed the All-Star Showdown this year due to its unique six-team three-inning tournament format.
When it was all said and done the East All-Stars took home the title after advancing to the championship round to take on the Fan-Vote All-Stars, ultimately winning 2-1. Read more here.
All-Star Rosters:
All-Star Coaches:
Supplemental Releases: