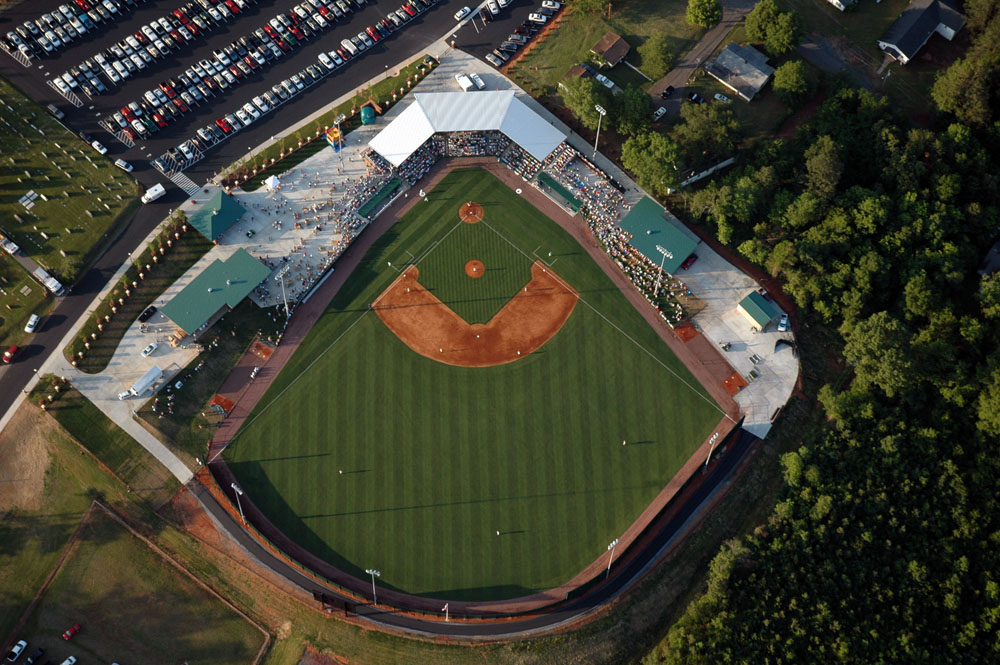 HOLLY SPRINGS – The Coastal Plain League announced this morning that the Forest City Owls have been awarded the 2024 CPL All-Star Game. The two-day event will be held July 7-8 at McNair Field (pictured), but the Owls are planning a weekend-long celebration that will feature an array of entertaining activities, including clinics, a skills competition, home run derby and much more.
"Forest City's vibrant baseball culture and outstanding facilities make it a superb choice for our league's premier event," said CPL Commissioner Chip Allen. "We are confident that the Forest City Owls and the local community will work together to create an unforgettable experience that will leave a lasting impression on both players and fans."
The All-Star Game highlights the best players in the league and is anticipated to feature approximately 56 players representing the East and West squads. Given the talent on display, the event draws scouts from every Major League team for both the game and Scout Day activities.
"We are extremely thrilled and deeply honored to showcase McNair Field and all of Rutherford County to everyone across the league's footprint, including front office staffs from all 15 CPL clubs and Major League scouts from all 30 teams," stated Dangel. "This speaks volumes about the quality of our venue, our team, our coaches, and the overall warm hospitality of Forest City. We anticipate welcoming players, parents and fans from across the country to Rutherford County – many for the first time. This is a monumental occasion and a tremendous compliment to both the county and the town, and should add a substantial boost to our local businesses, including hotels and restaurants."
The 2024 event will be the league's 24th overall, with last year being hosted by the Lexington County Blowfish. In that time, the CPL has seen an average of 2.5 players in it's All-Star Game go on to reach the Major Leagues, which bodes well for attendees in Forest City next July. Some former CPL All-Stars turned Big Leaguers include Ryan Zimmerman, Kevin Youkilis, Alec Bohm, Nicky Lopez and Jake Cave. Further, former Owls pitcher Spencer Patton was an All-Star in 2009 and later reached the Majors with the Texas Rangers in 2014.
"The Town of Forest City is elated to host the 2024 CPL All-Star Game," said Forest City Mayor Steve Holland. "This presents a remarkable opportunity for our town and county to showcase our region. The economic benefits of this event are expected to be substantial and will provide a significant boost to our local economy."
While the full schedule for the Owls' 2024 season will be released in mid-October, there is no doubt that the All-Star Game will be the highlight, and Dangel's excitement is overflowing.
"We are actively brainstorming numerous innovative ideas for the weekend including a possible concert on Sunday night after the skills competition, with our primary goal being to create a memorable experience for fans and players alike."
Fans are encouraged to stay tuned to the CPL and Owls for more information forthcoming on the 2024 CPL All-Star event, including the official logo. They can also contact the Owls for ticket information at 828.245.0000 or visit them on the web at www.forestcitybaseball.com.
About Coastal Plain League:
The Coastal Plain League is the nation's premier summer collegiate baseball league. The CPL is currently comprised of 14 franchises playing in Georgia, North Carolina, South Carolina and Virginia. To date, the CPL has had nearly 1,750 alumni drafted and 181 alums make their Major League debut. Most notable alumni include Justin Verlander, Ryan Zimmerman, Mark Reynolds, Kevin Youkilis, Chris Taylor, Alec Bohm, Jake Cave, Chas McCormick and NFL Super Bowl champion Russell Wilson. For more information on the Coastal Plain League, please visit the league website at www.coastalplain.com, and be sure to follow us on Facebook, Twitter, Instagram and TikTok @CPLBaseball.