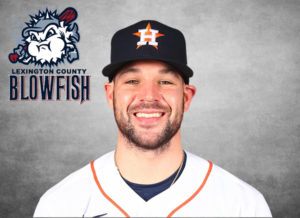 Former Lexington County Blowfish, Chas McCormick, made his Major League debut April 1 for the Houston Astros. McCormick entered the game as a left-field defensive replacement in the ninth inning of the Astros 8-1 win over the Oakland Athletics.
McCormick was drafted in the 21st round of the 2017 MLB Draft by the Houston Astros out of Millersville University. The outfielder is known for his stellar defense, but also showed a consistent approach at the plate throughout the minors notching a career .276 batting average over three season with 38 doubles, 11 triples and 20 home runs. McCormick earned a spot on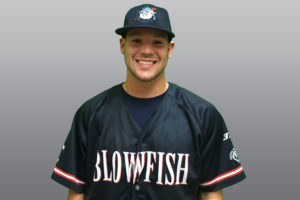 the Astros postseason roster in 2020, but never made it into a game delaying his MLB debut until the start of the 2021 season last night.
McCormick was a star for the Lexington County Blowfish in 2016, finishing the season with a .345 batting average across 33 games played to go along with four doubles, four triples and two home runs. His debut marks the 140th all-time former CPL player to make their major league debut and the first of the 2021 MLB season. This debut also pushes the Blowfish's major league alumni total to seven.
About Coastal Plain League:
The Coastal Plain League is the nation's premier summer collegiate baseball league. Celebrating its 24th season in 2020, the CPL features 15 franchises playing in Georgia, North Carolina, South Carolina and Virginia. To date, the CPL has had over 1,650 alumni drafted and 140 alums – including 2017 ALCS MVP, 2017 World Series champion, 2011 AL MVP and Cy Young award winner Justin Verlander, as well as 2017 NLCS MVP Chris Taylor – make their Major League debut. For more information on the Coastal Plain League, please visit the league website at www.coastalplain.com, and be sure to follow us on Facebook, Twitter, Instagram and Snapchat @CPLBaseball.