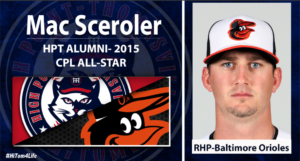 Former High Point-Thomasville HiToms, Mac Sceroler, made his Major League debut April 5 for the Baltimore Orioles. Sceroler entered the game in the sixth, finishes the game not allowing a hit and striking out four in his 2 2/3 inning of work in the Orioles 7-0 loss to the New Yankees.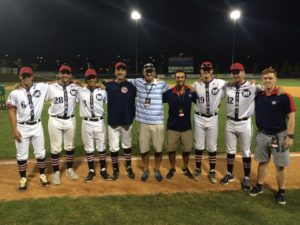 Sceroler was drafted in the 5th round of the 2017 MLB Draft by the Cincinnati Reds out of Southeastern Louisiana University. The right-hander spent three seasons in the minors for the Reds before being picked up in the Rule 5 Draft by the Orioles before the start of the 2021 season. After a strong spring training, Sceroler was added to the Opening Day roster and entered the game last night in a bases-loaded jam with the Yankees Aaron Judge up to bat. He did not allow a hit or run on his way to four strikeouts over 2 2/3 innings for an impressive debut.
Sceroler was an All-Star and All-CPL performer for the HiToms in 2015, finishing the season with a 2.91 ERA, 4-2 record and 53 strikeouts across 55 2/3 innings pitched. His debut marks the 141st all-time former CPL player to make their major league debut and the second of the 2021 MLB season. This debut also pushes the HiToms major league alumni total to 15.
About Coastal Plain League:
The Coastal Plain League is the nation's premier summer collegiate baseball league. Celebrating its 24th season in 2020, the CPL features 15 franchises playing in Georgia, North Carolina, South Carolina and Virginia. To date, the CPL has had over 1,650 alumni drafted and 141 alums – including 2017 ALCS MVP, 2017 World Series champion, 2011 AL MVP and Cy Young award winner Justin Verlander, as well as 2017 NLCS MVP Chris Taylor – make their Major League debut. For more information on the Coastal Plain League, please visit the league website at www.coastalplain.com, and be sure to follow us on Facebook, Twitter, Instagram and Snapchat @CPLBaseball.