Former Coastal Plain League umpires Jeremy Riggs, Randy Rosenberg,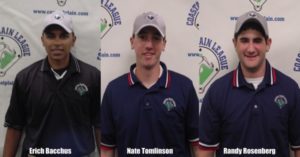 Erich Bacchus and Nate Tomlinson became the fifth, sixth, seventh and eighth CPL umpire alums to make their Major League debuts. Riggs worked at first base on July 28 during the Chicago White Sox and Cleveland Indians doubleheader, Rosenburg debuted on August 4 behind home plate in the Boston Red Sox and Tampa Bay Rays game, Bacchus worked second on August 7 in the Cincinnati Reds and Milwaukee Brewers game while Tomlinson made his first apperance at second during the Texas Rangers and Los Angeles Angels on August 7.
The Coastal Plain League has had an exclusive partnership with MiLB Umpire Development (MiLB UD) since 2008. MiLB UD is the official training ground for umpires looking to have a career in professional baseball. Each year umpires who have completed MiLB UD training are assigned to the CPL and work in the league until they show they are ready to be moved up to the minor league level. A total of 163 CPL umpires have moved onto the Minors in the 12 years of the CPL-PBUC agreement, with eight making the Major League ranks.
The partnership will resume in 2021 with MiLB UD prospect umpires returning to the CPL as Minor League play starts back as well. Due to the Covid-19 pandemic in 2020, CPL teams used local umpires to cut down on travel and maintain the safety of all involved.
Riggs was a part of the 2009 CPL umpire class, Rosenberg came in 2011, Bacchus 2012 while Tomlinson spent both 2010 and 2011 in the CPL. These four join Nic Lentz, Roberto Ortiz, Shane Livensparger and John Bacon as former CPL umpires to work in the Major Leagues thus far.
About Coastal Plain League:
The Coastal Plain League is the nation's premier summer collegiate baseball league. Heading into its 24th season in 2020, the CPL features 15 franchises playing in Georgia, North Carolina, South Carolina and Virginia. To date, the CPL has had over 1,600 alumni drafted and 134 alums – including 2017 ALCS MVP, 2017 World Series champion, 2011 AL MVP and Cy Young award winner Justin Verlander, as well as 2017 NLCS MVP Chris Taylor – make their Major League debut. For more information on the Coastal Plain League, please visit the league website at www.coastalplain.com, and be sure to follow us on Facebook, Twitter, Instagram and Snapchat @CPLBaseball.