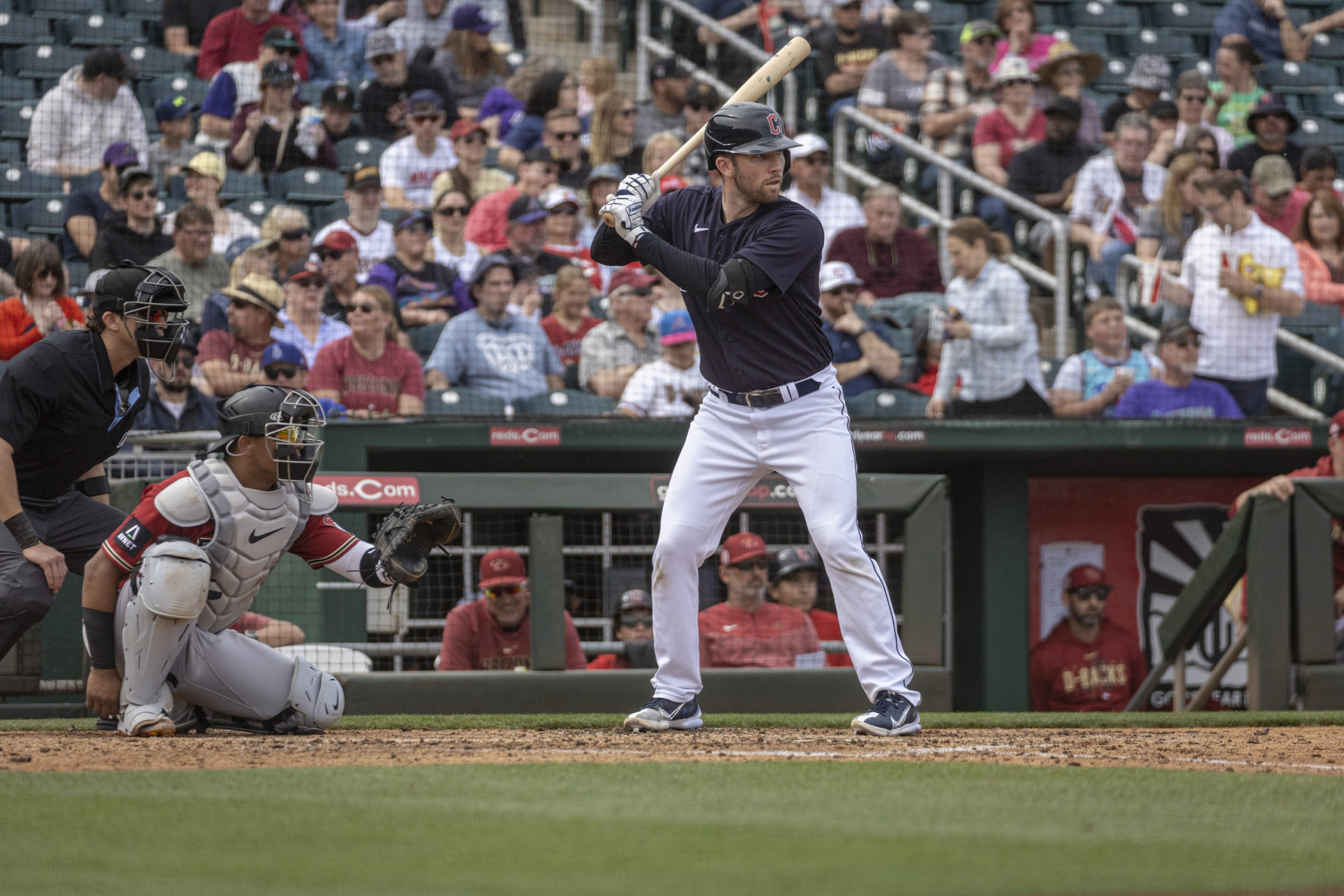 HOLLY SPRINGS, NC – Despite not appearing at the plate or taking the mound like so many before him when making their debut, Coastal Plain League alum David Fry (photos courtesy of Russell Lee/Cleveland Guardians) nonetheless saw his Major League dream come true Monday (5/1) night with the Cleveland Guardians.
With Cleveland up over the host New York Yankees 3-2 in the top of the ninth inning, Fry entered the game as a pinch runner for designated hitter Josh Bell at second base. He wouldn't get the chance to advance from second, however, after a subsequent flyout ended the Guardians turn at the plate. Statistically, the only number in his line was a '1' under games played.
He was drafted by Milwaukee in the seventh round of the 2018 MLB Draft out of Northwestern State University of Louisiana. Fry spent time at the Rookie and Single-A levels his first season and then found some consistency with Single-A Wisconsin in 2019. That season, he slashed .258/.329/.444 through 134 games and racked up 59 extra-base hits. He also participated in the Arizona Fall League, where he batted .300 across 13 games. In 2021, he started in Double-A Biloxi but finished with Triple-A Nashville. Between the two, he hit a combined .255 with 19 doubles, three triples and 12 home runs.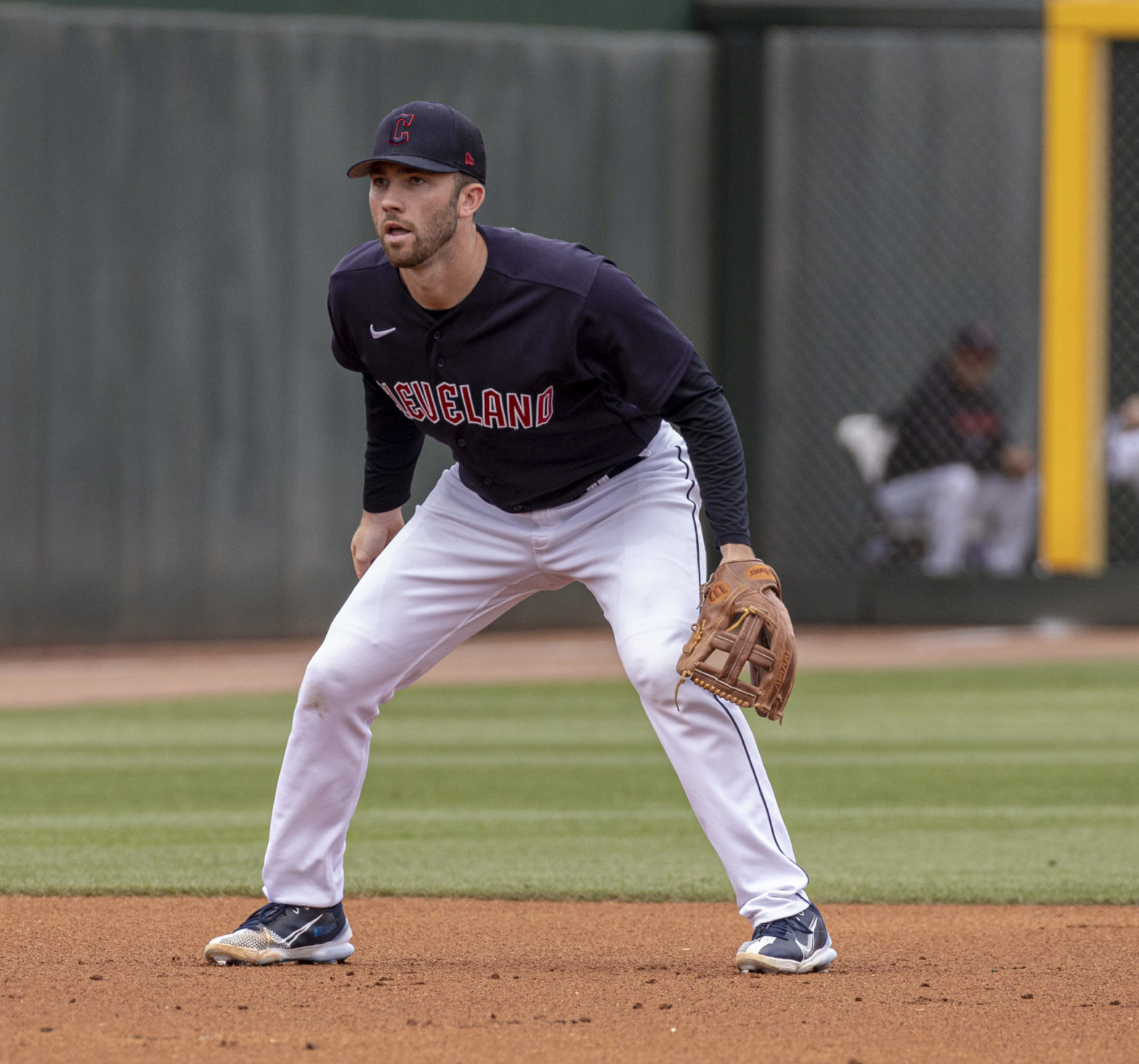 Fry, who was both an established catcher and utility player by now, was traded to Cleveland in the spring of 2022 as the player to be named later in the trade that sent J.C. Mejia to Milwaukee earlier in November of 2021. He would go on to sport a line of.259/.329/.450 in his first season with Triple-A Columbus. His versatility caught the eye of Guardians skipper Terry Francona and he earned more playing time at Spring Training in 2023. In all, he saw action in 19 games while batting .276 with three home runs and a 1.010 OPS before starting the regular season back with the Clippers. Fry was swinging .289 with nine doubles, a triple and a pair of dingers when he received the news to join Cleveland on the road.
A member of the High Point-Thomasville HiToms during the 2016 summer, Fry started 48-of-49 games and finished with a .259/.398/.313 clip. Of his 43 hits, nine were doubles, one a triple and four dingers. His 32 runs scored led the HiToms, while he racked up the second most RBIs on the team with 34.
Fry's debut marks the fifth CPL alum to make that achievement in 2023 and is the 20th former HiToms play to reach the Show. In total, the CPL has now put 169 alums into Major League Baseball since the league's inception in 1997.
About Coastal Plain League:
The Coastal Plain League is the nation's premier summer collegiate baseball league. The CPL is currently comprised of 14 franchises playing in Georgia, North Carolina, South Carolina and Virginia. To date, the CPL has had nearly 1,750 alumni drafted and 169 alums make their Major League debut. Most notable alumni include Justin Verlander, Ryan Zimmerman, Mark Reynolds, Kevin Youkilis, Chris Taylor, Alec Bohm, Jake Cave, Chas McCormick and NFL Super Bowl champion Russell Wilson. For more information on the Coastal Plain League, please visit the league website at www.coastalplain.com, and be sure to follow us on Facebook, Twitter, Instagram and TikTok @CPLBaseball.