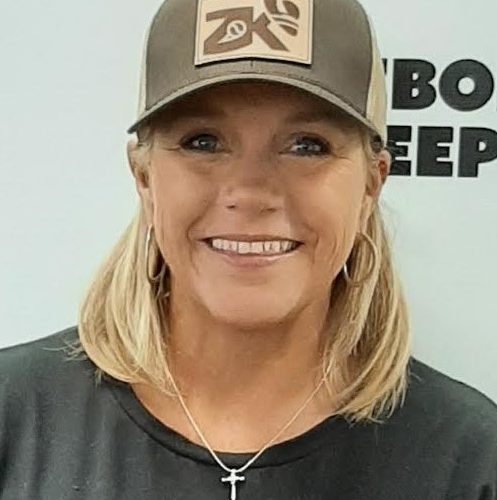 Sports have always been a big part of Melissa Godwin's life.
From playing a variety of sports while growing up, to playing softball at USC-Upstate, to moving into high school coaching, to marrying a head baseball coach for a Division I college, Godwin has experienced sports in a wide variety of positions.
Now she will use all that experience for the Asheboro ZooKeepers.
"Sports is my sanctuary, my passion," said Godwin, who is married to UNC-Greensboro head baseball coach Billy Godwin. "Baseball has been such a huge part of my life, it's really exciting it's now my career."
Godwin, a longtime teacher and coach at the college and high school levels, spent last season at Southeast Guilford High School.
"Melissa is someone we've known for a while," said ZooKeepers co-owner Ronnie Pugh. "She is sports-minded, was a player and coach. Her desire to win and meet fan expectations made her an easy choice for the position. We are extremely excited to have her join the ZK organization."
Godwin said she and her husband were at the Southeast Regional Tournament at McCrary Park recently to support Randleman High School graduate and future UNCG player Braylen Hayes when discussions to bring her to Asheboro intensified.
"I have a genuine passion for baseball, I want it done the right way," Godwin said. "My greatest goal in coaching and now this position is to be impactful. I believe the culmination of my past experiences will allow me to make the Zookeepers a place players want to return to every year, families want to come and make lifelong memories and businesses want to join and show the community spirit that Asheboro has to offer".
Godwin grew up in Polk County in North Carolina and went to Tryon High School, which is now Polk County High School. She then played softball at USC-Upstate and became an assistant coach there for one season. She then taught and coached at several schools, including five seasons as the head volleyball coach at 5-A Byrnes High School in South Carolina.
She has spent 26 years in the coaching profession, leading teams in softball, basketball and volleyball. While at SEG last year, she was in the PE Department while also teaching weight training classes.
"I can sum it up in one word: ENERGY," co-owner Doug Pugh said of Godwin. "Melissa brings knowledge and a strong competitive nature to the table. We are very excited to have her join the ZK family."
Godwin has also spent a number of years in different facets with the UNCG baseball program. Her son, Dallas, who played for the ZooKeepers organization in the summer of 2021, is a senior for the Spartans and she also has two daughters, Courtney and Stephanie, and five grandchildren, who are all sports-minded as well..
"Any female that pursues athletics for a livelihood has to fight for everything they get twice as hard, but it makes you learn more and savor the experience and makes me more appreciative of my journey," Godwin said. "It takes everything I learned from coaching and playing and having a kid who has played and having a husband who is a coach to experience all kinds of different things. To get this position is a dream job."
Her goal is to provide the players a unique experience in Asheboro, an experience they want to come back to.
"I want them to come here and beg to come back," she said. "To provide a place to train and develop their skill set, form a new brotherhood from all different schools and have a great experience with our community so they will come back the next year."
She has hit the ground running.
About Coastal Plain League:
The Coastal Plain League, brought to you by FloSports, is the nation's premier summer collegiate baseball league. The CPL is currently comprised of 13 franchises playing in Georgia, North Carolina, South Carolina, and Virginia. To date, the CPL has had nearly 1,750 alumni drafted and 157 alums make their Major League debut. Most notable alumni include Justin Verlander, Ryan Zimmerman, Kevin Youkilis, Chris Taylor, Mark Reynolds, Alec Bohm and NFL Super Bowl winner Russell Wilson. For more information on the Coastal Plain League, please visit the league website at www.coastalplain.com, and be sure to follow on Facebook, Twitter, Instagram and TikTok @CPLBaseball.