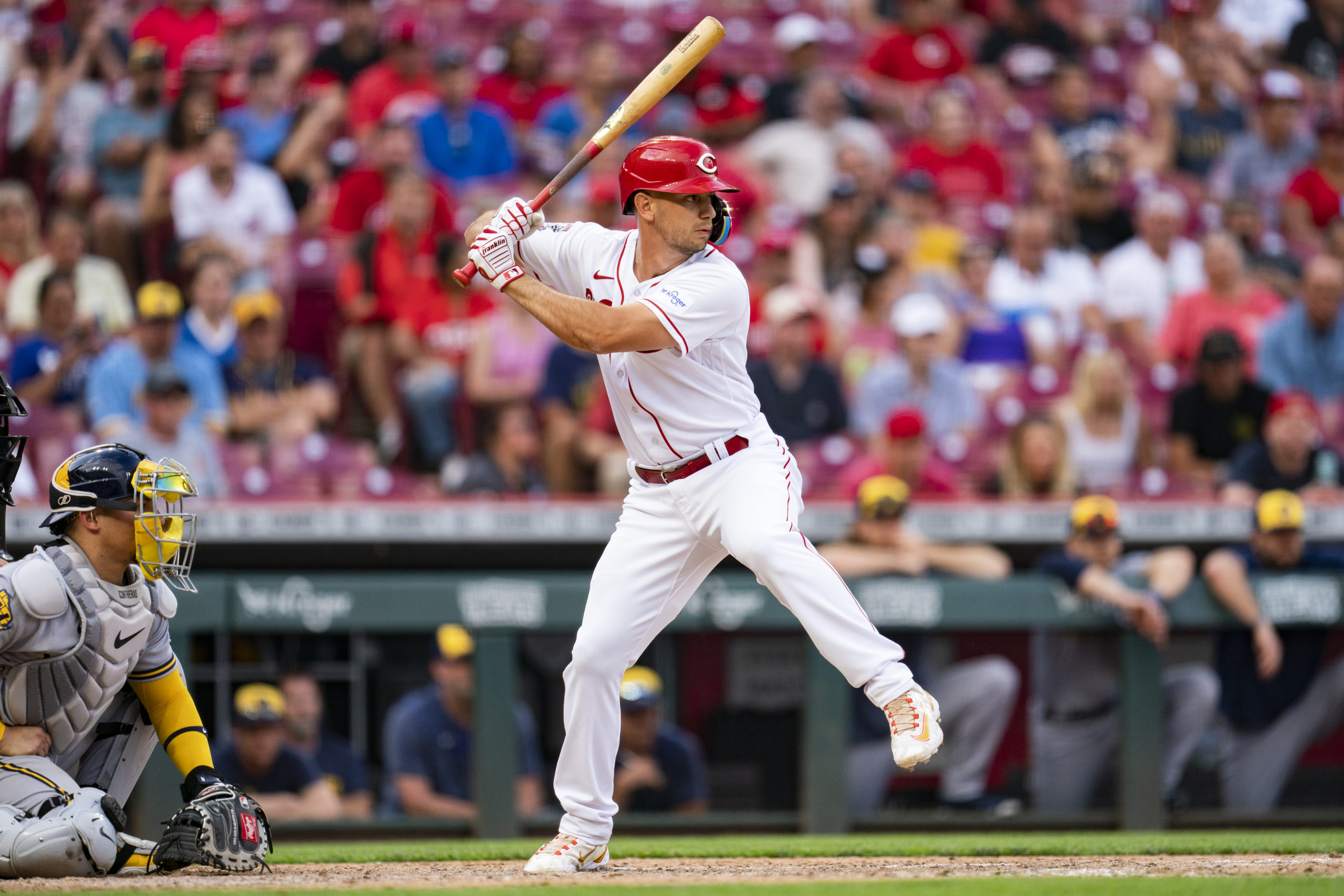 HOLLY SPRINGS – Having a "good eye" is a key attribute for a baseball player. Whether to swing or not. But imagine the pressure – the nerves – that hitter has when they're not only at the plate, but in a key situation while stepping up to the plate in your first Major League game. That's exactly what happened to Coastal Plain League alum T.J. Hopkins (photos courtesy of Emilee Chinn/Cincinnati Reds) on June 3.
Trailing 10-7, with the bases loaded and one out in the bottom of the ninth, the Cincinnati Reds turned to Hopkins, a former Lexington County Blowfish, as a pinch hitter. And he didn't disappoint, drawing an RBI-walk in his first Big League at-bat off a 3-2 pitch, low and away, from Milwaukee reliever Devin Williams.
Hopkins was drafted out of South Carolina by the Reds in the ninth round of the 2019 MLB Draft and played in 54 games with the Billings Mustangs prior to the COVID-19 pandemic. In 2021, he batted .269 with 42 runs scored and 33 RBIs for Double-A Chattanooga. He then split the next season between the Lookouts and Triple-A Louisville, slashing .259/.333/.458.
Making his MLB debut in today's game, TJ Hopkins says that he got the call to come to the big leagues at about 1:45 PM.

He then walks through his 9th inning at bat with bases loaded. pic.twitter.com/ehducJp47i

— Bally Sports Cincinnati (@BallySportsCIN) June 3, 2023
But Hopkins has exploded in 2023. In the month of April, he hit .329/.396/.561 with 10 doubles and three home runs. Before he was called up to the Reds, he had improved his average to .341 with 14 doubles and seven dingers to go with 31 runs scored and 27 RBIs. Also worth noting was his 28 walks and his on-base percentage was .466 across his last 27 games for the Bats.
A four-year player for the Gamecocks, he had a short stint during the 2016 summer with the Blowfish. In two starts, he went 0-for-6 with an RBI-groundout, while making seven putouts defensively.
With his debut, Hopkins becomes the CPL's ninth former player to reach the Majors in 2023. Overall, he is the league's 173rd Big Leaguer and the 11th Blowfish alum to reach The Show.
About Coastal Plain League:
The Coastal Plain League is the nation's premier summer collegiate baseball league. The CPL is currently comprised of 14 franchises playing in Georgia, North Carolina, South Carolina and Virginia. To date, the CPL has had nearly 1,750 alumni drafted and 173 alums make their Major League debut. Most notable alumni include Justin Verlander, Ryan Zimmerman, Mark Reynolds, Kevin Youkilis, Chris Taylor, Alec Bohm, Jake Cave, Chas McCormick and NFL Super Bowl champion Russell Wilson. For more information on the Coastal Plain League, please visit the league website at www.coastalplain.com, and be sure to follow us on Facebook, Twitter, Instagram and TikTok @CPLBaseball.