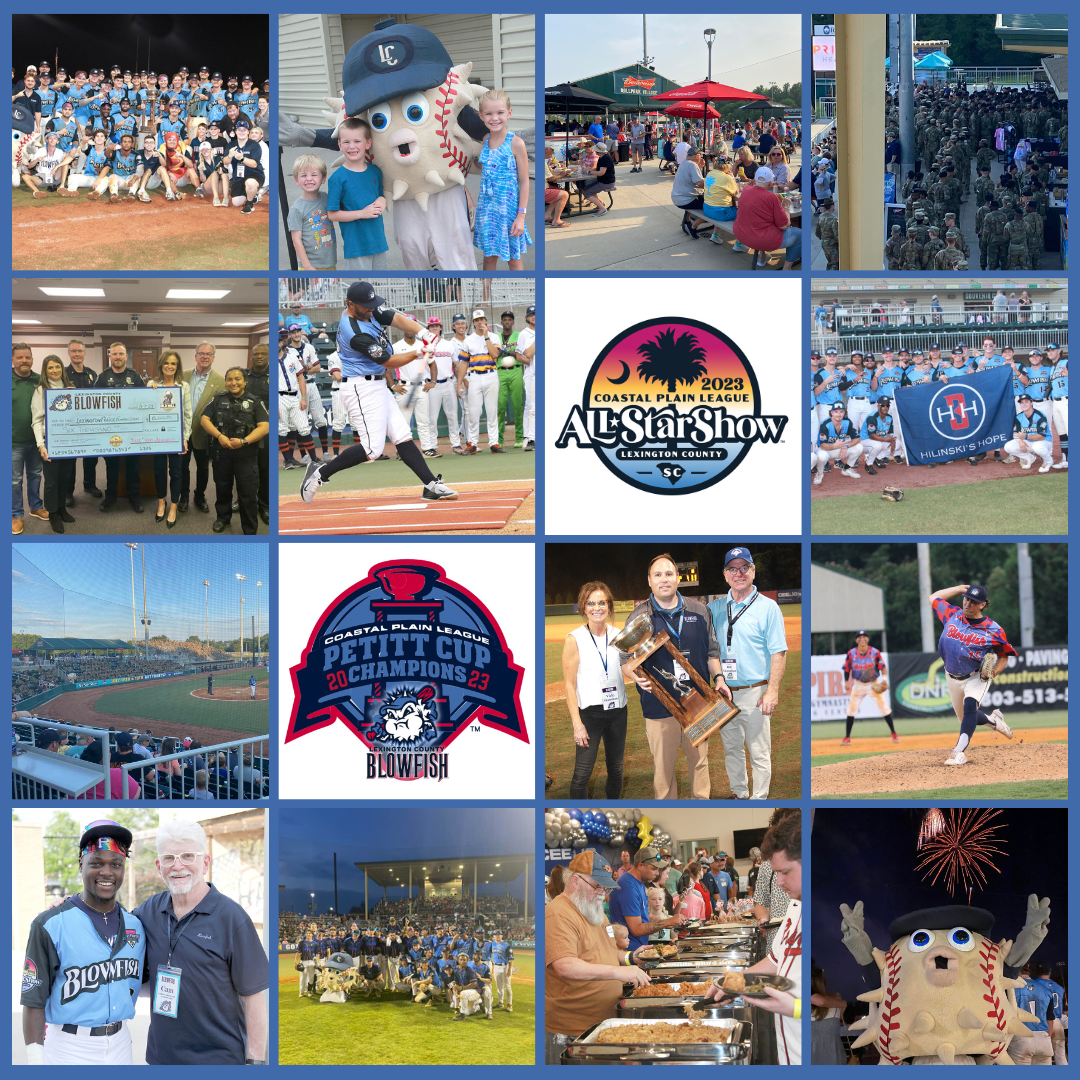 HOLLY SPRINGS – The Coastal Plain League announced this afternoon that the Lexington County Blowfish have been honored as the 2023 CPL Organization of the Year.
"The Lexington County Blowfish have undoubtedly earned the honor of being named the Organization of the Year for 2023 in the Coastal Plain League," said CPL Commissioner Chip Allen. "Bill and Vickie [Shanahan], Tony [Baldwin] and the entire staff at Lexington County have consistently demonstrated unwavering dedication to excellence, a strong commitment to the community and outstanding achievements both on and off the field. Their collective efforts serve as a shining example for all. This prestigious accolade is a well-deserved recognition of their exceptional contributions to the league, underscoring the remarkable impact the Blowfish have made in their community as well."
Each season the Blowfish come up with a unique organizational theme, and 2023 was no different as their theme was defined as "An All-Star Summer in Lexington County." While this concept came from the organization being selected to host the CPL All-Star Show in mid-July, it proved to be even more encompassing of the summer as a whole.
A leader in the community, the Blowfish started things off prior to the season by hosting the 9th annual Lexington County Chili Cookoff earlier in the year at the amphitheater in downtown Lexington, which raised more than $10,000 for local charities. They also helped provide family fun and entertainment by serving as the hosts for the 8th annual Shamrock Parade. Add another staple of their operation, their monthly community luncheons hosted inside their Stadium Club (VIP hospitality area) that feature fellowship and networking across more than 100 community leaders each time.
The Blowfish saw their group ticket sales increase by 190 percent from 2022, while bookings for their Stadium Club also increased by 50 percent. The organization featured several different specialty jersey campaigns as well with each helping raise donations (over $35,000) for local charitable organizations. Two such campaigns featured a "Hooties" jersey that was done in collaboration with the Hootie and the Blowfish Foundation to benefit the Lexington Medical Center, as well as a farmer-themed jersey that highlighted the different crops grown in South Carolina and helped raise $5,000 for the Lexington County Farm Bureau's Young Farmers Association. Additionally, the team's regular jersey for the season featured a new primary color, what is now known as "Lake Murray Blue", and highlighted each of the county's towns and cities with an emblem on the front that read "Proudly Represents" and the municipality's name to increase the team's bond with each of them.
"We are grateful to be recognized by CPL owners, executives and others with this award for the second straight year," remarked co-owner Bill Shanahan. "Vicki and I along with our general manager, Tony, and our enthusiastic game day staff and interns are committed each season to provide a first-class environment at Lexington County Baseball Stadium for our community, partners and fans. We are especially thankful for our host families, players, athletic trainers, assistant coaches and head coach KC Brown for an unforgettable championship season. We are proud to share this award with our entire Lexington County community."
The club hosted the CPL's marquee event, the 2023 CPL All-Star Show, on July 18 and 19. One particular highlight of the event featured a unique skills challenge that also included CPL alum and former Major Leaguer Mark Reynolds participating in the Home Run Derby. Overall, the two-day event proved to be quite successful as the East CPL All-Stars edged the West squad, 8-6 in 10 innings.
Sticking to between the lines, the team was a passionate bunch that fed off one another's energy, especially at home. After finishing third in their division in the first half, the Blowfish started the second half winning six in a row and 8-of-10 to jump out to an early lead. They would only lose consecutive games once in the second half on their way to a 16-8 record and West Division Second Half crown and finished the regular season 17-7 at home. Their performance down the stretch gave them the coveted home field advantage, which they used to their advantage in both rounds of the playoffs, going 4-0 at Lexington County Baseball Stadium to win their second CPL Petitt Cup Championship and first while located in Lexington County.
Lexington County was chosen after collecting input on every facet of an organization from team owners, general managers, umpires, players and league officials. A few, but not all, factors under consideration for voters were an organization's overall game-day operations and atmosphere, hospitality, community involvement and fan engagement.
This honor marks the fourth time the Blowfish have been recognized as the CPL's Organization of the Year and the second time in a row, having won in 2022. Additionally, they had won in 2015, their first season in Lexington County, as well as 2006, their first season in the CPL while located in Columbia.
About Coastal Plain League:
The Coastal Plain League is the nation's premier summer collegiate baseball league. The CPL is currently comprised of 14 franchises playing in Georgia, North Carolina, South Carolina and Virginia. To date, the CPL has had nearly 1,750 alumni drafted and 181 alums make their Major League debut. Most notable alumni include Justin Verlander, Ryan Zimmerman, Mark Reynolds, Kevin Youkilis, Chris Taylor, Alec Bohm, Jake Cave, Chas McCormick and NFL Super Bowl champion Russell Wilson. For more information on the Coastal Plain League, please visit the league website at www.coastalplain.com, and be sure to follow us on Facebook, Twitter, Instagram and TikTok @CPLBaseball.