Coastal Plain League alum Russell Wilson earned NFL Walter Peyton Man of the Year honors for his humanitarian efforts during the 2020 season. Wilson played for the Gastonia Grizzlies in the CPL during the 2010 season.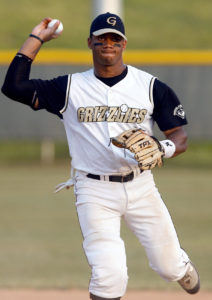 "I got out here and my whole thought process on my heart was, I want to make a difference," Wilson said. "One, I want to start, I want to play, I want to have a long career and win multiple Super Bowls and hopefully go the Hall of Fame, do all that stuff—that was my thought process my rookie year before I even hopped on the plane here. The other part was I really wanted to make an impact on the city, and I really wanted to be able to make a difference in the community."
Over a nine-year career, Wilson has in so many ways lived up to his own lofty goals, becoming a Super Bowl champ, an eight-time Pro-Bowler, and just as importantly, a person who has done so much good in the community. Wilson was again a Pro-Bowl quarterback in 2020 and his off-field impact was bigger than ever, and as a result, Wilson won the Walter Payton NFL Man of the Year Award at the NFL Honors show in February.
The Walter Payton Man of the Year Award, one of the most prestigious honors given to an NFL player, was established in 1970 and renamed for the Hall of Fame running back in 1999, and recognizes excellence both on and off the field. Each team nominates one player for the yearly award, and by winning Wilson receives a $250,000 donation to Russell and Ciara's Why Not You Foundation. Founded in 2014, the nonprofit is dedicated to fighting poverty through education, empowering youth to lead with a why not you attitude. Wilson is only the second player in franchise history to win the award, joining Steve Largent, who won it in 1988.
"The Walter Payton Man of the Year Award, to me, represents excellence, not just on the field, but more importantly off the field," Wilson said. "In life, we're granted the opportunity to have an impact, no matter what sphere of influence we're around. Walter Payton was one of the greatest examples of what he was able to do not just on the field, but more important off the field to give back and to serve and to love and to care. For me, to be able to be even mentioned with a name like Walter Payton is one of the greatest blessings I could ever have and one of the greatest honors you could ever have."
Giving back is nothing new for Wilson, who started visiting kids at Seattle Children's hospital prior to his rookie season and never stopped going back, making visits nearly every Tuesday throughout his career—this year those visits had to be virtual due to the COVID-19 pandemic. Wilson and his wife, Ciara, also have made a huge impact over the years with their Why Not You Foundation, which strives to empower change in the world, one individual at a time. Since it launched in 2014, the Why Not You Foundation, in partnership with Safeway and Albertsons, has donated more than $9 million to Strong Against Cancer, money that funds life-saving immunotherapy treatment. Wilson and Ciara have also helped raise more than $1 million for Friends of the Children, a nationwide organization dedicated to breaking the cycle of generational poverty.
About Coastal Plain League:
The Coastal Plain League is the nation's premier summer collegiate baseball league. Celebrating its 24th season in 2020, the CPL features 15 franchises playing in Georgia, North Carolina, South Carolina and Virginia. To date, the CPL has had over 1,650 alumni drafted and 140 alums – including 2017 ALCS MVP, 2017 World Series champion, 2011 AL MVP and Cy Young award winner Justin Verlander, as well as 2017 NLCS MVP Chris Taylor – make their Major League debut. For more information on the Coastal Plain League, please visit the league website at www.coastalplain.com, and be sure to follow us on Facebook, Twitter, Instagram and Snapchat @CPLBaseball.