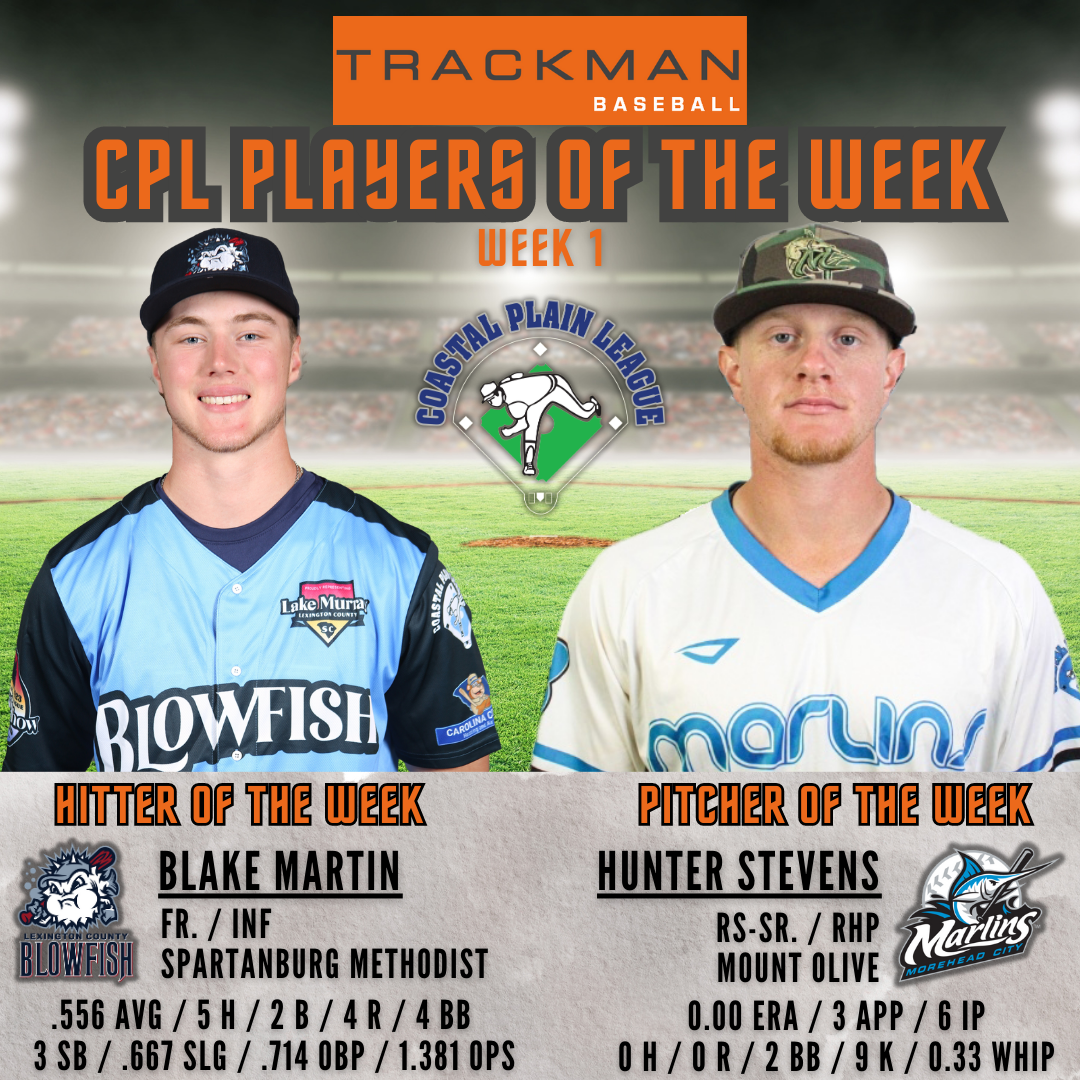 HOLLY SPRINGS – The Coastal Plain League announced today that Lexington County infielder Blake Martin and Morehead City pitcher Hunter Stevens were named the Hitter and Pitcher of the Week respectively for the first week (May 25 – June 4) of the 2023 CPL season. CPL Players of the Week are brought to you by TrackMan Baseball, providing players and coaches next-generation analytical data all season long.
Martin, a freshman at Spartanburg Methodist led the league with a .556 average, as well as in on-base percentage (.714) and OPS (1.381). He connected on five hits for the Blowfish, including a double, while also reaching base off of four walks and a hit-by-pitch. He scored four runs, stole three bags and struck out only once.
Meanwhile, Stevens proved to be a reliable arm out of the pen, making three separate appearances for the Marlins. The 5-10, 185-pound right-hander pitched six innings of hitless, scoreless baseball on his way to a perfect 0.00 ERA. He walked two but struck out nine. A redshirt senior from Mount Olive, Stevens also finished the week with a .000 average against him plus a 0.33 WHIP and 13.500 K/9.
About Coastal Plain League:
The Coastal Plain League is the nation's premier summer collegiate baseball league. The CPL is currently comprised of 14 franchises playing in Georgia, North Carolina, South Carolina and Virginia. To date, the CPL has had nearly 1,750 alumni drafted and 172 alums make their Major League debut. Most notable alumni include Justin Verlander, Ryan Zimmerman, Mark Reynolds, Kevin Youkilis, Chris Taylor, Alec Bohm, Jake Cave, Chas McCormick and NFL Super Bowl champion Russell Wilson. For more information on the Coastal Plain League, please visit the league website at www.coastalplain.com, and be sure to follow us on Facebook, Twitter, Instagram and TikTok @CPLBaseball.