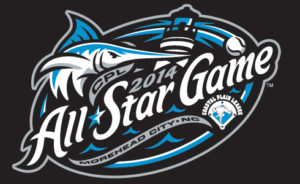 Coastal Plain League commissioner Justin Sellers announced today that the 2014 Coastal Plain League All-Star Game will be held in Morehead City, North Carolina. The star-studded event will take place on Monday, July 14th, at Big Rock Stadium, home of the Morehead City Marlins. This will be the first All-Star Game held in Morehead City.
"It is with great excitement that we announce the 2014 All-Star Game will be coming to Morehead City this summer," said Sellers. "This event has become our showcase event during the summer and fans in Morehead City will get to witness it in person. Buddy (Bengel), Mitch (Kluver) and the entire Marlins staff have done a great job in making the Marlins a success, and we look forward to them putting on a fantastic event for our players, coaches, staff, parents and fans!"
The event will kick off with the CPL All-Star Fan Fest and Home Run Derby on Sunday, July 13th. Fans will have the opportunity to interact with the All-Stars during the Fan Fest and then sit back and watch baseballs fly out of Big Rock Stadium during the Home Run Derby. The All-Star luncheon will be held on Monday, followed by a Major League style scout day for the All-Star participants, and the main event Monday evening – the 2014 CPL All-Star Game. The East Division All-Stars beat the West Division All-Stars, 3-2 in 10 innings in a thrilling All-Star Game in 2013.
"We are honored to host the 2014 CPL All-Star Game," said Marlins owner Buddy Bengel. "The economic impact the All Star Game will bring to Carteret Count businesses will be tremendous.  We have an exciting three days planned for fans and we look forward to announcing our schedule of events.  The All-Star Game will bring fans from across the Country to Carteret County and we are thrilled to be able to showcase this great County. "
The official All-Star Game logo was created by Skye Design Studios (www.sdsbranding.com), a brand identity and design firm in the greater New York City area.
For tickets and more information on the 2014 Coastal Plain League All-Star Game, please contact the Morehead City Marlins office at 252-269-9767 or visit www.mhcmarlins.com and www.coastalplain.com.