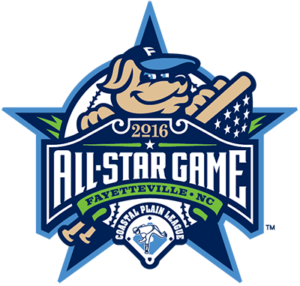 FAYETTEVILLE, N.C. – The Coastal Plain League the 2016 All-Star Game head coaches and assistant coaches on July 6. The All-Star Event will take place July 10-11 in Fayetteville, N.C. at J.P. Riddle Stadium, home to the Fayetteville SwampDogs.
Once again, the CPL All-Star Game will feature the head coaches from all 16 teams. The East Division CPL All-Stars will be the home team, while the West Division CPL All-Stars will be the visitors for the All-Star Game on July 11.
The East Division CPL All-Stars will be led by Peninsula's Hank Morgan (pictured left) for the second straight season after the Pilots once more captured the first-half East Division championship. Morgan led the Pilots to a 19-8 record and currently leads a team that is second in overall batting average (.290) and first in team earned run average (3.13.) He will be joined in the dugout by the East CPL All-Star assistants: Bryan Hill (Edenton), Anthony Williams (Fayetteville), Andrew Ciencin (Holly Springs), Jason Wood (Morehead City), Dylan Wolchik (Petersburg), Scott Wingo (Wilmington) and Aaron Lynch (Wilson.)
Asheboro's Keith Ritsche (pictured right) will serve as the head coach of the West Division All-Stars after winning the first half with a record of 19-8. The Copperheads won the first-half title one other time back in 2013 when they entered the Petitt Cup Playoffs as the number one overall seed. Ritsche leads a team that sits second in the West in team batting average (.289) and third in the west in earned run average (3.79.) The West Division CPL All-Stars assistant coaches will be Blake Maxwell (Florence), Evan Wise (Gastonia), Brian Rountree (HP-Thomasville), Jonathan Johnson (Lexington County), Danny Higginbotham (Martinsville) and Sean West (Savannah.)
The 2016 Coastal Plain League All-Star Festivities will feature several attractions during the two days. During Fan Fest on Sunday, July 10, fans can look forward getting autographs from their favorite CPL All-Stars as well as watching the Home Run Derby. Then, on Monday, July 11, will be the main attraction – the 2016 CPL All-Star Game. Both will be held at the home of the Fayetteville Swampdogs, J.P. Riddle Stadium in Fayetteville, N.C.  For ticket information, please call the SwampDogs at (910) 426-5900 or visit them on the web at www.goswampdogs.com. To keep up with the latest 2016 CPL All-Star Game news, please go here: http://www.coastalplain.com/page/allstar_2016.