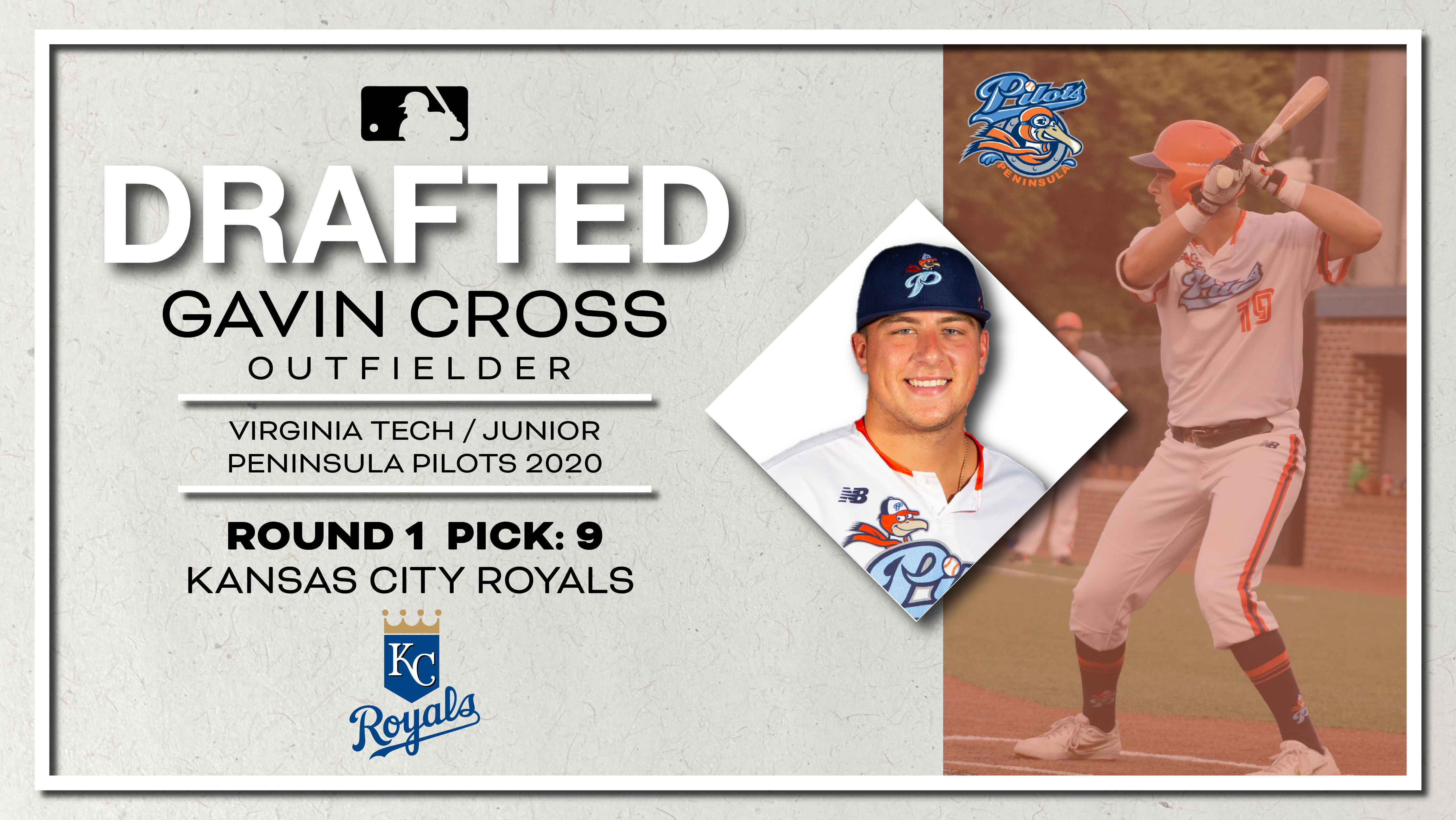 For the seventh consecutive year, the Coastal Plain League heard one of its alumni taken in the first round of the Major League Baseball Draft. This time, former Peninsula Pilots outfielder Gavin Cross (Virginia Tech) went ninth overall to the Kansas City Royals.
Cross spent part of the 2020 summer in Hampton, Va., with the Pilots. He batted .313 in 16 at-bats with five hits, including a triple. He scored three runs and tallied four RBIs to go with five walks and two stolen bases. Cross also finished with a .438 slugging percentage and a .476 on-base percentage.
More recently, for the Hokies this past spring, Cross started 57 games, batting .328 with 80 hits, 70 runs scored and 50 RBIs. He connected on 14 doubles, eight triples, 17 homers and walked 30 times. He was also perfect on the base paths with 12 stolen bags to go with a 1.071 OPS.
Stay tuned to the CPL's website, www.coastalplain.com and social media @CPLBaseball for updates on the 2022 MLB Draft as it continues over the coming days.
About Coastal Plain League:
The Coastal Plain League, brought to you by FloSports, is the nation's premier summer collegiate baseball league. Now in its 26th season in 2022, the CPL features 14 franchises playing in Georgia, North Carolina, South Carolina and Virginia. To date, the CPL has had over 1,700 alumni drafted and 157 alums make their Major League debut – including 2017 ALCS MVP, 2017 World Series champion, 2011 AL MVP and Cy Young award winner Justin Verlander, as well as 2017 NLCS MVP Chris Taylor. For more information on the Coastal Plain League, please visit the league website at www.coastalplain.com, and be sure to follow us on Facebook, Twitter, Instagram and TikTok @CPLBaseball.