The Coastal Plain League has announced Ross Combs of the Morehead City  Marlins as the 2021 CPL Executive of the Year. This was Combs' first season with the Marlins and in the CPL, he served as the team's General Manager.
"On behalf of the Coastal Plain League, I want to congratulate Ross on being this year's Executive of the Year" said Justin Sellers, COO/Commissioner of the Coastal Plain League.  "Ross brought some valuable experience from the professional ranks and added his own personal touch in operating the Marlins this summer. Overall, he was just what the organization needed as they experienced unprecedented success in several key areas including sales and attendance. We look forward to seeing Ross continue to lead the organization to new heights in the future!"
Combs graduated with a degree in Sports Management, business concentration, from Fairmont State University in 2015. During his time in college he interned for various minor league baseball teams before taking his first full-time job after graduation with the Hargerstown Suns where he eventually worked his way into the Director of Sales role. From there he moved on to the Lansing Lugnuts as their Director of Sales before joining the Morehead City Marlins prior to the 2021 season as the team's General Manager.
"My goal coming in this year was to be as visual in the community that I could be," said Combs. "Meet as many community leaders as I could, and make sure they knew that the Marlins were playing baseball in 2021. I just wanted the community to talk Marlins even when it isn't summer. We just wanted to get as many people to our ballpark safely as we could and wanted to make sure everyone had fun! FUN is the most important word to me. We want to make sure every person leaves the ballpark with positive energy, and that they enjoy themselves at Big Rock Stadium."
His efforts were a success to say the least as "fun" was had by more people than ever at Big Rock Stadium this season when the Marlins notched the most sellouts and overall ticket sales in the 10 year history of the team. Combs was also instrumental in driving sponsorship revenue for the team, helping the Marlins to their highest revenue totals since 2011.
"We are extremely proud of everything Ross has done to help turn us into one of the best organizations in the CPL," said Marlins owner Buddy Bengel. "We hope to have him here for many years to come and continue to grow in our successes both on and off the field."
Joining the Marlins following the 2020 season in which the team was unable to play due to the Covid-19 pandemic, Combs had some unique challenges to overcome in regenerating interest around the team.
"After not having a season in 2020, we really wanted to focus on what we could do that was new and exciting for our fans and community," said Combs. "Including concerts, fireworks, etc. We wanted to show Morehead City that we missed them coming out to Big Rock Stadium for some fun. This community loves baseball, and we love to give it to them."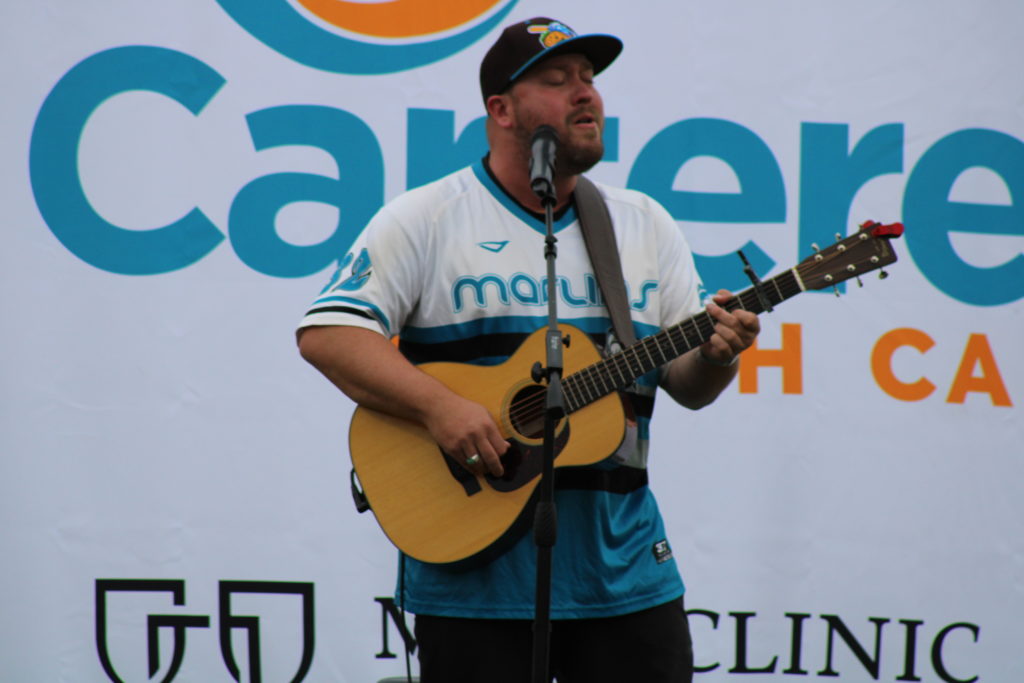 As noted the team had firework shows for the first time in 2021, and brought in headlining concerts such as Mitchell Tenpenny in early June. Combs, along with team ownership, also invested in box seats as well as a true team store to add to the overall ballpark atmosphere and experience for fans.
"The field boxes were a huge hit, having that option for a private box at the stadium was really appealing to local businesses here," noted Combs. "Getting to reward your clients and employees with baseball and food makes a lot of sense to me as well. The great thing about us is that we are continuously looking to grow the Marlins and Big Rock Stadium and that won't change in 2022. Be on the lookout for big things ahead!"
Executive of the Year is selected based on nominations from teams around the league. Team owners, presidents and general managers then vote on these nominees, with Combs ultimately receiving the most votes to earn the 2021 CPL Executive of the Year award.
"With the rich history of the Coastal Plain League, it is truly an honor to win this award," said Combs. "Just look at the executives that have won this award the past few years. To be mentioned with them means a lot to me. This is not a one man operation, we had ownership, interns, and game-day staff that worked their butts off this summer. I greatly appreciate them and our fans."
For more information on the Morehead City Marlins and all of their upcoming plans for next season, stay tuned to www.mhcmarlins.com for news and updates all off-season long.
About Coastal Plain League:
The Coastal Plain League, brought to you by FloSports, is the nation's premier summer collegiate baseball league. Celebrating its 25th season in 2021, the CPL features 15 franchises playing in Georgia, North Carolina, South Carolina and Virginia. To date, the CPL has had over 1,700 alumni drafted and 152 alums make their Major League debut – including 2017 ALCS MVP, 2017 World Series champion, 2011 AL MVP and Cy Young award winner Justin Verlander, as well as 2017 NLCS MVP Chris Taylor. For more information on the Coastal Plain League, please visit the league website at www.coastalplain.com, and be sure to follow us on Facebook, Twitter, Instagram and TikTok @CPLBaseball.