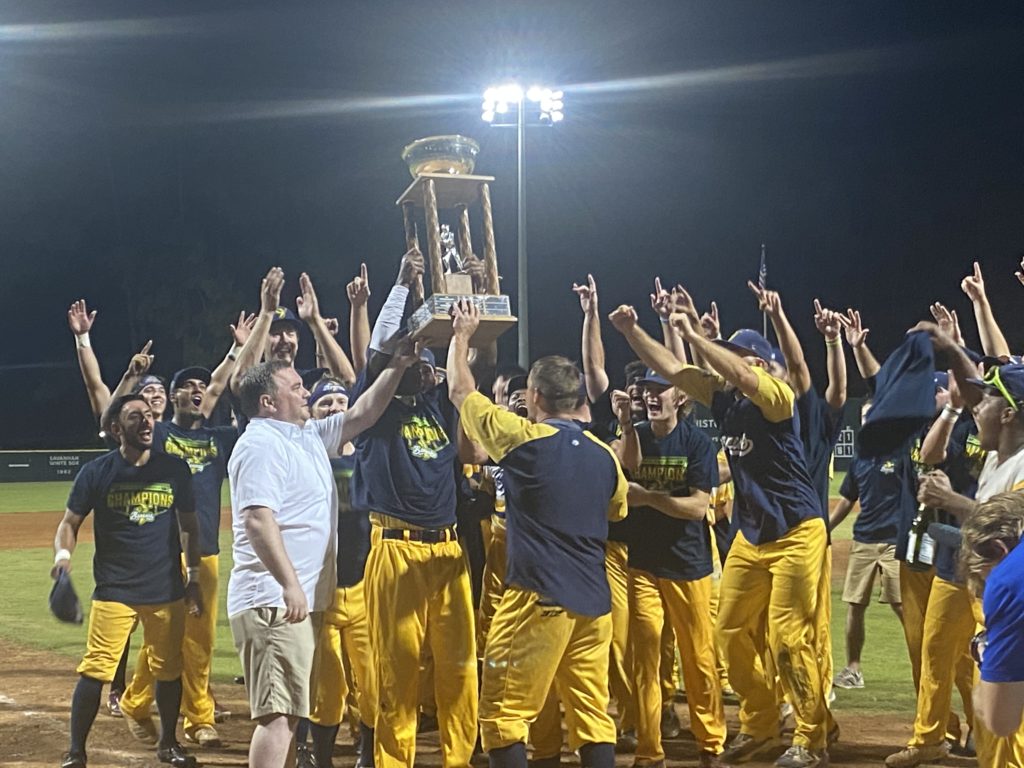 By Biko Skalla
*Insert Spongebobe meme* ThE BAnAnAs aRe onLy GoOd FoR eNtErtAiNmEnt. False.
Your Savannah Bananas, who are also The Most Entertaining Team in Baseball, Banana Piled on the infield grass as the 2021 Coastal Plain League champions following their 13-3 drubbing over the Morehead City Marlins in Game 3 of the Petitt Cup on Saturday night at Historic Grayson Stadium.
It was a wild night in BananaLand as the sold-out crowd at Grayson Stadium brought an electric atmosphere with them in anticipation of the boys hoisting the Petitt Cup by the night's end. Here's how the big night went down:
After being held scoreless in the first inning, the middle of the order did some monumental damage. Bryson, Tree Trunks For Legs, Bloomer started it off with a single to center field while Eduardo, If I Don't Swing It's A Ball, Malinowski followed it up with a walk to give the Nanners first and second with no outs. Nick, Possibly the Most Electric Man In BananaLand, Clarno fly ball to right field moves them up a base each. Then the mic drop.
Taking his first at-bat of the Petitt Cup, left fielder Drew, Watch How Far I Hit This Ball, Yniesta proved to be the epitome of a storybook ending. Despite not seeing any at-bats during the playoffs at all, this didn't phase the North Charleston native. On a 0-1 pitch, Yniesta injected enough energy into BananaLand to solve a global crisis when he absolutely smacked a baseball over the left field wall. 103 MPH and 397 feet later, the Nanners took a 3-0 lead.
It was all the boys needed to ride the momentum to a blowout victory. But that doesn't mean they were done. In the words of Meek Mill, "Hold one wait a minute, y'all thought I was finished?"
The Nanners came back in the bottom of the fourth inning hungry for more. Nick, All I Do Is Hit In The Postseason, Clarno started it up with a shot to left field for a single. Drew, You Saw My Power Now Watch My Speed, Yniesta beat out an infield single while Bill LeRoy Jenkins lofted a single to shallow center to load the bases.
Jesse, We Got Ice, Sherrill is a true team guy, taking a fastball in the back to score Clarno. A hit-by-pitch never felt so good. 4-1 Nanners. Ty, Truth Hurts By Lizzo Is A Fantastic Walk-Up Song, Jackson followed that up with a chopper that the Marlins pitcher mishandled, scoring Yniesta. 5-1 Nanners. Dan, I Have The Best Sleeve In The CPL, Oberst beat out a would-be 5-5-3 double play to score Sherrill. 6-1 Nanners.
Then the doors of BananaLand got blown off. On the first pitch he saw, Bryson, I Can Hit A Ball Over Those Mountains, Bloomer sent a ball that nearly hit the International Space Station. 396 feet. 100 MPH off the bat. 9-1 Nanners. The pimp job was immaculate. The grandstands are shaking.
That was just the fourth inning. The bats needed a breather in the bottom of the fifth inning. Bryson, You Might Want To Check That Ball For Dents, Bloomer took a hit-by-pitch to start up the bottom of the sixth. Eduardo, Ivy League Degree & A CPL Championship, Malinowski hit a single to center field in which Bloomer showed off his high baseball IQ by moving to third with one out. Nick, Watch This Ball Placement, Clarno blooped a single perfectly placed in shallow center to drive in Bloomer and move Malinowski to third. 10-3 Nanners.
Drew, I Want All The RBIs, Yniesta did his job with a sac fly to right field to score Malinowski. 11-3 Nanners. In the eighth inning, Malinowski started it up with a double down the left field line, and Clarno continued to be the most clutch man this side of the Mississippi with a double to right to score Malinowski. 12-3 Nanners.
Then Bill, The Heart of BananaLand, LeRoy got a standing ovation for his final at-bat. Even with two strikes on him, the legend that is LeRoy slapped an RBI single to right field to score Clarno. 13-3 Nanners.
Wanna know a crazy stat from the season clincher? The 5-9 hitters in the lineup combined to go 13/21 with eight RBI and eight runs scored. Talk about clutch.
Nanners starting pitcher Kyle, I'm The King Of The Infield On Popups Near The Mound, Luigs set the tone on the mound Saturday night. He went 2.1 innings allowing two hits, one run and two walks. Despite the short outing, it was enough to get the boys going. Lefty Hayden, If You Hit This Pitch You Can Name It, Harris came on in relief for a stellar outing. The Georgia Southern southpaw tossed 3.0 scoreless innings, allowing two runs, no hits, two walks and five strikeouts. Heck of an outing for the senior lefty, who reminisced of his summer in Savannah.
"I came in and pitched in the last game of the year, and I was there for one game at home. It was a lot of fun, [it's] kind of my element," Harris said. "These guys said that I popped in pretty smoothly. That's kind of what I do. I like to bring the energy."
Relieving Harris in the top of the sixth, inheriting two runners was Matt, I'm Bringing Back The Forkball, Malatesta. Though he allowed Harris' two runners to score, making it 9-3 Nanners, he settled down to end the sixth without much more damage. Malatesta and his forkball wound up going 2.2 innings allowing just a walk while striking out five.
To finish the game out, the Nanners turned to lefty Dylan Cunnigham, who made light work of the Marlins in an easy ninth inning. The final out, a pop-up to Dan Oberst, allowed the first baseman to come full circle in his Bananas career. The man who started his career in Savannah back in 2018 with a dropped pop-up, sealed the victory for his teammates by securing a pop-up on Saturday night.
"Tyler Gillum taught me how to play the infield and I love him," said Danny Oberst on making that final catch.
How can you not be romantic about baseball?
The Nanners were hoisting the Petitt Cup following the game, but that wasn't all they got. The boys of summer were gifted with personalized WWE-style championship belts. They looked spectacular, and those will be a nice momento for the players and coaches to bring home with them.
Following the distribution of belts, in which every player and coach got a shoutout from Jesse Cole, head coach Tyler Gillum gave a speech to the crowd in BananaLand.
"Unbelievable what you guys do every single summer. You guys bring the energy for these guys every single night," Gillum said. "I'm going to tell you right now. These men that you're staring at right now. I've never seen a tougher group of guys in my life. These guys are playing with fractured hands and screwed up knees, and all they ever said to me all summer was, 'Gillum we're gonna dog pile baby and we did it!"
Next up on the mic was the man who needed no introduction in four-year Banana Bill LeRoy.
"Man you guys are unbelievable. Round of applause for you guys," said LeRoy. "Man, I'm speechless. This was the most awesome time of my life, and I can't thank y'all enough for cheering me on."
Drew Yniesta: 2/3, 2 R, 4 RBI
Bryson Bloomer: 2/4, 3 R, 3 RBI
Nick Clarno: 3/5, 2 R, 2 RBI
Hayden Harris: 3.0 IP, 2 R, 0 H, 2 BB, 5 K
What's Next For The Nanners
The party doesn't stop for the Nanners even though they proved to be the best team in the CPL for the 2021 summer. They will be back in action on Aug. 12 for the start of the Breakfast Bowl, a nine-game series against the Macon Bacon.