Former Savannah star pitcher Beau Sulser became the first Bananas player to make his Major League debut on Tuesday night (April 26).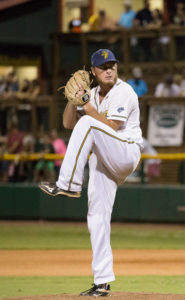 He entered in relief of another CPL alum, Heath Hembree (Forest City '08, '09), for the Pittsburgh Pirates to start the seventh inning against the Milwaukee Brewers. Sulser showed no signs of being nervous, working a 1-2-3 inning with a pair of strikeouts. Such performance saw him stay in and he finished the night with 2 2/3 innings of work, giving up two unearned runs on two hits with one walk and four punch outs in the Pirates 12-8 loss.
While with Savannah in 2016, Sulser did a bit of everything on the mound. The Dartmouth righthander made 12 appearances in the regular season, including five starts. He finished with a 3-1 record and stellar 1.21 ERA – also a league best – to go with four saves and four combined shutouts. In 44 2/3 innings, he gave up just nine runs – six earned – on 27 hits. Meanwhile, he walked only eight and struck out a team-high 51. Numbers like those earned him an All-Star selection and later, honored as a member of the All-CPL First Team at the end of the year. He also celebrated as a champion, helping guide the Bananas to their first CPL Petitt Cup Championship.
Taken in the 10th round of the 2017 MLB Draft by Pittsburgh, Sulser started the year with Triple-A Indianapolis and was 1-2 with a 2.13 ERA before being promoted.
Sulser's debut increases the CPL list of Major Leaguers to 154 all-time, and the third of 2022.
About Coastal Plain League:
The Coastal Plain League, brought to you by FloSports, is the nation's premier summer collegiate baseball league. Entering its 26th season in 2022, the CPL features 14 franchises playing in Georgia, North Carolina, South Carolina and Virginia. To date, the CPL has had over 1,700 alumni drafted and 153 alums make their Major League debut – including 2017 ALCS MVP, 2017 World Series champion, 2011 AL MVP and Cy Young award winner Justin Verlander, as well as 2017 NLCS MVP Chris Taylor. For more information on the Coastal Plain League, please visit the league website at www.coastalplain.com, and be sure to follow us on Facebook, Twitter, Instagram and TikTok @CPLBaseball.