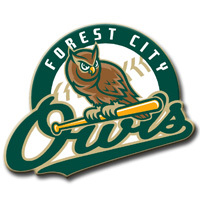 It was a big night for Forest City (14-5), as the Owls hosted the Chinese Taipei National Team in an exhibition clash.
In the game, there were 15 pitchers, 10 runs, 17 hits, 5 errors, 23 runners left on base and 47 different players involved. Nothing out of the ordinary for an exhibition game.
Chinese Taipei opened up the scoring in the 2nd inning against Forest City starter Zac Brown (Mars Hill).
Taipei brought in three runs in the frame, most notably on an RBI double by Chung Tang Wang.
They carried the lead to the 4th inning, when they added to it with a solo homerun by Chung Ting Chen to make it 4-0.
For Taipei, they continued their dominance in the later innings, scoring in each of the final four innings of the contest.
Their biggest inning was in the 9th, when Taipei brought in two additional runs on a two RBI single by Kai Wei Li to make it 9-1.
Forest City's lone run came in the 8th, thanks to an RBI fielders' choice by Alex Conaway (Lander) to drive in the Owls' only run.
Forest City only recorded three hits in the contest and none of them came in the final three frames.
Chinese Taipei's resume was backed up with a dominant performance as they defeated the Owls 9-1.
Forest City can now refocus their attention to the Coastal Plain League, as the Owls have taken a one game lead over Florence in the west division.
The Owls play two games this weekend, while the RedWolves play one before the two teams meet for the first time in 2017 on Monday night at McNair Field.
Forest City returns to action tomorrow to take on High Point-Thomasville on the road. First pitch is scheduled for 6:00 p.m. and as always you can catch every second of the action on the Forest City Owls Radio Network.
To find out more about 2017 Owls Season Tickets, please contact the Owls Office at 828-245-0000 or visit the website at www.forestcitybaseball.com.