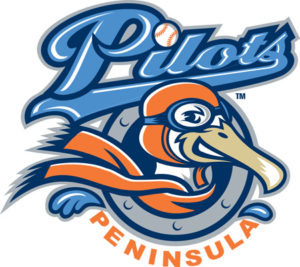 Team USA rallied to hand the Peninsula Pilots a 6-3 loss in an exhibition game at War Memorial Stadium on Sunday night.
Despite holding Team USA hitless through the first five innings, Team USA, composed of the top collegiate baseball players in the nation found success in the later innings to grab the victory.
The Pilots, who are the only team in CPL history to defeat Team USA, looked primed to hand them their third victory as they took an early lead in the third inning on Sam Griggs' (Southern Indiana) sacrifice fly.
The trio of Colt Harlow (James Madison), Ryan Fox (VCU), and Jackson Wark (St. Louis) did a tremendous job of keeping Team USA off balance.
Team USA's bats woke up in the sixth inning with Travis Swaggerty (South Alabama) grabbing the first hit off of Vinnie Tarantola (Liberty). After a walk and a sacrifice bunt put the runners in scoring position, a two-run double by Steele Walker (Oklahoma) put the visitors on top.
Peninsula responded quickly with two runs in the bottom of the frame. Chris Lehane (Jacksonville) kick-started a rally with a single to center field. After a failed pickoff attempt landed Lehane at third, Logan Augustine (Lincoln Memorial) hit a screamer that bounced out of the first baseman's glove and went into right field allowing Lehane to score. Later in the inning, Drew Delsignore (Mercyhurst) reached on an infield single to score Augustine to put the Pilots back on top.
A three-run seventh inning, highlighted by Seth Beer's (Clemson) pinch-hit two run single put Team USA back on top.
A solo home run by Grant Koch (Arkansas) pushed the advantage to 6-3.
Jon Olsen (UCLA) picked up the win for Team USA giving up two runs in three innings of work. Gianluca Dalatri (North Carolina) got the start and gave up a run on one hit and struck out four in three innings. Nick Sprengel (San Diego) struck out four in two innings before Dallas Woolfolk (Ole Miss) struck out the side in the ninth for the save.
The Pilots remain home and host the Fayetteville SwampDogs in back-to-back games on Monday and Tuesday night at War Memorial Stadium. This week is the Pilots Fight Hunger Food Drive, so please donate canned goods to the Virginia Peninsula Foodbank.
For more information regarding the season, please visit www.peninsulapilots.com. For up to the minute details on Pilots Baseball be sure to "Like" us on Facebook and follow us on Twitter and Instagram @PeninsulaPilots. Also, be sure to download the Peninsula Pilots mobile app available for both iPhone and Android users! Use the #PilotsNation to spread the word about the Pilots!