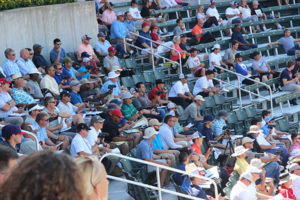 The Coastal Plain League Select Team defeated the USA Baseball Collegiate National Team 10-0 in an eight inning game Monday afternoon in Cary, N.C., at the USA Baseball Training Complex. Sean West of the Savannah Bananas served as the CPL Select's head coach while Travis Graves of the Florence RedWolves worked as the assistant coach.
"Obviously it was an amazing opportunity for the Coastal Plain League in general, but also for each individual player that was represented versus Team USA," said coach West. "I talked to the guys about taking advantage of this opportunity and showcasing their abilities on the field. They really did that today and we were able to come up with the win by taking advantage of mistakes and getting great pitching."
In front over 100 scouts, a number of CPL Select team members had an impressive showing with both Connor Kopach (Southern Illinois) of Edenton and Seth Hoagland (Iona) of Forest City finishing perfect at the plate. Kopach went 2-for-2 with a double, three RBIs and two runs scored. Meanwhile, Hoagland finished 3-for-3 with two doubles and one RBI while also adding in an impressive diving stop in the field at first.
Will Hartsell (College of Charleston) of Morehead City started the game for the CPL Select pitching a scoreless first with a one strikeout. In total, eight CPL Select pitchers entered the game across the eight-inning matchup, all together combining for zero earned runs and eight strikeouts.
On the mound for Team USA, Sean Mooney started the game with four shutout innings, including four strikeouts, before giving way to Hunter Gaddis in the fifth who took the loss.
After the conclusion of the eight-inning game, both teams participated in a one-inning international tie-breaker to help prepare Team USA for their upcoming international schedule.
This game concluded the Coastal Plain League's international tour for 2017, while the USA Collegiate Baseball National Team kicks off a five-game series with Chinese Taipei tomorrow at the USA Baseball Complex in Cary, N.C. They will then continue their schedule with five games each versus Cuba and Japan.