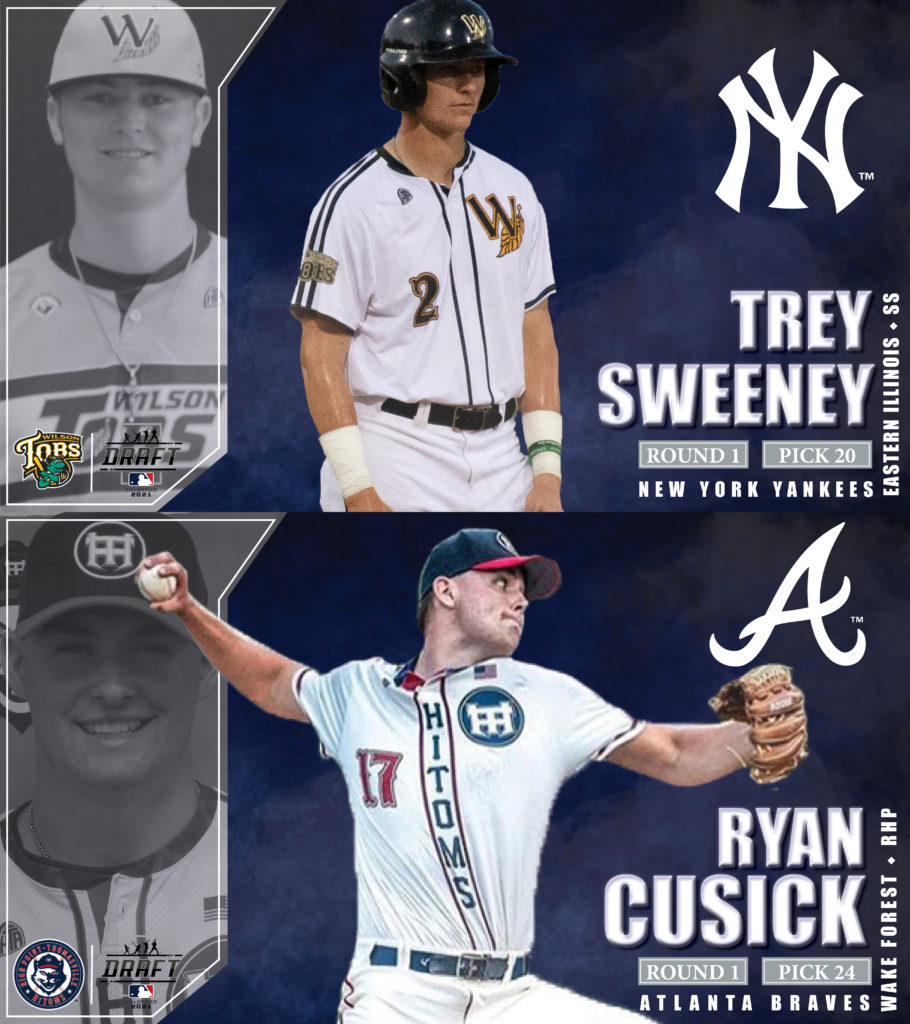 The Coastal Plain League saw two former players taken in round one of the 2021 MLB Draft on July 11 as Trey Sweeney went 20th overall to the New York Yankees and Ryan Cusick went to the Atlanta Braves 24th overall. The remaining 19 rounds of the draft will take place over the next two days on MLB Network.
Sweeney, a shortstop out of Eastern Illinois, spent the 2020 summer in the CPL turning heads with the Wilson Tobs where he put up First Team All-CPL numbers. He finished second in the league in batting with a.397 average, seven doubles and four home runs in 17 games played. Sweeney continued his rise up the draft boards in the spring with Eastern Illinois were he posted a .382 average, 10 doubles and 14 home runs on his way to First Team All-American honors.
Cusick, a 6-6, 225-pound sophomore from Wake Forest pitched for the HiToms during the 2020 season, finishing as the CPL's Pitcher of the Year with a 1.14 ERA across five starts and 23 2/3 innings pitched.
"Cuse [Cusick] was so much fun to coach," said 2020 HiToms head coach Mickey Williard. "I had heard coming in about the sheer arm talent, but watching him compete to show off the things that would take his game to next level was great to see. He exhibited increased fastball control to the tune of 40K/9BB and showed more consistent flash of a plus breaking ball offering. Couldn't be happier for such a hard worker who is very deserving."
As noted by Williard, his control was on display all season as the right-hander managed a league leading 40 strikeouts while walking only nine for a 15.21 strikeout per nine ratio. In total he allowed only 12 hits for a .114 opponent batting average and 0.53 WHIP while allowing only three earned runs all season.
Stay tuned to the CPL's website, www.coastalplain.com and social media @CPLBaseball for updates on the 2021 MLB Draft as it continues over the coming days.
About Coastal Plain League:
The Coastal Plain League, brought to you by FloSports, is the nation's premier summer collegiate baseball league. Celebrating its 25th season in 2021, the CPL features 15 franchises playing in Georgia, North Carolina, South Carolina and Virginia. To date, the CPL has had over 1,650 alumni drafted and 147 alums make their Major League debut – including 2017 ALCS MVP, 2017 World Series champion, 2011 AL MVP and Cy Young award winner Justin Verlander, as well as 2017 NLCS MVP Chris Taylor. For more information on the Coastal Plain League, please visit the league website at www.coastalplain.com, and be sure to follow us on Facebook, Twitter, Instagram and TikTok @CPLBaseball.